Company Information
1 COMPANY NAME PPAP AUTOMOTIVE LIMITED
(FORMERLY PRECISION PIPES AND PROFILES COMPANY LIMITED)
2 CORPORATE IDENTIFICATION NUMBER L74899DL1995PLC073281
3 DATE OF REGISTRATION October 18, 1995
4 LISTING DATE January 11, 2008
5 PLACE OF REGISTRATION Delhi
Share Information
S.NO. ITEM DETAILS
1 BSE CODE
532934
2 NSE CODE
PPAP
3 ISIN NUMBER INE095I01015
4 FACE VALUE RS. 10
5 Promoters holding 63.25%(31.03.2016)
PPAP Automotive Limited is engaged in manufacturing of automotive parts. The Company manufactures automotive sealing systems and interior and exterior automotive parts. The Company's automotive sealing products include molding wind shield, roof molding, trim door opening, inner belt, outer belt black/right, air spoiler, back door/trunk seal, slide rail, door opening seal and glass run channel. Its exterior and interior injection products include door lining, partition, front-engine rear-wheel drive (FR)-pillar, center (CTR)-pillar, right rear (RR)-pillar, rear tray, lining RR panel, trunk lining, side protectors, in cabin products, under hood products, fender inner and splash guard. The Company utilizes technologies, including polymer extrusion, injection molding, tool and machine manufacturing, and part and tool design. The Company's manufacturing facilities are located in Noida (Uttar Pradesh), Greater Noida (Uttar Pradesh), Chennai (Tamil Nadu) and Pathredi (Rajasthan).
Customers
PPAP commenced supplies for the Automotive business in 1985 with the launch of the 1st Suzuki cars in India under the Maruti brand name. Since then, the company has been associated with all the Japanese OEM's, which are having operations in the Indian market.
Today, PPAP's esteemed customers include some of the best automotive manufacturers in the Indian automotive market like Maruti Suzuki India Limited, Honda Cars India Limited, Toyota Kirloskar Motors, Nissan India, General Motors India, Tata, Mahindra and Mahindra and their associate companies.
The company endeavors to delight its customers with the supply of defect free products.
The company also exports its parts to Thailand, Japan, Mexico and UK through its prestigious customers.
Over the years, PPAP has built a strong relationship with all its customers and has been regularly applauded for its superior performance.
The company has been given recognition for the hard work that the entire team puts in to delight its customers. PPAP has been awarded the best vendor awards, year after year, by its esteemed customers.
Investor presentation- Q3 FY 2015-16 http://www.ppapco.in/pdf/investor-presentation/PPAP-Q3FY16-Investors-Presentation.pdf
Analysis of passenger car sales:- http://www.autocarpro.in/analysis-sales/passenger-cars-record-sales-growth-2015-11092
FINANCIAL INFORMATION:-- http://www.screener.in/company/PPAP/
Analyst Conference Call
February 10, 2016
Moderator: Good afternoon, ladies and gentlemen. I am Ali, moderator for this
conference. Welcome to Conference Call of PPAP Automotive Limited
arranged by Concept Investor Relations to discuss its Q3 FY16 results. We
have with us today Mr. Abhishek Jain – Whole Time Director and Mr. Manish
Dhariwal – CFO. At this moment all participants are in the listen-only mode.
Later we will conduct a question and answer session. At that time if you have
a question, please press '*' and '0' on your telephone keypad. Please note this
conference is recorded. I would now like to hand over the floor over to Mr.
Abhishek Jain. Thank you and over to you, sir.
Abhishek Jain: Thank you Ali. Ladies & gentlemen, a very good afternoon and welcome to
the conference call to discuss the financial performance of the third quarter
of financial year 2016 of our company PPAP Automotive Limited. The
company's CFO Mr. Manish Dhariwal is also joining us in this call. To begin
with I will provide a brief background about our company. The company was
originally incorporated in 1978 for the manufacturing of customised extrusion
products. The company commenced the Automotive Parts Business in 1985
with the start of production of Maruti Suzuki Cars in the Indian market. The
firm was converted into a public limited company in 2008. In April 2014, the
company's name changed from Precision Pipes & Profiles Company Limited
to PPAP Automotive Limited to reflect the actual operations being done by
the company. PPAP is a leading manufacturer of automotive ceiling systems,
interior and exterior injection molded products. Our company's state-of-theart
manufacturing facilities are located in Noida, Greater Noida, Chennai and
Pathredi. All the plants are TS 16949, ISO 14001 as well as OHSAS 18001
certified. We are working with three Japanese companies for our technology
requirements. The relationships with these companies are up to 25 years old.
We have also established a joint venture with our technology partner in 2012.
After the establishment of this joint venture company, as a group PPAP can
cater to the requirements of the entire automotive ceiling system for our
customers. Today, the company manufactures over 500 different products for
its customers and continuously targets towards Zero PPM in quality and
delivery performance for all its customers. Our company is led by Mr. Ajay
Kumar Jain who is the Chairman & Managing Director. He is currently serving
PPAP Automotive Limited
as the president of Toyota Kirloskar Suppliers' Association. I am myself part of
the Executive Committee of Honda Suppliers Association. Our company's
target is always to be our customers' no. 1 supplier. We strive to proactively
meet the customers' expectations and are continuously evolving our products
and services to meet their requirements. It is this strategy that has resulted
in our leadership position in the respective product segments that we cater
to. The company's core competence is in automotive sealing system and
injection molded products. We maintain a leadership position in all the
products that are made by us for our respective customers. The company
primarily services the passenger car segment and has also started supplying
to the LCV segment. All the Japanese OEMs in India are our customers. Few
European as well as local makers are also being catered by us. We are
exporting about 10% of our products through our customers to countries like
Europe, Mexico and Japan and soon we will start supplying to countries like
Argentina, Venezuela and South Africa. We are also capable of doing in-house
designing, tool manufacturing as well as testing and validation. This
integrated capability gives us a very strong competitive advantage over our
competitors as we are able to give our customers an integrated cost-effective
solution for their product requirement. We have a track record of superior
performance with all our customers. We have and we will continue to be
amongst the preferred suppliers for all our customers.
Now I will take you through the financial performance of the third quarter of
financial year 2016. For the third quarter ended December 31, PPAP recorded
a total income of Rs. 71.78 crores as against Rs. 71.46 crores in the same
quarter last year. The other income reported for the current quarter is Rs.
45.64 lakh. It is the investment subsidy received from Rajasthan Government
towards our new manufacturing facility in Pathredi, Rajasthan. This subsidy
will continue and it will be received by us for the next 7 years on a quarterly
basis. The EBITDA grew by 52% in Q3 and it was Rs. 12.07 crores compared to
Rs. 7.94 crores in Q3 FY2015. The company's EBITDA margin stood at 16.82%
in Q3 as compared to 11.11% in the previous year same quarter.
Consequently profit after tax was at Rs. 3.51 crores in this quarter which was
up by 49% as compared to Rs. 2.36 crores in Q3 FY15. For the quarter under
PPAP Automotive Limited
review the sales have been stable compared to the previous year. The growth
which was expected could not take place due to lower demand by the end
customers. The improvement in operating margins is a reflection of the
company's continuous focus on improving operational efficiencies across
each and every aspect of the company. We are continuing our development
of parts for many new models which will be launched by our customers in the
next 2 to 3 years and are continuously discussing about new models
thereafter. As I told you before we are continuing with our track record of
superior performance with all our customers. Our parts are used in the latest
block buster models like Baleno and Kwid which were launched recently and
also in the new cars showcased in the recently concluded Auto-Expo like
Toyota Innova Crysta, Honda BRV, Tata ZICA as well as Maruti Suzuki Vitara
Brezza. I will also briefly take you through the 9 months numbers for financial
year 2016. In the 9 months of this fiscal year total income was Rs. 225.69
crores as compared to Rs. 220.73 crores in the same period last year. EBITDA
grew by 35% in these nine months and it is at Rs. 39.01 crores as compared
to Rs. 28.85 crores in the same period last year. The company's EBITDA margin
for nine months stood at Rs. 17.28% compared to 13.07% in the same period
last year. The net profit was Rs. 11.04 crores which is up by 51% compared to
Rs. 7.29 crores net profit in the same period last year. As a result of the above
the EPS for 9 months has increased to Rs. 7.88 per share from Rs. 5.20 per
share. The debt equity ratio is also under control and we are in a comfortable
situation to effectively manage our exposures. As stated earlier we are not
planning to take any additional exposures in the current year and are planning
to fund the capital expenditure from our internal resources. Overall, if you
look at the trend for the previous 3 years we have been improving on all
parameters and are making our best efforts to sustain the improved
performance. Myself and Mr. Dhariwal will try out best to satisfy your queries
with clear answers. But before we open the floor to questions, I would like to
request you to kindly visit our facilities and experience the hard work that is
being done on the ground to achieve this performance. Ali, over to you for
managing the questions.
PPAP Automotive Limited
Moderator: Ladies and gentleman, we will now begin the question and answer session.
We will take the first question from the line of Saket Lohiya from Phillip
Capital.
Saket Lohiya: Just wanted to understand, first thing first on what basis your margins
depends? What exactly does it depend on because earlier you used to have
20-25% margins then it declined for the last 2-3 years and then again it is up?
So could you please just let me understand what caused the same? So a
perspective of yours on this.
Manish Dhariwal: If you observe the performance of the company over the last couple of years,
you will note that raw material cost has been a game changer. In fact, there
were times when it was under 50% and for the year ending March 2013 it was
60%. Now, this is one key reason which will explain the way our profitability
margin has moved. After 2013 our raw material cost as a percentage to sales
has been consistently coming down and if you observe our quarterly numbers
you will note that it was say 54.2% in June 2015, it came down further to
53.41% in September and in December it is 51.87%. So there has been a
consistent improvement in the raw material consumption of the company.
Now the reasons are multifold. It is not just one reason that I can say that this
is the one reason which has visibly brought down the cost like this. First of all,
our raw material mix which in terms of the sourcing has changed
considerably. We were primarily importing our raw materials and now
significant part of raw material is locally sourced. So that is one reason. The
second reason is that when our cost went up the way it was in 2013 we started
a very active working with our raw material suppliers as well as technology
providers to identify alternate materials. And that process which is a long
drawn process because the materials that we use are highly specialized in
nature. So that process started getting results. And as our utilization of the
alternate materials is increasing, our raw material cost has been coming
down. I must also recognize the fact that the product mix for the quarter has
a bearing on the raw material consumption and all these factors when
consolidated give the kind of numbers that you get. I will reiterate that we
PPAP Automotive Limited
make close to 500 parts for more than 25 to 30 models for our car
manufacturers.
Saket Lohiya: So if I just see, this is mainly regarding the product mix and the alternate raw
material that you used. Just to understand what is the basic raw material? Is
it a mix of various other raw materials?
Manish Dhariwal: Amongst, the most important reasons which has brought the cost of raw
material down is also the work that is actually been put in at the shop floor.
Our internal efficiencies have consistently been improved and it has shown
results in the rejection reduction, in the improved utilization of the raw
material, and so forth. Coming to the question that you raised about the basic
raw material, the basis raw material that we use are polymers which are crude
driven. However, they are highly specialized in nature, given the lot of
additives etc., that go into them.
Saket Lohiya: So you mean to say that the raw material prices are crude driven as well, if it
just goes to a general assumption?
Manish Dhariwal: The general direction is yes, but the percentages are going to be extremely
different. The crude prices have come down from $100 to $30 and my raw
material cost has come down but not even close to that.
Saket Lohiya: So that is what concerns me as well that why is it not so? I mean is it the
nature of the product as well, or the nature of raw material as well that it does
not really matter what the crude prices are, you will be only having your raw
material cost in the tune of 50-55%, no matter what the crude prices are, is it
so?
Manish Dhariwal: Yeah, broadly yes.
Saket Lohiya: So we do not have a risk of crude prices going up or something like that?
Manish Dhariwal: Not really, not significantly.
PPAP Automotive Limited
Saket Lohiya: Just to understand, what can really affect your raw material cost going up?
What can really lead to it? Or you think this is a sustainable raw material cost
percentage as of now because that has really driven our profits down for the
last three years and now if it is coming back I just wanted to understand the
sustainability of the same.
Manish Dhariwal: See, plus-minus 1-2% is possible but otherwise if you say that, you are going
back to 60%, clearly no because we have addressed a lot of concerns. We have
addressed the foreign exchange aspects because now that is the pass on, then
we have addressed localization, then the internal efficiencies that we have
been able to achieve are totally sustainable. They are only incremental, in fact
there has been only increase. They will only be improved. So broadly I do not
foresee the raw material cost changing significantly from the level that we
have achieved so far.
Saket Lohiya: Sir any sort of big competitive advantage in a single line? May be what I mean
to say is any sort of competitive advantage that a company has, or let us just
say that who are our competitors I am not able to find much on the
competition side. Are there many or are you one of those which is called
oligopoly players, something more or 2-3 more or 4-5 concentrated players.
Is it so the nature of the industry?
Manish Dhariwal: No, there are many competitors but most of them are all unlisted players. And
we do command a leadership position in all the product that we make.
Saket Lohiya: Your market share on the overall segment sir?
Manish Dhariwal: Mostly with all our customers we are maintaining more than 90% market
share.
Saket Lohiya: So you mean that for a particular supplier you are providing for the 90% of
the requirement, is it so?
Manish Dhariwal: Next for Maruti we are almost 90%. For Honda, Toyota and other customers
we are 100% now. So wherever we are present we are supplying the entire
sealing system for all the cars.
PPAP Automotive Limited
Saket Lohiya: One more thing, if I just look on the quarterly numbers, what happens
sometimes I see if the last December 2013, the margins were 22% and they
suddenly dropped to 14%. I have not seen the reason quite far but if you could
provide an insight, is it because of the raw material shield something or the
other?
Manish Dhariwal: That was primarily because of Yen price change with respect to Rupee.
Saket Lohiya: In December 2013 and March 2014, between that quarter.
Manish Dhariwal: Yeah, in that year. See basically we were importing a lot of material from
Japan at that particular time. So because of this exchange rate movement our
entire profitability went down.
Saket Lohiya: No, no sir. Actually I did not want to understand on why it went down, I just
wanted to understand why it went up on December 2013 because the
margins were 22%. So why all of a sudden it goes up and all of a sudden it
goes down?
Manish Dhariwal: You are talking about December 2013, is it?
Saket Lohiya: Yeah, exactly.
Saket Lohiya: See that is the only odd one quarter for the entire 8 or 10 quarters if I see.
The only quarter which is having more than 20% margins was December 2013.
So I just want to understand on that particular part.
Manish Dhariwal: I think you need to check your numbers again. There may be some sort of
anomaly happening there.
Abhishek Jain: Our revenue was 60.8 crores in 2013 December.
Saket Lohiya: And expenses were roughly around Rs. 52.2 crores.
Manish Dhariwal: Rs. 52.1 crores, yeah.
Saket Lohiya: So that goes to around Rs. 12-13 crores.
PPAP Automotive Limited
Manish Dhariwal: Yeah, so EBITDA was 14.1% and not 22%.
Saket Lohiya: How is it? On Rs. 60 crores of sales if Rs. 12 crores are operating profit.
Manish Dhariwal: No, no, not Rs. 12 crores, Rs. 8.62 crores of EBITDA.
Saket Lohiya: May be it is showing some wrong calculation. I am sorry on that part.
Manish Dhariwal: No problem.
Saket Lohiya: If that completes the answer on the raw material sustaining part how are you
supposed to increase the sales from here sir, or let us just say the capacity
part and the expansion you might have done in the last one year?
Abhishek Jain: See as I shared in my opening commentary, we are working very closely with
all our customers. So all the new models that are coming with them, we are
getting involved right from the design state. Recently we concluded this Auto
Expo. So then all this, the new Innova Crysta and Honda BRV and all those
models, we are already present there with them.
Saket Lohiya: No, that is very good because it shows manufacturers' trust in you and one of
my friends have also commented on your products, so products are good, no
doubt. What I wanted to understand is if the overall sales are not increasing
then how do you think the new models are going to affect or not? If there is
an e-model of this car, all of a sudden it will not help the overall market to
grow. It will only take share from somebody else. So how will the overall
market be like?
Manish Dhariwal: It is a market's phenomenon. We cannot actually do anything about it
because we are not in the business of selling cars. So that is something which
market has to do by themselves and we do not have any control over it. What
we have control over is to get associated with our customers and try to get
maximum order for all these cars from them. That is what we are doing now
and that is what we have been doing in the past as well.
PPAP Automotive Limited
Saket Lohiya: I think your major sales breakup, it should be in the old models and the new
models. Is it so that the old models might be major part of the sales and the
new models which are coming up they increased their own share or is it they
just – what I mean to say is sir, if the new models are coming they are taking
share from the older model as well. So overall how is your share increasing?
Are you going to export or from exports you are trying to increase your sales
because if the sales are not improving from here, then how are you managing
your sales from here?
Manish Dhariwal: See, if I have understood your question correctly, my sale obviously is to the
OEMs and then you have to understand their sales composition based on the
existing products and the new products that they have launched. You must
have observed that in the recent times the new models are getting good
traction that it is at the cost of the business for existing models. So that is
something which isyeah it is a market phenomenon that is happening. What
we are doing is that in terms of our sales top-line, if you can see we are trying
to get more parts from the customers like if earlier models are coming in we
are pitching in for more parts, so we are getting those. To give you an
example, in fact, Mr. Jain also mentioned in the call that our parts are now
going to South America as well as South Africa. Toyota is going to buy from us
and selling there. So all those initiatives are in place.
Saket Lohiya: So right now your sales mix in domestic and export terms is Rs. 71 crores, if I
just bifurcate in domestic and exports how will that count be?
Abhishek Jain: 10% is exports but not directly, all through our customers.
Manish Dhariwal: We sell to Honda, Toyota and Nissan who sell to their counterparts outside.
So the part that I make is used in a car that is being run in Japan or say in South
America but we are not directly exporting to South America. We are selling it
to Toyota in India who are then in turn selling it out, not as a car but as a part
itself.
Saket Lohiya: So if I just go 2 years back, was the percentage same or it was zero exports
and all domestic?
PPAP Automotive Limited
Manish Dhariwal: No, it has been increasing. I mentioned Toyota as a new addition. So earlier
Nissan was not there. So obviously it is a new phenomenon and it is on the
rise.
Saket Lohiya: So do you have the numbers of exports 2 years back or last year or is it might
be in the annual report as well I think so.
Manish Dhariwal: See as I mentioned here that we are selling domestic only, but the parts are
going abroad. See the parts are not going to the cars that are being made for
India only.
Saket Lohiya: Okay. So you sell it here only and it goes abroad. So is there any margin
difference in exports in domestic because that is an increasing phenomenon
as you say. The sales are increasing on that part so is there any margin
difference as a percentage.
Abhishek Jain: See I would tell you very clearly, we are supplying it to the local customer here
in India. So if I am supplying to Nissan, he is comparing my cost with Nissan
with parts which are being used in Nissan India as well as Nissan Japan. So I
cannot have a differential pricing with them that my export price is different
and my local price is different. So it is a common same price depending upon
the difference in specification or their packing requirement. That is the only
difference otherwise margins and basic costing is all same. It cannot be
different.
Saket Lohiya: Sir just last question on the capacity part. Just the basic capacity, how do you
calculate the capacity and the capacity utilization, if there is any because how
am I supposed to know that what levels of utilization are you having?
Manish Dhariwal: Capacity calculation in the kind of work we do is not really possible. Each part
is different and each part has a different sort of complexity. Our parts undergo
a number of processes. These can be different for different parts. A process
of flocking is required for weatherstrip. This process is not needed for say,
roof molding. In fact if you will visit our facilities you will get a better
understanding of our business.
PPAP Automotive Limited
Saket Lohiya: I did an active visit because this is something which is in my area of concern.
I will take it offline that part but actually just wanted to know that if the overall
market does increase, what I am trying to say is that if the overall car market
does increase will there be an incremental Capex or there is existing capacity
that would be able to serve the market. That is what I am trying to
understand.
Abhishek Jain: I think we are quite comfortable in our existing infrastructure to deal with the
increase in the market right now.
Saket Lohiya: To what level, just say Rs. 400 crores means if there is an increase you could
be able to touch Rs. 400 crores without any need of incremental Capex, is that
quite a good number? I am not trying to portray your revenue position; I am
just trying to understand what could be the possible drivers. If I am trying to
understand this company on the sales growth, I am not able to understand
why this company could grow if the market is not growing. So where have I
gone wrong? So I am just trying to understand on that part. I hope that is not
a big problem.
Manish Dhariwal: Well as we make about 500 different products, so some products are there in
which we have got some capacities spare so we do not need to invest in new
capacities. But there are certain products wherein if the demand is increased
then we might need a Capex also. So it is a very dynamic situation that we
need to manage. But fundamentally what I can say is right now we do not
need to invest in any new capacities based on what we have in hand. But in
case some new models are coming up in future then we might need to review
that situation.
Moderator: We will take the next question from the line of Nikhil Deshpande from Axis
Bank.
Nikhil Deshpande: This was on your raw material cost as a percentage of sales. In bad times it
has gone up to almost 61-62% and in good times it is about 45%. We are
somewhere near the good times, so where do we see it moving now?
PPAP Automotive Limited
Abhishek Jain: I think we are in a very comfortable situation now because we see it moving
plus-minus 2% based on the market situation or everything.
Nikhil Deshpande: Yeah, so 45% so may be just passing by. So somewhere around 50% would be
where we would be comfortable. Is that true?
Manish Dhariwal: Somewhere around 52%.
Nikhil Deshpande: Okay. Sir the growth this time is quite low, you have stated earlier also. It is
almost a year flat on revenue front. But if you see Maruti had done quite well
during this quarter, double digit growth over there. Honda has been doing
pretty well and Toyota was somewhat slightly on the weaker side. So what
has caused this to be because Maruti being a large customer the revenue
should have been on a higher side or is that so that there is a portion of the
raw material cost and that is why the revenues look flat?
Manish Dhariwal: Nikhil if you will look at our sales composition, Maruti gave us 43% in the year
2015 and Honda gave us 39%. So for us Maruti and Honda are quite equal in
terms of revenue it creates for us. Now while this year the Maruti sales grew
although not great but there was a dent in the Honda business specifically in
the third quarter, ending December 2015. Now, because of that most of the
increase that we got from Maruti was kind of adjusted by the dent we had
from Honda. So that is the reason why the sales have seen the kind of
numbers that they have.
Nikhil Deshpande: And so what is the outlook for your key customers? How do you see them
going forward?
Manish Dhariwal: See it all depends on the market now. I mean everybody is focusing on
bringing out excellent products and the pricing is also on the correct side now.
But since people do not have spare money in their hands they are not able to
buy cars. So as soon as this liquidity improves in everybody's hand I think the
overall market should get better.
Nikhil Deshpande: How is the share with Brezza?
PPAP Automotive Limited
Manish Dhariwal: Share meaning?
Nikhil Deshpande: We are present on the Brezza platform you said, what kind of products would
be there?
Manish Dhariwal: We are present in both sealing system and injection products.
Nikhil Deshpande: And Baleno is also doing quite well, so there also we have a good thing.
Manish Dhariwal: That is right.
Moderator: We will take the next question from the line of Bhavesh Jain from Envision
Capital.
Bhavesh Jain: Any update on new logos like Hyundai or Mahindra & Mahindra?
Manish Dhariwal: We are constantly after that, so I think next week our team is going to
Mahindra's to represent for new business and Hyundai is still under process.
Bhavesh Jain: And sir any update on our JV, performance of our JV for that EPDM rubber for
9 months?
Manish Dhariwal: See the business is progressing in the same fashion. The JV also services the
same market. So therefore there is not much change there. Anyways the next
quarter, which is going to be the full year numbers, we will be consolidating
the numbers of the JV as well and the details will be available during that
period.
Bhavesh Jain: Can you share the revenue mix between a sealing system and this injection
molding product for 9 months?
Manish Dhariwal: It is broadly equal.
Bhavesh Jain: Okay, 50-50. Any tooling revenue in these 9 months?
Manish Dhariwal: Hardly any.
Bhavesh Jain: And sir how much raw material we are importing?
PPAP Automotive Limited
February 10, 2016
Page 15 of 16
Manish Dhariwal: Raw material import percentage has been consistently coming down, in fact
from over 60% it was about 27% last year and it is around that level at this
point of time.
Bhavesh Jain: 26%?
Manish Dhariwal: 25-26%, yes. It was 27% last year, FY15.
Bhavesh Jain: Any new product addition in these 9 months?
Abhishek Jain: We started this business in Baleno and Kwid has also started.
Bhavesh Jain: I am talking about some injection molding products, any new product addition
in that particular segment apart from what we are currently doing?
Manish Dhariwal: See that is a continuous process.
Bhavesh Jain: Anything we have added in these 9 months FY16?
Manish Dhariwal: Means?
Bhavesh Jain: New products which are doing production apart from what we were doing in
FY15?
Manish Dhariwal: We started this bright type of outer belt for new projects, like earlier we were
doing it for Maruti, so last 9 months we have started for Toyota and Tata as
well.
Bhavesh Jain: And sir the revenue mix which we have given for the overall entity, the same
holds true for injection molding products also from 43% Maruti and 39% from
Honda, so that holds for sealing system?
Manish Dhariwal: It holds true for the whole. Now the injection molded parts we only do for
Honda and Maruti because proximity to the customer is a key factor. Injection
molded parts are slightly bulky in nature and voluminous. So for all the
customers we give automotive sealing parts. Injection parts we give only to
Honda and Maruti.
PPAP Automotive Limited
Bhavesh Jain: So any new client addition in that particular segment? We are looking for
addition of new logos in that particular segment?
Manish Dhariwal: We are discussing with every customer for the opportunities but last 9
months we have not been able to add anyone but we are getting new models
from our existing customers.
Abhishek Jain: And see for the existing parts, we are getting offers from new customers.
Because of high promoters holding, low Debt-Equity ratio, market leader in their products, increasing EBIDTA Margin along with strong fundamentals company is just available at just its BOOK VALUE , Which I think is highly undervalued compared to other auto ancillary stocks.
This is my first post and I request senior members to dig further and post their views.
Thanks,
PRIYA RANJAN MAHTO
DISCLOSURE:-- INVESTED RECENTLY
Hi Priyaranjan,
My concerns with the company are:
No pricing power - Witnessed by fluctuating margins.

On the issue of yen depreciating due to abenomics and finding a substitute RM locally - I find the management was not proactive. They considered increasing operational efficiencies and sourcing locally only when their options ran out. A proactive management would have hedged the currency risk and improve margins consistently when their was room for it.

No growth plans - The management is clueless about their next lever for growth. They say it is market dependent because they are heavily dependent on the volume of sales. In the long term they will grow along with the automotive market but short term triggers are absent.

Capacity and Capacity Utilization - The management is completely clueless about what their total annual production capacity is. This in turn leaves them clueless about utilization levels and hinders planning for future expansion. This further creates doubt in my mind about the competency of the management.

Market Share - The Management says they hold market dominance in their product field with 90 to 100 % market share. I have not researched this point yet but given the size of the auto industry (export and domestic) and the sub size of the sealing product and injection molding products I find it hard to believe that the market size for these products is only 300 odd crores (PPAP's Revenue) which is what they imply by saying we hold 100% of market share.
PS: I maybe wrong about this last point, maybe the company means something else when they talk about market share or I am interpreting it wrong.
The management has done a good job in the recent years in improving profit margins, but you need to ask yourself is this the peak profitability period due to crude oil lows. I am happy you were able to acquire this stock below BVPS and you will make some money out of it. Just be sure of what your expectations are on the return side. You mention undervaluation in comparison to other auto ancillary stocks, maybe that is for a reason.
I do not wish to discourage your investing spirit, this forum is an amazing platform to discuss your investment rationale with someone who may hold an opinion that is contradictory to yours. This creates a balanced environment for judging an investment from all points of view.
I hope to hear a counter and detailed investment rationale from your side.
Disc. - Not Invested.
@hack2abi Thanks for your feedback.
In my view other positives are:–
:- Rs. 37.5 crs is invested in joint venture with TOKAI INDIA RUBBER § LTD. to manufacture sealing rubber products for passenger cars. It will be interesting to see the Q4 NOS. as the Company will present consolidated results for FY 2015-16 along with Q4 results first time. Good consolidated result may surprise the market positively.
:- I expect consolidated revenue for FY 2016-17 around Rs. 400 crs. If the company reduces the Debt and maintains EBIDTA margin at 16% it may show EBIDTA of rs. 64 crs and net profit of rs. 27 crs after tax on consolidated basis. So, company is available at Forward PE Ratio of below EIGHT as current market cap is around 200 crs, which I think is undervalued.
:- As cost of its products forms negligible cost to the end products of its customers' along with long term relationship with its customers and complicated nature of it products provides entry barrier to other players.
Eyeing INR 10 bn turnover by 2020
PPAP is eyeing turnover of INR 10 bn by 2020 (FY15 turnover -
INR 3 bn, implied revenue CAGR - 25.7%). Apart from the normal
volume growth, the company is following strategy of expanding
product portfolio, introducing new product categories and
expanding the customer base to achieve industry leading growth.
Further, the company also aims to add Korean and European OEMs
in its client list and collaborate with ancillary companies from
respective geographies for access to technology.
Hyundai India added to the client list
PPAP has recently added Hyundai India to its client list and is
supplying sealing products to them in small quantities currently.
Pick up in order flow from Hyundai is expected to be gradual as
building relationship and winning trust is a time taking process.
PPAP is also looking for collaboration with Korean auto ancillary
company for technology tie-up.
Decent revenue potential even from existing product portfolio
Given the gaps in its product offering, even the existing portfolio
presents immense incremental revenue opportunity. The company
supplies only the sealing products to OEMs like Nissan (9.0% of
revenue), Toyota (5.0% of revenue), Tata Motors (2.0% of revenue)
and GM India (1% of revenue) as (a) its Chennai plant does not
have the manufacturing infrastructure for injection moulding parts
and (b) High freight costs in transporting injection parts (to few
OEMs) makes it unviable. If PPAP plans to start manufacturing injections parts from the Chennai plant and it gets approval from
its clients, the revenue potential from sale of injection products
could be decent. Value wise too, the per unit revenue from injection
products is very high vis-à-vis sealing products, implying sizeable
revenue growth.
Capex plans
PPAP plans to incur capex of INR 300 mn each year over the next
2 years. The money will be invested in land acquisition in
Gujarat, product development and normal maintenence. With
Gujarat emerging as the next automobile hub, the company plans
to set up a plant in Gujarat to capitalize on the emerging growth
opportunities there and is in the process of acquiring land for the same.
Thanks Priyaranjan for sharing this new info. I guess I was wrong when I said they have no growth plans based on the con call transcript. Will have to delve deeper into ARs now. Will share whatever I find.
The initial assessment of the management looks good. They talk about building a sustainable and quality corporate culture. I got some remuneration figures from the ARs, and they paint a kind of mixed picture. Here are the figures:
Year/Name…Ajay K. Jain…Abhishek Jain…Net Income
2015…48 Lac… 29.04 Lac…12 Cr
2014…48 Lac…48 Lac…5.4 Cr
2013…27.69 Lac…17.34 Lac…1.5 Cr
2012…27.69 Lac…17.34 Lac…12.8 Cr
2011…27.83 Lac…15.98 Lac…27.1 Cr
Many inferences can be drawn from the above data, but the indisputable fact is the remuneration is not exorbitant. Will keep posting more analysis on other parameters as and when I complete them.
Disc.: Not Invested Yet But Maybe Interested.
CONFERENCE CALL - from Capital Markets
FY'17 will be an exciting year, as most of the vendors have planned face lifting of existing models and new launches
The company held its conference call on 20th May 2016 and was addressed by Mr. Abhishek Jain Executive Director and Mr. Manish CFO
Key Highlights
PPAP today has more than 500 different sealing products for the customers. The company meets around 90% of total Maruti's requirements, and almost 100% requirements of Honda and Toyota Motors for their sealing product requirements.

Of the total sales, around 45% come from Maruti, 39% from Honda Cars, 9% from Nissan, 4% from Toyota Kirloskar, 1% each from Tata and GM and rest from others. The company has added Issuzu SML as its new client. Talks with Hyundai are still going on and will fructify soon. Hyundai is taking more time.

Apart from Passenger car manufacturers, the company also supplies to LCV players like to Ashok Leyland and Nissan JV, Tier 2 supplier to Bharat trucks. The company will also supply to Swaraj Mazda, Daimler trucks, Maruti 1 ton etc in LCV segment.

Exports will be around 10% of total sales. All these exports are indirect exports. The company was exporting to Nissan and Honda and now exports to Toyota will also start in FY'17.

The tooling revenue stood at Rs 4.94 crore in Mar'16 quarter as compared to Rs 24.96 crore in Mar'15. Excluding the tooling business, the revenue was almost flat on YoY basis for Mar'16 quarter. Lower raw material prices and lower volumes and delay from customers led to lower sales on a comparable basis on YoY basis.

On a full year basis, net sales grew by around 4% on a comparable basis to Rs 293 crore as compared to Rs 284 crore for FY'15 sales, excluding the tooling revenues.

Investment subsidy received from Rajasthan government is Rs 31 lakh in Mar'16 quarter and will be every quarter for the next 7 years.

The company will launch further new products and parts for new launches of the vendors. As per the management, FY'17 will be a very exciting year, as most of the vendors have planned face lifting of existing models and new launches. Further monsoon expectations, 7th Pay commission etc will result in higher spending power at the consumer end.

Entire capital expenditure of around Rs 20 crore for FY'17 will be undertaken from internal accruals

Book Value stands at Rs 150 per share as on Mar'16.

Management is confident of sustaining the current margins in FY'17 with higher sales and volumes going ahead. The main reason for margin improvements is lower raw material costs. Local sourcing against international purchase, alternate materials, lower exposure to international currency etc were other reasons.

The JV reported Rs 34 crore of sales and already broke even at cash level and, will be in profits at PAT level in FY'17.

The company is actively working for Hyundai and M&M for their passenger cars sealing products and molding requirements,

There are no plans for any acquisitions. No plans to raise any funds.
Replying to IIFL, Abhishek Jain, Whole Time Director, PPAP Automotive Limited,says "Looking forward, we remain upbeat on the new vehicle sales outlook for 2016 and beyond."
Can you share with us the overview on the financials?
The total income was Rs.302.75 crores in FY16, as compared to Rs.318.50 crores last year. This figure includes Tool sales of Rs.7.81 crores in FY16 as compared to Rs.34.02 crores in FY15.
The EBITDA grew by 28% in FY16, at Rs.52.06 crores as compared to Rs.40.77 crores in FY15. The EBITDA margin is at 17.20% compared to 12.80% in FY15. The net profit was Rs.15.27 crores for the current year, up by 27% from Rs.12.03 crores last year.
As a result of the above, the EPS for the year has increased to Rs.10.91 from Rs.8.59 per share in the previous year.
The Board of Directors have reviewed the performance of the company on 19th May and have recommended a final dividend of Re.1/- per share.
The debt-equity ratio at 0.35 is also under control and we are in a comfortable position to effectively manage our exposures.
If you look at the trend for the previous three years, we have been improving on all parameters and are making our best efforts to sustain the improved performance.
Brief us about your expansion plans and the road ahead?
We are constantly working towards expanding our product base and our customer portfolio. Our endeavour is to provide customers with a superior value added solution for their vehicles. Since inception, PPAPhas been manufacturing Plastic based Sealing Systems.
Recently, we have set up a JV with our technology partners to expand into EPDM based Automotive sealing parts. We are also exploring new opportunities for our Injection business.
We are constantly interacting with our customers for new avenues where we can add value to them. We are also looking at expanding the target audience by examining opportunities in the Non Passenger Vehicle segment viz. LCV, Railways, etc.
. While our existing plant is a finishing plant set up on leased premises, we are in the process of building a new plant in Chennai. The new plant at Chennai will be focusing on servicing the customers in the region.
We are also considering setting up a new plant in Gujarat. Suzuki, as you are aware is going full steam on its facilities in Gujarat. We have already secured land assets in this area and shall be setting up the plant as the requirement becomes evident.
We are also exploring to expand our existing customer and product base.
What outlook do you see for the industry per se?
In 2015, passenger vehicle sales grew by 7.2%, to 2,789,678 units according to figures from the Society of Indian Automobile Manufacturers (SIAM).
Looking forward, we remain upbeat on the new vehicle sales outlook for 2016 and beyond. RBI and the World Bank have pegged India's growth at 7.6% over FY17 bolstered by a positive performance from the key manufacturing and services sectors.
Domestic demand for new and used vehicles is likely to remain strong due to good monsoon prospects, payout of the 7th Pay Commission and improvement in availability of affordable credit, resulting in rising real GDP per capita. This rise will surely result in a good spell for the Automotive Industry.
Moreover, passenger car density remains extremely low in India at about 21 cars per 1,000 people, but will rise to 28.4 by 2020. (according to BMI Research)
All in all, we are quite positive about the growth outlook.
What is your take on margins?
We achieved 17.2% EBITDA margin in FY16. This is a significant improvement over previous years. We have been improving on all parameters and are focused to sustain the improved performance.
Comment on your Capex plans?
For the current year (FY17), the capex is planned at about Rs. 35 Crores. This capex will focus on setting up of a new plant as well as improvement of capacities wherever required. A significant part of this capex will also be utilized to improve our technology so that we can become more competitive in the long run for our customers.
Your sales target for 2020?
We have been working very closely with our customers and expect that we should be able to maintain our leadership position for the existing business. We are also continuously exploring new customers and new products while setting up new plants close to our customers so that we can explore more opportunities with them.
As a policy, we have decided that our growth initiatives have to add value to the company and we do not get into a rat race of the top line. Therefore, we are making all efforts in ensuring that the base of the company is strong and we build a great company with great products for eternity. http://www.indiainfoline.com/article/editorial-interviews-leader-speak/abhishek-jain-whole-time-director-ppap-automotive-limited-116071400402_1.html
Rajasthan Global Sec also holding .41% stake till 31st mar 2016 as per latest annual report
Excellent results by PPAP. Addition of multiple small things like - revenue growth, OPM improvement, reduced finance cost resulting in whopping 80% growth in PAT for Q3FY17 & 37% growth in PAT 9MFY17.

Need to check out management commentary in con call tomorrow for further guidance, capacity utilization etc.
Disc - Invested, not a buy or sell reco, do your own diligence
Dec 2016 Conf Call
Products
The company is present in two segments namely, ceiling systems & injection molded products. There are two processes (technical) available with the company namely extrusion & injection. The company manufactures ~500 products in these two segments. The company also supplies primarily in passenger vehicle segment & also started to supply to commercial vehicle segment.
The ceiling systems can be made of either rubber or plastic/thermo plastics. The company specializes in plastic ceiling systems. The ceiling systems can be further categorized into two uses, primary & secondary. The primary systems can not be converted to plastic because rubber has better compression properties. The secondary systems can use plastics but whether to use rubber or plastic depends on design spec. All the Japanese & Korean OEMs use plastic systems already. Tata Motors also use plastic systems whereas European OEMs prefer rubber & it is hard to convince then to move over. Majority of revenue comes from ceiling systems & this is where expertise of the company lies. The company claims 70% MS in India & 90% MS for all the customers they supply to.
Injection products are primarily used by Honda.
Demonetization Impact - Month of Dec 2016 Numbers
Automobile sales (2/3 wheeler, passenger & commercial vehicles) declined by ~19% which is steepest decline in 16 years.
Passenger vehicles did moderately well & declined only by 8% whereas 2-wheeler segment declined by 20%. All the decrements are in YoY perspective.
OEM Scenario
Since last few years, around 20% of the cars sold every year are new models & that remains an important parameter for growth.
Maruti Suzuki reported good set of numbers & are targeting 10% growth (volume?) with Ignis launch. Toyota & Tata Motors outperformed due to new launches. Hyundai grew in line with industry growth rate.
Honda motors recorded 19% de-growth and M&M recorded 8% de-growth.
It can also be noted that can aggregators are also pushing up sale of new cars & 100,000 cars have been sold to them (Quarter?).
Customer Updates
Maruti Suzuki
Around 45% revenue of PPAP comes from this OEM. The models for which we provide systems, we have 90%+ market share.
The company has business for models Baleno & new upcomig Swift model. The company also has business for Ignis model.
Baleno & Swift production is slated to be Shifted to Gujarat from Manesar. The company would continue to have the business & will supply from existing plants. The company had bought land in Gujarat last year & a small facility will come up as & when business starts growing in Gujarat. The company mentioned that for new Swift model, company has ~1200-1300Rs. business per car.
Others
Hyundai remains a focus area for company. Some ceiling parts are being sampled on Hyundai i10 model & also working with one of their existing vendors. The company would be supplying parts to Fotuner model of Toyota. The company also added Suzuki Motorcycles as new customer in two wheeler segment. The company would be supplying injection molded parts to them.
Numbers
Part sales grew at 7% (YoY?) Dec 2016 quarter. The capacity utilization stands at 65-70%. The company has provided guidance of 50Cr capex through FY18 out of which 15cr is maintenance capex of repetitive nature due to old plants.
The company sees more opportunities for efficiency improvements & would continue to work on that.
Thanks,
Rupesh
Thanks Rupesh,
Even I have been following this story and it looks interesting on the financial performance, especially the operating cash flows. I just did a quick analysis with other auto ancillary companies (the list could have been longer) and it appears that PPAP is trading relatively cheaper on P/E,EV/EBITDA and OCF/EV. Few companies haven't yet reported their Dec'16 figures yet and the numbers are sourced from screener.in.
PPAP's recent presentation listed on BSE also looks interesting (link here)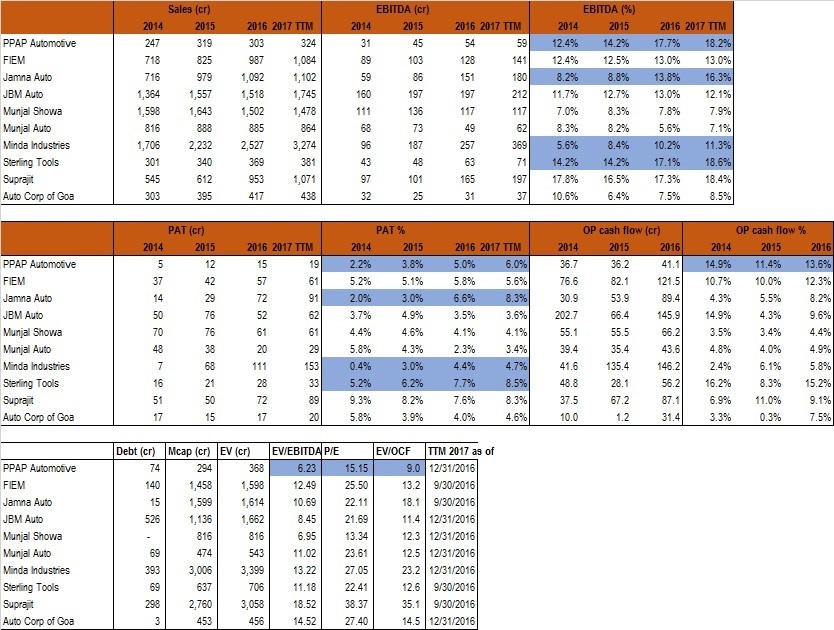 I was looking at the Financial Statements of PPAP. In FY15, PPAP Automotive Chennai (PAC) and PPAP Automotive Technology (PAT) were added with 50% shareholding. The shareholding was reduced to 40% in FY16 & one more company – PPAP Automotive Systems (PAS) was added as an Associate Company also with 40% holding. The amounts invested in these companies are negligible, so why are they appearing here and especially given that their results are also not going to be consolidated? Till FY14, the company had very 'clean' statements but what's going on these last 2-3 years is not clear. Also who holds the remaining shareholding?
In FY16, interim dividend was paid and final dividend declared. Dividend is not appearing in Cash Flow Statement. So the accounting treatment is not clear.
Any inputs on this will appreciated. Thanks.
(Disc: No positions)
Two customers of PPAP, Maruti Suzuki and Honda reported very good set of numbers.
Looking forward to results of PPAP.
Thanks,
Rupesh