About Polycab India Ltd.
Established in 1964. Incorporated in January 1996. Listed in April 2019.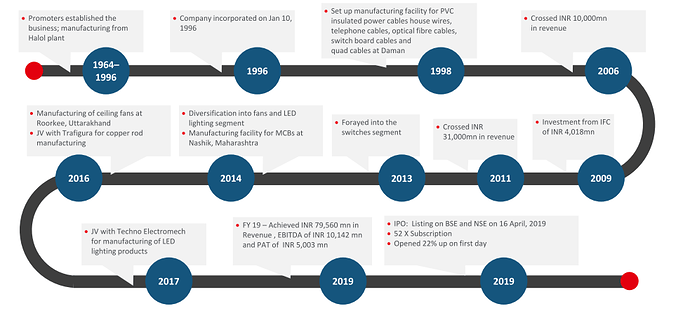 Domestic leader of W&C Industry:
86% of revenue [Power cables, control cables, instrumentation, building wires and industrial cables]
Polycab (PIL) is a leading player in India's wires and cables (W&C) industry with ~18% / ~12% market share in the organized / total market.

Despite being a highly commoditised and extremely price sensitive segment PIL has able to gain market share due to a robust distribution network, wide product offerings, efficient supply chain management, strong manufacturing capabilities and brand image.

W&C revenue growth at a CAGR of 14% from FY15-19.
Quickly scaled FMEG Segment:
8% of revenue [Fans, LED lightings and luminaires, switches, switchgear, solar products, heaters, pumps and electrical conduits]
PIL forayed into multiple Fast Moving Electrical Goods (FMEG) product categories from 2014 (FY15) and was therefore required to invest behind manufacturing capabilities, distribution network expansion and brand building exercises; this led to EBIT losses during FY15 and FY16.

However, the business attained breakeven in merely three years (FY17) and turned profitable in FY18 with an EBITM of 3% (as per company reporting), showcasing PIL's strong focus on this space.

FMEG revenue increased at a CAGR of 44% over FY16-19.

Intends to concentrate on street lighting, agriculture pumps, air purifiers, and water purifiers.

It is working on strengthening its after-sales service. As of June 2018, PIL has ~ 230 customer-care franchisees.
Emergent EPC Player
6% of revenue [Projects requiring a large supply of cables, wires, and conductors]
PIL entered the engineering, procurement and construction (EPC) business in 2009.

It provides electrical turnkey solutions comprising project management, onsite execution and resource management through specialized erectors and financial management.

Their solutions are largely provided for the transmission and distribution sectors involving projects in extra high voltage and high voltage levels for various government utilities in India.

These projects typically require a large supply of cables, wires and conductors, which they supply.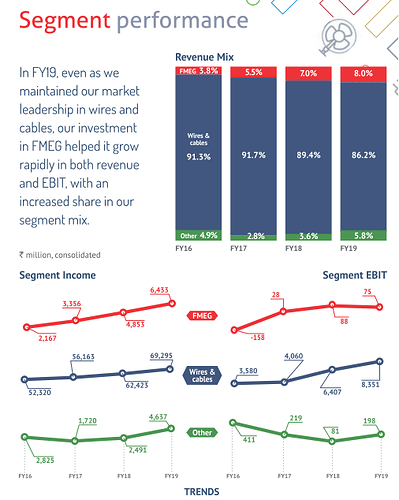 Competitive Strength
Market Leadership in W&C:
Institutional and retail customers in different industries: power, oil & gas, construction, IT parks, infrastructure, metal and cement industries.

Customer base is well diversified while none of the customers contributes more than 5% to its topline, which reduces dependency on any single customer.

Made-to-stock: based on demand forecasts from customers and/or company sales team.

Made-to-order: customized products for varied applications.
Synergistic expansion to FMEG
Common raw materials, economies of scale, higher negotiating power.

Cost-savings in transportation & distribution

Opportunity to cross-sell to a larger customer base.

Leverage distribution network across diverse product offerings.
Manufacturing with strong focus on backward integration:
PIL has built strong manufacturing capabilities in the W&C and FMEG segments with 24 facilities in operation (3 for FMEG), with stringent control over costs & quality.

It has incurred a capex of Rs11bn in the past 5 years, including plants for FMEG. Currently capacity utilization stands between 70-80%. In-house manufacturing will provide flexibility in improving the quality and range of FMEG. Backward integration into polymers, wire rods, cable/wire colors reduces costs and improves the quality which will continue to drive superior growth and margins.

Joint venture with Techno Electromech Private Limited (2017), a manufacturer based in Vadodara, Gujarat, to manufacture LED lighting and luminaires.

Joint venture with Trafigura Pte Ltd (2016), a commodity trading company, to set up a manufacturing facility in Waghodia (Gujarat), India, to produce copper wire rods.
Strong distributor network:
PIL has well entrenched distribution, 2800+ distributors and over 100,000 retailers, with long standing relationships and stickiness, some of them being with them for 3 generations.

It has the largest network of 29 warehouses in 20 states & UT, typically located close to distributors, dealers, and direct customers, which enables PIL to mitigate transportation costs.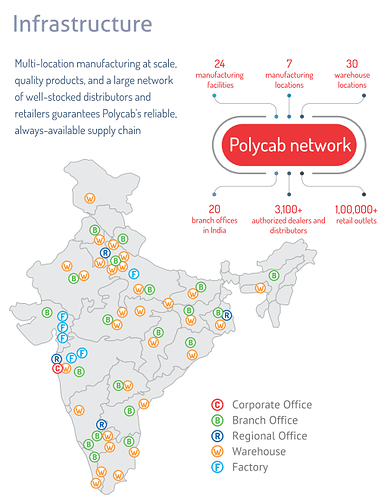 Exports:
PIL has a presence in 40 countries (5% revenue is from exports); it has received a US$ 143mn order from the international market recently.
Powerful Branding:
Over the years, Polycab has evolved from a largely B2B play to a fast-growing B2C
brand.

Advertising and sales promotion expenses increased to 1.4% of sales in FY18 from 0.4% in FY14.

Featured in Superbrands of India in 2016, 2017 & 2018.

Endorsing Indian Premier League (IPL) since 2016.

Brand endorsers are Paresh Rawal, Rajpal Yadav, R Madhavan, Ayushmann Khurrana.
Polycab Wires - Connection Bachat Ka. Connection Zindagi Ka.
Polycab Fans - India ka Naya All Rounder.
Polycab MCB - Bharosa Safe Zindagi ka.
Polycab LED - Afwah nahi, Roshni Phailao.
Experienced and committed management team: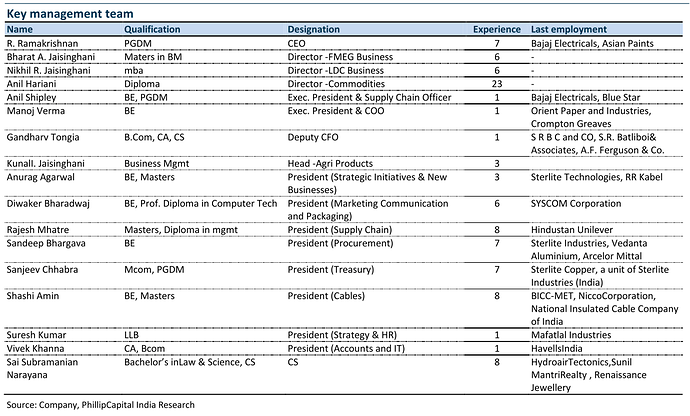 PIL's success has been, and will continue to be, dependent on its management team. Its management team has collectively many years of entrepreneurial and managerial experience in the electrical products industry and also possesses an extensive network of customer relationships and a deep understanding of its operations, pricing strategies, business development and industry trends.

Salary: Highest salary is paid to Inder T Jaisinghani (₹36.54 mil), then Ajay T Jaisinghani & Ramesh T Jaisinghani (₹28.25 mil).
Note:
Comparison with Key competitors.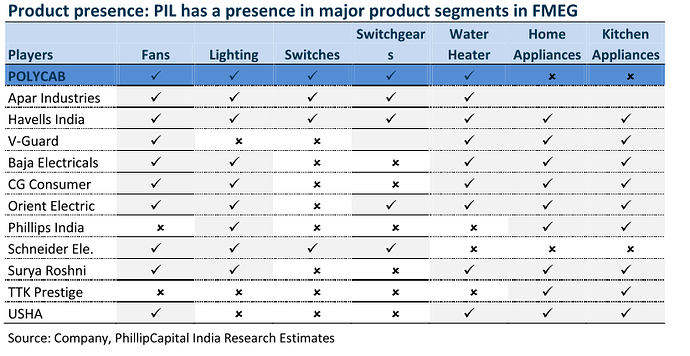 Channel financing to ease working capital cycle:
PIL has high working capital (27% of sales) due to penetrative strategy in FMEG and manufacturing focus.

Also the EPC segment serves various sectors with an average working capital of 90-100 days.

However, PIL has started channel financing like Havells - the impact of which is already visible in reduction in receivables.
Intends to become debt-free
PIL has raised Rs 13.5bn through the IPO. The object of the offer was to 1) scheduled repayment of all or a portion of certain borrowings availed by company, 2) to fund incremental
working capital requirements of the company.

With the IPO funds, improvement in margins, and strong cash flow, PIL expects to become debt-free in 2-3 years.
Credit Rating
CRISIL has assigned its 'CRISIL AA/Stable/CRISIL A1+' ratings to the bank loan facilities of Polycab Wires Private Limited (PWPL). [13 July, 2019]
Key Financial Ratios
| FY | 2019 | 2018 | 2017 |
| --- | --- | --- | --- |
| EPS | 35.39 | 23.35 | 16.99 |
| BVPS | 201.62 | 166.26 | 141.94 |
| ROCE | 27.9 | 21.0 | 15.2 |
| ROE | 17.5 | 15.2 | 12.0 |
| OPM | 12.7 | 11.7 | 10.2 |
| NPM | 6.24 | 5.24 | 4.18 |
| D/E | 0.10 | 0.34 | 0.43 |
| Current Ratio | 1.5 | 1.58 | 1.34 |
| Revenue Growth | 17.51% | 23.09% | 6.04% |
| Net Profit Growth | 40.22% | 53.79% | 24% |
| BV Growth | 20.63 | 17.76 | 11.64 |
| Receivable days | 60.74 | 64.49 | 76.14 |
| Inventory Days | 76.97 | 75.87 | 75.39 |
| Payable days | 30.18 | 68.53 | 85.17 |
| Fixed Asset Turnover | 4.78 | 4.77 | 4.94 |
P/E: 16.81
P/B: 1.97
Price/Sales: 1.06
EV/EBIT: 9.69
Price/Cash Flow: 6.87
Face Value: 10.00
Promoter holding: 68.69% (No Pledge)
Market Cap: ~ 8500 Cr.
Altman Z-Score: 4.70
Piotroski F-Score: 8
Modified C-Score: 0
Opportunity
Various government initiatives to drive cable & wire demand.

Increase in organised pie of W&C industry to benefit market leader Polycab in long term.

PIL manufactures and sells a diverse portfolio of wires and cables and FMEG, which also gives the opportunity to cross-sell its products to its diverse base of customers.

Energy-efficient products gaining traction: Like LED & Energy Efficient Fans.

Improving realizations driven by value-added products especially among the younger generation, owing to increasing disposable incomes and evolving preferences.

Home improvement cycles in urban areas are shortening on account of rising disposable incomes and changing consumer preferences.
Risks
Higher exposure in W&C segment poses business concentration risk.

Macroeconomic slowdown can have a material impact on W&C segment.

Fluctuations in raw material prices pose a key challenge to the cable and wires industry. Realisation and profitability depend on copper and aluminium commodity prices.

Imports of raw materials like copper, aluminium, steel, and insulation materials are exposed to exchange rate fluctuation which can adversely affect the cost, and thus impact margins.

Concentration of suppliers of raw materials in a few sources places the business at risk from disruptions in supply.

Inability to scale up FMEG business division / lower than expected profitability woing to competitive pressure.

Significant increase in WC requirement likely to impact return ratios.

Being part of a labor-intensive industry, the company is subject to stringent labor laws and carries a risk of unexpected strike, work stoppage or increased wage demand.

Short listed history to understand management ethics towards minority shareholders.
Sources
Disclosure:
No holding, tracking.
This is not a recommendation. Please do your own research. I am a novice & is bound to make mistakes.
This is my first thread on a company. Learned a lot from ValuePickr, learned even more while doing the necessary homework for starting a thread.