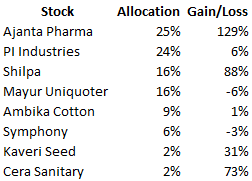 At current portfolio level, each month I can add another 5-6% money.
I am a little confused with regards to which stock I should increase allocation to.
I do not wish to hold more than 8 stocks in my portfolio, so if I add another stock, one of these should go out. This rule helps me stay focused and dissuades me from buying anything and everything that looks good.
A little about my portfolio objectives and constraints:
Time horizon ~5 years
I can tolerate up to 50% reduction in value, anything more than that will indeed make me nervous.