I feel motivated to start a thread on discussing, analyzing and understanding platform businesses in Indian markets. Why i want to focus on indian markets is that 99% of us invest in Indian businesses only. In fact there is no cheap and convenient way to invest in US businesses currently. At same time, please feel free to cite US businesses as examples to motivate the discussion. The tangible end goal i have in mind is to tease apart the business models of listed (or soon to be listed) platforms in India, and see what valuations might make sense (whether they are over or undervalued; business understanding is the key driver of accurate valuations). Will add my thoughts on platform businesses and together, we can attempt to tease apart the sky high valuation platform businesses trade at (or don't).
What are platforms?
Let's start with some basic definitions. The word platform is probably most abused in today's day and age with everybody and their mom claiming to have a platform.
Platform Business
Let us start with the textbook definition, then tease it apart.
A platform is a business model that creates value by facilitating exchanges between two or more interdependent groups, usually consumers and producers. In order to make these exchanges happen, platforms harness and create large, scalable networks of users and resources that can be accessed on demand.
Is an auto-ancillary company a platform business?
The definition, if followed only in letter, might imply that auto ancillary companies (taken as an example) are in fact platforms. Let us see how: Auto-ancs create a bipartite graph/network with raw material on one side of the graph and OEMs on the other side of the graph. They facilitate exchange between independent groups, and in fact also add value in the middle (which many other platforms do too).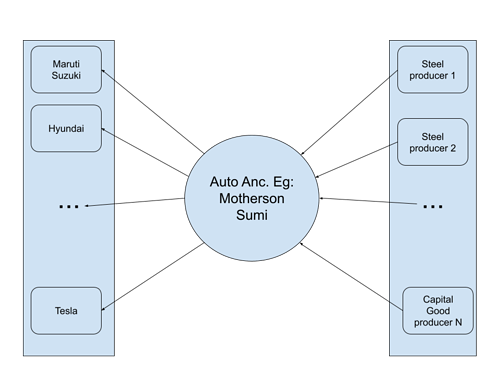 Well, surely this must be wrong, right? How can an auto anc company be a platform? We'll explore this question in the rest of the post.
Is YouTube a platform?
This is something which everyone can agree with with. Yes, youtube is a platform business, it facilities exchange of views between producers (channels) and viewers (general public). The graph above looks very similar for youtube except that on the right side are Channels or content producers and on the left are usual viewers like you and I.

What differentiates a general old economy company such as an Auto-anc from YouTube?
Let us discuss a term which is often thrown around with Platforms.
Network effects
Platforms create networks of entities, (IndiaMart for example creates network of businesses). These networks then result in Network effects.
In economics, a network effect (also called network externality or demand-side economies of scale ) is the phenomenon by which the value or utility a user derives from a good or service depends on the number of users of compatible products. Network effects are typically positive, resulting in a given user deriving more value from a product as other users join the same network. The adoption of a product by an additional user can be broken into two effects: an increase in the value to all other users ( "total effect") and also the enhancement of other non-users motivation for using the product ("marginal effect").
Reframing it in simple terms, every incremental user of the network adds value to other existing users, and every non-user thus is incentivized to join the network. Let us see how this applies to Motherson Sumi.
Motherson Sumi
On the left side, every incremental end user increases Motherson Sumi's scale, which enables motherson Sumi to become more efficient, which in turn allows them to pass on the gains in efficiency back to all users. This maximum efficiency player then becomes irresistible for other OEMs. Similar scale or incremental user arguments can be made for Divi's lab as well.
On the right side, every incremental capital goods supplier added increases Motherson Sumi's scale and enables them to pass that on to rest of the users. At some point in the scale journey, the incremental deltas become so large, that it not viable for motherson sumi to not be provided by other capital goods makers. However, do consider that if MotherSon Sumi is a large network with monopolistic characteristics, there is no option for suppliers except associating with Motherson Sumi
That argument for the right side sounds a little less convincing, but lets hold on to that thought for now. And analyze YouTube instead.
YouTube
On the left side Every incremental user increases YouTube profitability and makes YouTube more profitable which YouTube is able to pass on to all users (lesser ads per user). This makes YT irresistible for any new user.
On the right side, every channel added increases YouTube's Content Library and enables them to attract more end users. At some point in the scale journey, the incremental deltas become so large, that it not viable for Youtube to not have a presence of some content maker. However, do consider that if YouTube is a large network with monopolistic characteristics, there is no option for Channels except associating with Youtube.
Do the applications of network effects also sound similar now? What is happening?
Terms matter
What i have been referring to as left side and right side, and what platforms refer to as producers and consumers do have terms in the old economy. It is: Supply chain and distribution. YouTube's supply chain and distribution are YouTube platform. Motherson Sumi has physical processes for supply chain and distribution. We are now ready to answer the question being posed. My answer is:
All businesses are platforms. Being a platform is not a binary, it is a spectrum. What matters is the scalability of supply chain and distribution.
YouTube has ultimate scalability. Most costs associated with distribution and supply chain scale sub-linearly with incremental supply and demand. This is why unit economics is beautiful and high. Motherson Sumi has what is a linear Supply Chain and Distribution. Hire more people, create more teams, have more meetings, only then can we onboard new producers or consumers. Thus, we must understand and appreciate all businesses in terms of scalability of supply chain and distribution. This is necessary, not sufficient. Subsequent posts will explore platform businesses in greater depth from other angles. But before I go, i want to say a few words about some well known, and some not so well known platform businesses.
Google search: Ultimate scalability. Planet scale platform, low incremental costs for distribution (done by someone else like Jio), low incremental costs for supply chain (everyone creates websites for their own selfish reasons, and also makes it indexable by Google for their own selfish reasons).
Netflix: Distribution is scalable because it is an app and once made, very little incremental costs on distribution. Is supply side costs low? No. If content was static, people would get bored and move on. Need to continually investment in new content acquisition and creation. Process is also not very scalable because content still needs to be written, directed, shot physically.
Amazon: Distribution scalability is not cheap because amazon needs to deliver it physically to people. Amazon does outsource to 3P when possible but if they always did this, costs would be high, so they need to do self distribution (warehouses, distribution centers, delivery boys). Is supply chain scalability any better? Nope, but definitely better than Netflix because amazon does not need to invest in product creation (unless it wants to). Over the last 20 years, amazon has also perfected the distribution and supply chain so much that they are able to drive huge efficiencies which others are not able to. Look at delivery speeds for Amazon and compare to Flipkart.
Vaibhav Global: Distribution is somewhat similar to Amazon, supply chain is similar to amazon too. There are 2 key differences : (i) while Amazon allows any seller to sell as themselves, VGL acts as seller of all products. (ii) VGL insists on making 65% gross margins on each product which limits the growth of the platform compared to amazon who are even happy to make losses on some products in the name of market penetration. VGL has chosen to operate at a different tradeoff point on the profit-growth curve. Their choice is different from amazon, not incorrect. Zara (inditex) is another example very similar to VGL.
Saregama: My personal favorite to analyze in this framework. Effectively what Saregama does is it maps songs to listeners via the streaming apps. Given their huge catalog size, each streaming app has to integrate and thus only serve as franchises of the saregama IP. The distribution is done by someone else and they take their cut for it. Key function performed by Saregama is aggregation and DCF of future cash flows into a present value, which they provide to the content creator and then take on the risks of the future cash flows not materializing. The other problem for them is that scalability is limited by their own (internal) cashflows. If they only have 250cr, how can they acquire more content? If they dilute equity, then that results in worse profitability metrics. This is an inherent challenge on the supply side for saregama given the uniqueness of the business model of the music IP industry. If somehow content creators (eg: film producers) could be convinced to take on the risk of future cash flows, then saregama could become a scalable platform. Understanding the business from these prisms also enables us to identify and anticipate future disruptions. MAAS (music as a service) is a key disruption to the business model where saregama might be reduced to a content aggregator not adding enough value. In the mean while, what can saregama do to move up the value chain? They can try to eliminate human biases in the supply chain. They have enough and more data on 2,00,000 songs to train ML models to comnpute DCF for each song and build a supply side UI/UX which completely eliminates the human. Why would producers want to be onboarded on this? Its simple, time value of money. Saregama can analyze the video, audio, lyrics, metadata (singer, language) to give the producer instant cash for their song the moment it is made. In fact using some advanced ML they can even work with producers to optimize songs for streaming (end goal) helping them increase the value of their songs (key question is: what kind of songs stream more?). Its possible they already do some of this but it isnt public knowledge if they do.
In this post i have analyzed the question of what makes a platform business a platform business. IMHO, each business is a platform business, difference lies in supply side and distribution scalability. Some businesses are inherently very scalable (low incremental producer and consumer addition cost), others are not, and everyone lies on a spectrum. Similar to valuation being a fuzzy concept which is net present value of all future cash flows, we need to start thinking of platformness of a business as a fuzzy concept. YouTube and Instagram are a 1.0, netflix is a 0.7, Amazon is a 0.5, Motherson Sumi is a 0.01, VGL is a 0.5, saregama is a 0.7.
In the next post i will analyze the assumption or hypothesis that scalable platform businesses are modern monopolies.
In the meanwhile would request/suggest others who have strong thoughts/ideas/independent opinions to please add those too, and take the discussion forward.
My ideas in this post are original though are influenced by the book Modern monopolies and SOIC webinar on platform businesses.