Indian Pharma has done very well in the last few years but as the industry matures it becomes important to have an overview of the entire industry. Overall industry view will help us understand the investments in terms of R&D and capex at the same time will help us see how the opportunity is evolving for the sector as a whole.
It will also help us broadly identify how the competitive intensity emerging in the sector.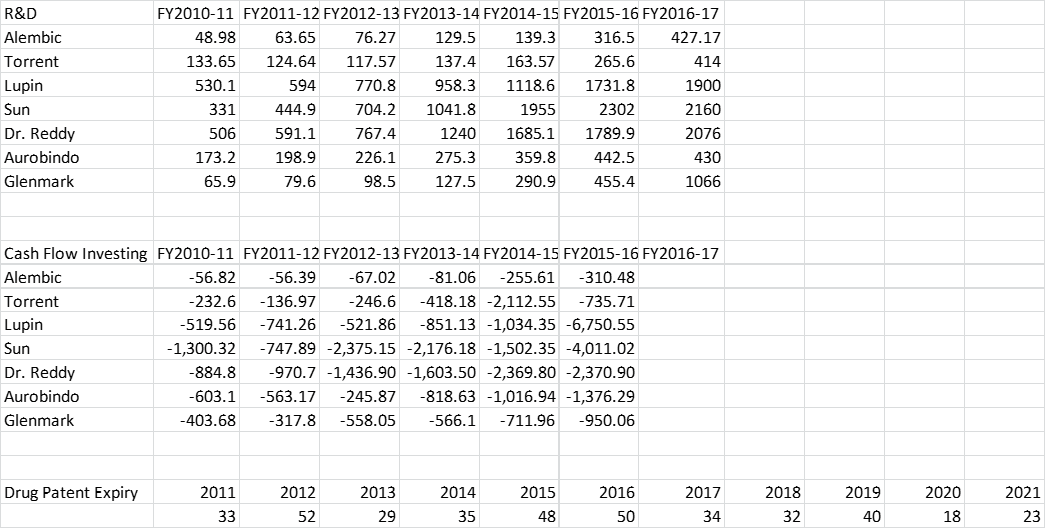 Some data points:
a) Overall opportunity is not increasing significantly. The amount of drug patent expiry (147 $bn) in next 5 yrs is less than what it was in the last 5 years(214 $ bn).
b) Significant investment happening in R&D and capex.
The entire R&D spend (of which USFDA filings are a major contributor) in last two years (15700 cr approx) is almost the same as the R&D expense for the previous 5 years together (16200 cr approx).
The Cash flow from investment as per Screner.in in last 2 yrs is -25000 cr vs -19500 cr for previous 5 yrs (some of it might have gone for acquisitions as well) but still there is huge capacity coming up.
c) The amount spent in R&D and Capex building would clearly result in lesser exclusivity and higher first day competition on launch.
d) The above set includes data from only few indian companies and does not include some major US generics companies like Teva, Mylan etc.
e) Many of the investments of the above companies going to onco
f) The regulatory(FDA) risks are increasing significantly
g) There is considerable pressure in US to reduce healthcare costs. There is high possibility they go german/european way of going by tenders. Even the Indian generics industry is undergoing considerable drug price control.
h) Many of the Indian companies are not investing in the biologics currently.
Views invited.
Links:
Don't have capex data for fy17 as annual reports are out.
Disclosure; invested in shilpa,alembic,divi