Very interesting article -
Patanjali…no need to be list in NSE, BSE it has listed from now???

The company has clarified that the above news is based on speculation.
The Company has now clarified that it has indeed tied up with Patanjali Ayurved for refining and packaging of edible oil

Why such huge volumes in ruchisoya, these days after the 4000cr deal any idea
Finally profits after 6 quarters of losses, which had declined in previous quarter.
Reason, ZERO interest and tax, and a slight operating profit.

Q1 results:
Patanjali matter remains, can take time for clarity on Adani bid, but may not be blocking or take very long.
Promoters pledge reduced to 46.82% of holdings in Jun 2018 qtr.
Promoters have decreased their holdings by 8.65% of holdings in Jun 2018 qtr.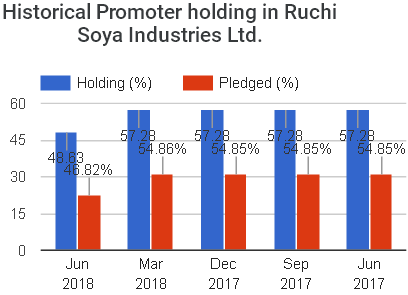 Is there any residual value left in these shares? Are empty papers being traded in the markets?
I do not understand what exactly has been sold to Patanjali. Promoters held 65% but now only 15%. They can sell down to 5% (the rest are pledged as of now).
This means the erstwhile promoters have no interest/confidence in the company?
How to read this fact?
Patanjali is investing 115 Cr as Equity. Existing equity is 65 Cr. So, this means a dilution of the share-holding by 2/3 for existing holders. Hence EPS based/adjusted PE would read as 5.5 after Patanjali deal is complete?
Why there is no noise on this stock!
It's on a sprint & its leading the race!
Atleast in term of share price.
What has changed for them?
Is this just a manipulation of price?
Please provide insights!
Just was analysing the company right when u commented…
Here are some info that might have triggered the company share, am not an expert… we would need clarity from forum board members
Patanjali had acquisition Ruchi Soya for 4111 crores
Ruchi soya was mainly into debt :
No change in sales record :

PAT increased suddenly to 7617 crores…
Indian Promoter shareholding increased from 15% to 98.87
Some historical technicals

Shares are over brought

Ramdev baba plans to sell 20-30% stake after 2-3 years…
These might be all the reasons for now which I know off… Need a clear clarity on business, expansion and some more insight into financials…
There are no plans for Patanjali for public ipo listing as Ramdev baba did mention in the video… people in open markets are buying… Noticably this black swan appeared into the lime light for now…
Correctly analysed, the only reason for race up in stock is highly limited supply, only 1% is in public domain and prospects look much better now, but looks heavily over-bought already.
Old share-holders got 1 new share in exchange of 100 old shares when takeover by Patanjali happened.
Even at rock-bottom, those old shares were worth 400, still more than the CMP of 330.
As per the sebi regulations a promoter can hold "approximate" 73% of share value in company and since this is an acquisition the company "i assume" can own 99% of it's value and going forward as disclosure Ramdev baba did mention he will sell the stake in 2-3 year " assumption" to count it upto 73% holding or even less…
We are not sure what plans out as he did mention Patanjali will be also listed in coming years
So is it a good entry now? - As per 1%of public shareholding mostly the trade would be done in T-T segment once you enter, you can only come out when there is a potential buyer
The shares are just a run due to promoter cash infusion
Would the value still raise higher? Am uncertain, its like riding a tiger…
If baba sells the stake to public : Would this give a better compounder? - Am not sure as the result would depend on company's profit prospectus as this would be an subsidiary of the parent company, am not sure what % of profit would be shared among shareholders…
Would riding this now will give better prospectus? - i doubt
any chance Patanjali and this can be clubbed? - I doubt
Where would this go far? - This week itself it has given 25% value, am not futuristic…
"Any company with a better management & good brand name gets sold easily" - In this case Patanjali has good reputation, and has lots to do with human sentiments towards natural product and belief system… I assume the sales will increase in light/name of Patanjali…
We are not sure how the management will treat towards its shareholders too - We need to count on senior members, who has seen & experienced such cases and enlighten us with wisdom
The senior members of the board can give us more light on this - the price going in a week is mouth watering however not sure till when…
This is pure case of price rigging and the current valuations are far from reality. As the free float is less then 1%, the prices are being jacked up by way of circular trading.
Patanjali seems to be in a mess since its run on the whims and fancies of a section rather than a professional board. Looks more like Patanjali needed Ruchi Soya rather than the other way around!
This report makes for an interesting read !
Detailed write up on what could be happening.