PALRED TECHNOLOGIES
CMP- 22.5RS
MCAP- 89 C
Previous name- Four soft.
Introduction
Palred technologies - previously known as four soft by Mr srikanth Reddy from Hyderabad. It sold of its logistics software business in 2013-14 for 42 millionUSD. From that same money it paid back a dividend of Rs 29 per share to investors.
Its current operations as per the march results is only trading computer(rams, graphic cards, cables) and mobile accessories (covers, cases, chargers) through its e commerce portal www.latestone.com
In press releases Palred plans to be a speciality e commerce site focusing on mobile, computer and tech acccessories. Palred has invested Rs20cr in it and will pump Rs 10cr in the coming 3 months.
About the business
Its a simple model. Buy it cheap from china, put your name on the cover or product ,sell it online with good margins. I have seen it first hand* ebay shop sellers doing it. Flipkart does it under its brand name 'digiflip' (it allows others vendors too, who have the same business model). Latestone. Com does it under 'ptron' brand name.
(Firsthand* - through a close friend who owns a ebay store)
Whats the USP?
Palreds promoters claim two things 1) a top notch user friendly website 2) a speciality store. About the first point, without sounding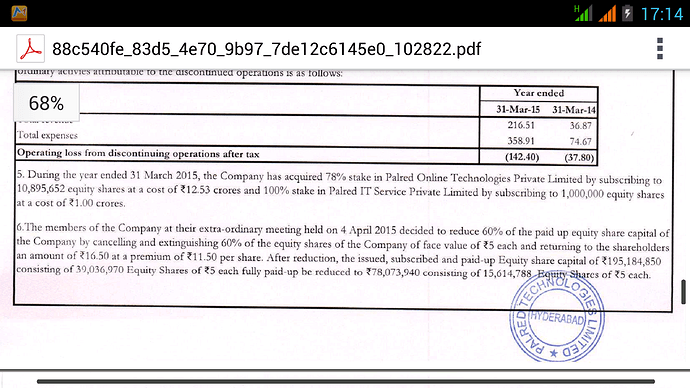 biased its true, it has a 'lucid' user interface and mobile customization is comparable to the best. About the second point Mr Srikanth reddy gives an example of a buyer trying to buy a face cream . Would the buyer have a better user exerience and service in a bigbazaar or a health & glow? Health & glow would beat the big walmart type stores with easy access and a wider range of face creams. This is what Palred hopes to achieve a speciality store for all tech acccessories.
Too DUMB to be SUSTAINABLE ?
Why should a listed company bother with something so trivial as mobile cases which any teenage kid can sell on ebay? If it has such lucrative margins others are going to jump in and crush the margins very soon? The following points counteract the obvious risks.
There are simply too many different mobiles. Every mobiles has different type of cases. Hard back, soft, rubberised, endless designs, colors etc. Its not feasible for one vendor to stock everything. Small and medium scale vendors cannot do it. Only big sellers like flipkart, ebay and amazon do it by letting others sellers use their portal.
2)China imports : Small sellers do not have the resources to import on the scale of a focused big vendor like latestone. Plus after NAMO took over, its been a real pain to clear customs, importing small batches of goods like a 1000mobile cases was feasible 2 years back(via china post, fedex) . Now both direct & indirect hassles has been set up to dissuade the small seller from importing.
3)Margins WILL BE sustained .
Because the buyer is 'willing' to or more specifically 'wants' to pay a higher margin. A ebay sellers tactic will explain this clearly. A seller imports 1000 transparent clear mobile cases for iphone 6 at a price of Rs 20/case. He lists it in ebay. Not in a single listing, but in 4 different prices. Rs 1499, Rs 999, Rs 499, Rs 199. Sales occurs at all price points.The buyer pays the amount he feels is necessary to protect his 70k love of his life. Imagine if the case is not transparent and has a design element to it…… It seems some of the emotional pull the buyer has towards his devices seems to rub of on to the accessories too.
Computer accessories and cables
The above argument does not work here. Its purely commodity model. Latestone hopes to dominate this market by being exhaustive in its collection (ex 1000 different cable types) . The revenue break up proves this
Mobile accessories 75%
Computer accessories 20%
Tablet accessories 5%

New mobiles will continue to be launched! People change tour mobile every year and some change their accessories every month or two.
Scuttlebutt
A quick check with my friends showed no one had heard of it. But suprisingly (reason for my interest) found a latestone.com courier pack at my home. My brother had ordered it, on enquiry he was ordering from latestone for the second time and was pretty impressed with the site. This from a person who cringes on any stock talk… So no scuttlebutt on his part.
From the news
Sales started 9 months back. From 100 orders a day in september 14 they have progressed to 2000 orders a day in march 15
over 2 lakh orders received
To open new warehouse in delhi to reduce shipping time. At present operates from hyderabad. Plans to open mumbai warehouse too
(Above news from Ameen kwaja of Palred technologies in press meet.Video Available in youtube)
BIG REDFLAG
Complete lack of fundamentals.
Because of the sale of logistics business the balance sheet is completely distorted. None of the ratios bring any clarity. Except for the fact that its DEBT FREE and has cash with it.
(Senior members please forgive me for my inability to put any concrete numbers… The recent balance sheet is difficult to decipher because of the sell off.)

Capital reduction plan
Palred has announced a capital reduction plan. In which 60% of shares from ones holding will be compulsarily purchased by the company at rs 16.5 at a premium of 11.5rs per share of face value Rs 5.
(*this capital reduction plan skews up the ratios even further. I am unable to judge if this capital reduction will benefit the shareholders in the short and long term. Kindly request senior members to shed light on it *)
Conclusion
The complete lack of fundamentals make it a speculative play. The reasons for speculation
A listed ecommerce business .
2)Easy to understand business
Impressive 9month track record
4)Management targets 500 cr sales in 3-5 years time
Mobile market is 70,000cr ,in which accessories market is 15,000cr( from Srikanth reddys press meet talk)
A bet(picks and shovel bet? )on the lucrative mobile market
Management hopes to show profits by next year.
Almost a startup with experienced promoter at the head
Honest management- Sharing the sale money with shareholders via dividends. Honest enough for a indian management?
Request seniormembers to help with these two points
capital reduction plan
Is it in best interest of retail investors? Should one wait for it to be completed)?
valuation
How to arrive at a valuation for this company. Is 90cr mcap too high a valuation?
Disclosure - not invested(may invest if numbers get clarified)
Kindly share your views on valuing it. Please share your views, redflags, negatives on Palred technologies.
(Important disclaimer - I am not related to or a follower of any stock blog. Some blogs owners who promote Palred technologies are yet to have their credentials established . )