NGl Fine Chem is in the business of manufacturing of APIs and intermediates for usage in veterinary and human health.
It's portfolio consists of Animal health APIs and human health APIs. Animal health APIs forms major part of the portfolio.
The company has posted good results in FY14-15, Net profit was up 85% and OPM was up from 13.88% in FY13-14 to 16.23% in 14-15.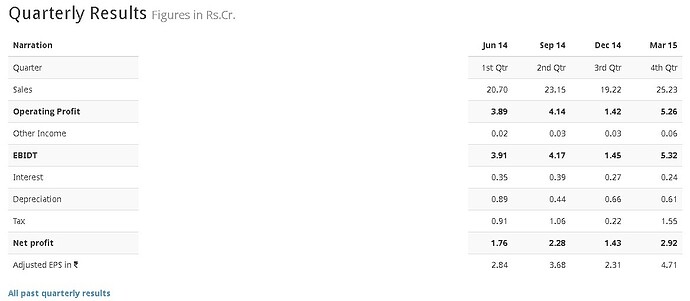 The company has a ROE of 20.33 and last three years profit growth of 30%.
Found this link posted on Omkar Speciality thread about NGL fine chem http://www.derivatives.capitaline.com/newsdetails.aspx?sno=774807&opt=hp&secid=3&subsecid=110&SelDt=
Management expects operating margins to be around 15-15.5%, the company exports to unregulated markets and hence trade receivables stand at 4 months.
Company is waiting for environment clearances for its Tarapur plan where it intends to spend Rs.15 crore to increase its capacity by nearly 33%. It doesn't plan to raise any equity or dilute stake over the next two years, All the expansion will be funded by debt and internal accruals
For FY16 company plans to do 105 crore topline and expects margins around 15.5%, which translate to Operating profit of 16 crore for the year. Market cap of company is 130 crore which is 1.23 times sales. Sequent Scientific trades at 7 times sales and Hester Bio sciences also trades at nearly 6.5 times sales.
If the company continues to grow at a decent pace, I believe there may be some re rating in the valuations of company…
Human health APIs division is very small in size but looks promising. It has 3 APIs in the human health segment:
Nitazoxanide, ANDA for this API is filed by Romark Laboratories for their drug Alinia(Used to treat diarrhea due to ceratin intestinal parasitic infections). Lupin acquired a license in 2013 to promote and disribute Alinia in US.
Major producers of this API are Suven Life Sciences, Lapicor and Industriale Chimca.
Atovaquone , used to prevent or treat pneumonia , ANDAs filed by GSK, Glenmark, Amneal, Mylan.
API producers: USV, Cadila, Glenmark, Mylan, Excella, Rolabo, Zhejiang.
Lumefantrine , ANDA filed by Novartis for its Coartem Drug which is used to treat acute uncomplicated malaria infections.
API producers: Sequent Scientific, Calyx Chemicals, Micro Labs, Cipla, Ipca Labs.
Disclosure: Not invested, tracking.