So I have recently started investing in the Markets. Im a 23 year old CA by profession & a salaried professional . Knew stocks markets for long . Was hooked to markets when as a 6th grader when the bull run was live and was interested seeing my Mom doing investments.This interest frankly led me to choosing Commerce background. But after the 2008-09 fall where my family too lost a lot of their earned money dint dare to think of markets and I kept on focussing on studies . My idea of reentering the markets came when the FD rates started falling . Though 7.5% without headache was maybe satisfactory for me the reducing rates to 6.75 to 7% made me rethink my decision.
What are my expectations from the markets. Make my portfolio grow with an average of 10% to 15% . Anything above the FD rates. Investing has started from December beginning and only in Feb March and April have I increased my portfolio size and invested capital .
My portfolio is basically revolving around investing in a mix of time proven rewarding businesses as well as a few high growth stories . Sugar sector and maybe speciality chemical are the only 2 sectors which maybe cyclical in my invested portfolio .
Current Portfolio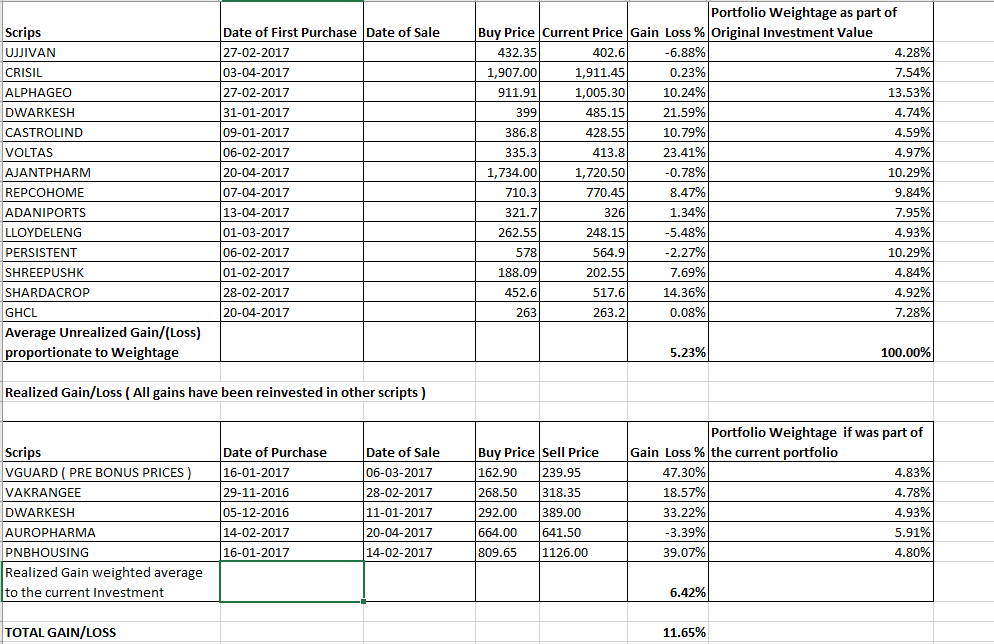 Investment Rationale for Each Company
UJJIVAN - Positive on the transition from MFI to a Small Finance Bank . Most geographically diversified MFI added advantage. Impressed by their investment in IT Technology (300crs) to make it reach the next level . Fully capable management and Samit Ghosh experience does make a difference .
CRISIL - One of the most consistent companies in India . A growing industry an a clear growth story for the long term . Valuation was fair for an expensive market . Dividend yield of 1.4% makes it an added advantage
ALPHAGEO - Bullish on the overall business model . The goverments NELP policy and the huge order from ONGC is the reason for my investment heavily in this company. Also I feel this is not one off order and the coming months most probably will see more orders coming from ONGC and others. The 2D mapping needs to be followed by a 3D mapping which gives this script a Margin of Safety to be invested in.
DWARKESH - Dwarikesh one of my first picks in the Stock Market . Invested at 290 levels and moved out at 389 making swift gains . Again studied the fundamentals and the current trends and reinvested at 399 . Holding it since then. This might be there a few more months in my portfolio as this is purely a cyclical play im betting on for quick bucks
CASTROL IND - Castrol amazing ROE ,ROA ,Dividend Yield . Time proven business . Got for a fair rate post the demonatization around December End. Though im bullish on the Electric Cars and Cleaner technologies for the Future but nothings going to change overnight especially in India . So being invested with a vision of 2 years atleast .Bonus issue this year end can be a trigger to take it to new highs.
VOLTAS : Another time proven business . After the Tata Cyrus Fiasco and demonatization got into VOLTAS . Bullish on the Management and seeing the summer season upcoming thought of investing in this company .
AJANTA PHARMA : Sold of Aurobindo at nominal loss due to the USFDA issue and got into Ajanta . The companys management, their lower exposure to US currently and their opportunity with US markets got me interested. Aurobindo wasnt that I lost faith , but with the current USFDA issues I think it can be a little difficult for it to be a market leader in the Short term,.
REPCO HOME : Invested initially in PNB Housing Finance when it was languishing at 800 range and sold it when it shot up to 1130 levels . Dint get an opportunity to buy it once again when it cooled down to 1000 odd levels . Repco again a unique play in Housing Finance . Their focus on entrepreneurs and non salaried make it a unique play .Again a good proven management.
ADANI PORTS : Invested recently when all the Adani Scripts came tanking down. Though still near its 52 week high the higher focus on Ports by GOI seem to be a trigger for me . This bet was much more of a bet on an industry and this buy had lesser conviction on the stock. But being a part of BSE50 I pulled the trigger
LLOYD ENG : Bought post the Sale of Consumer business . Got a lot of conviction from the fact that they are focussing on niche areas from the Investment proceeds which will only increase their Gross Margins in the longer run . AC Trains and Defense sound some good things to hear. Also that the management turned a 15 cr brand to a 1000-1500 cr brand in less than 5 years gives me a huge interest in their commitment. Though their management was tight lipped on the Havells deal in the call transcript I think the story is to play out in the coming years.
PERSISTENT : An amazing IT company available at an Amazing price . Started adding at 600 and added more at 560 . The company is a leader in Digital Technologies and Cloud Techs. Saw their Glassdoor reviews and Employees are a key for me to Investing in any IT . The future is digital and this is was a stock I could bet on without any doubt . Though the VISA issues and looming darkness in the IT Sector remain for the short run , I feel companies like Persistent can survive the Tide and come out winners
SHREE PUSHKAR : Can be said a bit of cyclical a bit of structural change play. What encouraged me investment in the company is the Management. Heard their concalls and their way of being Investor friendly and informative is surely what other Small Companies need to replicate. Their expansion and their Integration and textile dye is a key driving factor
SHARDACROP : A asset light model of Caplin Labs combined with generic drug like business in the EU ,US and LATAM is what I can say if I have to put Sharda in a few words . Its a manufacturer of agrochemicals which are ending their patents. This play is on identifying fertilizers at the end of life of their patents , getting EU and US approvals , manufacturing for cheap in CHINA and selling them under their Brand in EU and US . Huge opportunity in coming years and nor does this face the risks like USFDA .MF investments only boost the trust in the business and industry
GHCL : Disccused well enough in ValuePickr . Negative being the promoter due to which the prices also might be undervalued . But a cash rich company with also a Textile division which may wait to be demereged this play is something I will look at in future.
The businesses I held and sold off
VGUARD : The high PE post the Bonus Decision dint give me much comfort . Once the valuation settles will look at reentering . Again an amazing play with honest and investor friendly management . Their consumer business is growing rapidly and will surely be a bet for the future
VAKRANGEE : Again an initial investment which I invested with their model of Vakrangee Suvidha Stores and Goverment backed projects . But somehow seeing their cash flows till 2015 gave me a red signal to the business.
AUROPHARMA : Due to USFA issues . Staying clear being a newbie
PNB HOUSING: Invested around 800 levels booked profits at 1130 levels . Might reenter if again it comes down to 1000 levels
Sector / Companies being eyed currently
Automotive : Maruti Suzuki a leader among the auto space , M&M or Tata Motors
Retail : PC Jwellers . Unique story of retail jwellery
Infra / Cement /Defense :Cannot identify a winner currently.
Request members to suggest changes and carry on a healthy discussion .