Nestle India is well-known Company. There is already a very comprehensive thread on FMCG sector as a whole, that, provides very good insights on how to look at FMCG sector.
This thread is to discuss the prospects of Nestle India.
The company sells in 4 main categories.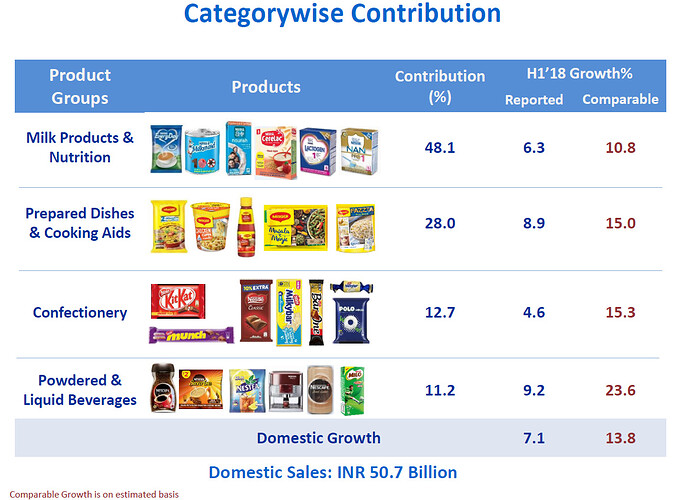 Previous years' numbers:
| Sales (in Million INR) | 2014 | 2015 | 2016 | 2017 |
| --- | --- | --- | --- | --- |
| Milk Products & Nutrition | 45752.3 | 46694 | 47136.6 | 48192.44 |
| Prepared Dishes & cooking aids | 29612.7 | 13141 | 22988.9 | 27090.88 |
| Confectionary | 12532.2 | 11108.6 | 11842.5 | 12212.8 |
| Powdered & Liquid beverages | 13397.8 | 13360 | 12949.2 | 13874.9 |
| | 101295 | 84303.6 | 94917.2 | 101371.02 |
(Being a subsidiary of Nestle SA, the company follows January~December as a financial year)
Milk products & Nutrition: Forms 48% of total sales.
This includes Dairy Creamer (Everyday), Infant Formula(Lactogen, NAN) Infant Cereals(Cerelac). In infant products, they have a 97% market share. Majority of these sales come through prescription by doctors. Half of the company's field force is involved in pushing these sales in the medical fraternity. (From H12018 analyst call).
Nutrition products include RESOURCE (a whey protein supplement), and few other products for diabetic patients.
Prepared Dishes & cooking aids Forms 28% of sales
This has the legendary brand MAGGI - Instant Noodle, Pasta, Ketchup & Sauces. They used to have ~67% market share before Maggi crisis of 2015. But after the relaunch, they were able to become a market leader in a very short time. There are multiple new launches in the last couple of years - Maggi Hot heads, Maggi regional flavors, Maggi masala as a standalone product.
Confectionary: Forms 12.7% of total sales
Relaunch of Barone has got good response from customers. While existing produts like Kitkat, Munch, Milkybar continue to be leaders in their niche.
Powdered & Liquid beverages: Forms 12.7% of sales.
This category has Nescafe, MILO, Nestea. The company recently launched cold coffee variant in order to capture health conscious people moving away from Sugar/soda drinks like cola.
Financials:


Ignoring 2015 (Maggi crisis event), Company has managed to maintain/grow OPM.
For the past 11 years, Top line grew at 12% CAGR.
Key Takeaways from H1 2018 Analyst call:
33 new products were launched, out of which 25 are still being continued. They form around 3% of total sales. Company would ideally like to take this number to 5%
Analyst comment: Why not take a cut in margin by aggressive advertising new products to capture market share?
Company Response - Most of the products that failed are mainly due to a misunderstanding between product offering and consumer expectation. More advertisements will only make this problem worse.
Company is optimising it's distribution network to ensure better product availability and reduce costs
Focusing on Healthcare products as there is a clear need going forward. Strategy is to make a solid base with protein products first and then expand into special need products.
Initial focus of the company is mainly urban-centric, but now with "Jio effect" the gap between urban and rural customers is reducing. Company needs to adapt accordingly for rural penetration.
Threat from private labels is not to be worried about (atleast as of now)
Investment rationale:
Growth from Milk products and infant nutrition has been very low. Going forward we can only expect growth from Prepared meals (Maggi) Category and in very long-term from healthcare category.
Presence of Nestle SA(holding company) in many different countries is a big plus for process optimization and helps in providing headstart to other product launches in India.
Product expansion is picking up pace after the Maggi crisis. Nesplus - breakfast cereals is gaining traction and management indicated potential launches in Indian breakfast categories.
Caveats:
Since this is one of the huge FMCG players of the country, we can't expect an exponential growth or value unlocking going forward.
Though company is aggressive in launching new products, it takes time to build ubiquitous brands. So this more of a long-term, slow and steady compounder.
It would be very helpful if fellow members can provide any other insights or what's technical point of view to watch out for (if convinced of fundamental growth potential)
Disclosure : No holding. On watchlist.