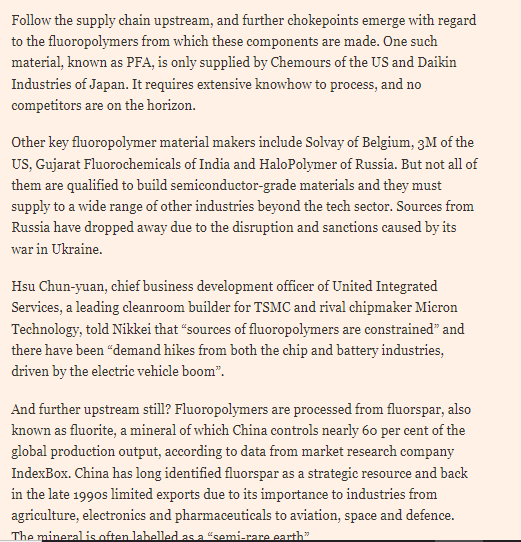 This is where the tri-party agreement between GMDC,GUJARAT FLUORCHEMICALS & NAVIN FLUORINE will matter.
Navin Fluorine Concall Q3-FY23
For Q3 revenue surpassed 500cr and EBITDA margins improved significantly due to ramp up and commercial production

Depreciation increased due to commercialisation of plants which impacted the PBT of company

MPP and dedicated plant for agrochem intermediates started in the quarter and co started supplies of commercial products post successful commissioning and qualification

Successfully completed plant audits by 4 MNC customers;

New plant in Dahej achieved close to designed capacity as operational efficiency in December; the new project in Surat will start commercial production in Q2-FY24

CDMO represented remarkable performance with YoY growth of 73%; cGMP-3 expansion is on track; CDMO is further ready for expansion and plan is currently under preparation

Honeywell HFO molecule has a wide range of applications; this is an independent molecule that has got multiple applications. Co is working on the molecule independently and this molecule is currently at very early stage and it will grow significantly and co will gain market share from other HFC

Currently commissioned first line of MPP with molecule and in Q4 there will be 2 more molecules going live; dedicated plants is commercialised 1 month prior to the target, from Jan reached at full capacity utilisation for the dedicated plant

CDMO will remain lumpy on a QoQ basis and one should look at it on a YoY basis. In CY2022 there was relatively soft demand; in CY23 there will be strong demand; Q4 will be better than Q3-FY23.

In HFO and agrochem dedicated plant company achieved close to full capacity; and will be the same at full capacity in Q4

Co started working on the debottlenecking of dedicated plants as well; it will be done in next 2 qtrs and will increase the capacity by 20% and then will speak with customer for extra capacity if needed co will do more capex which will take 1 year and will double the capacity

Trying to reduce the dependency on the generic pharma companies

Pricing for CY23 will be similar to pricing decided with Honeywell in CY2022 but company is seeing some softening the price of RM now

Out of the 4 customer for plant audits 1 is existing customer and 3 are new customers; 2 out of it are from performance material side.

In H2-CY23 company might see some softening in demand due to recession and macro events and some inventory buildup in agrochem in Brazil due to draught last year; but mid term trajectory is strong

Current run rate of Q3 EBITDA is sustainable in future on an annualised basis; as newer projects start getting commercialised the margins would further increase. Overall margins will increase at consol level to 30% from 25% currently as new projects' portion in total revenue will increase further.

By FY24 mgt hope to take 3 big new projects to the board; out of these 3 projects one will be HF another will be CDMO i.e, cGMP 4 and one will be in speciality with 200 cr+ capex for each project.

Currently segment mix is 60% agro; 20% pharma and 20% industrial; performance material is very small. This will move to 1/3rd to agro and ⅓rd to performance material and remaining ⅓ from pharma and industrials.

On CDMO for CY23 company will be able to achieve $10-12 mn qtrly run rate but it will be lumpy on qtrly basis but will be achieved annualised basis

cGMP-4 will be significantly larger investment than cGMP-3.
Disc: same as before. Old holding. No buys or sells in last 30 days.
e0e9f235-8c68-4d46-8016-b36338cf2fd3 (1).pdf (1.3 MB)
Now the promoter holding has gone down to almost 28.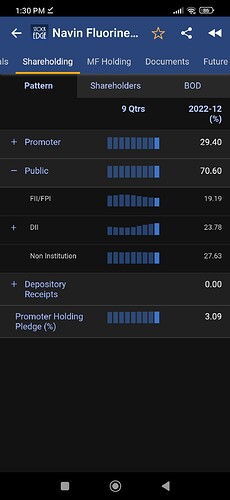 So is this a precursor before a stock split or bonus?
I know that this will not increase promoter sharholding but atleast will increase value since last split from 10 to 2 , brought down prices from 3000 to 600 and niw it is again to 4000.
First time Thesis fully reflected in Numbers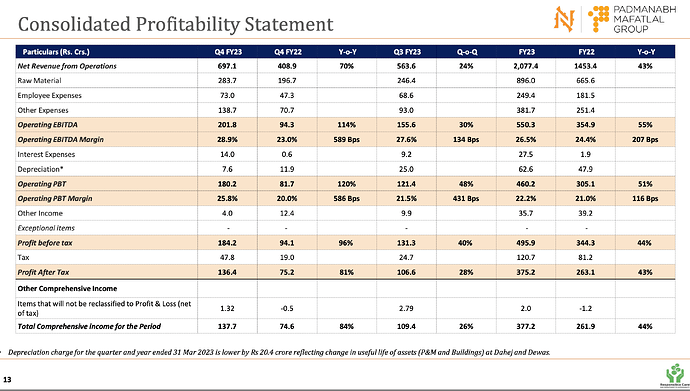 I Attended the call live, seems there will be another 1000+ crore capex over the next 2 years
NAVIN CONCALL NOTES (SOIC)
-FY23: Revenues first time crossed 2000 crores and EBITDA crossed 550 crores. EBITDA has more than doubled YOY. EBITDA Margins at 28.9%.
-R32 capex will be commissioned as per schedule. Q2FY24, sales will start. Adding one more new molecule in MPP.
-Navin Advanced Life sciences:- 40,000 MTPA HF being set up for more than 400 crores.
-2 more new projects will be given to the board for approval. CGMP4 & one new project in Speciality Chemicals.
-Not seeing any impact on pricing of agrochemicals, as most of our business is contracted. As we are working with innovators on patented molecules. Have seen some impact, for the rest of the year- Will see some impact on one molecule. Maximum impact was felt in Q4FY23. Have developed other molecules which has ensured no slowdown is seen.
-Took a decision to reduce the chemical business for Generic pharma.
-Working on debottlenecking the Honeywell contract, and will increase capacity by 20%. Working on new molecules identified by Honeywell.
-Getting very good traction with our key accounts in CDMO. Getting opportunities outside of Fluorination. Have added one new customer. CGMP4 will be significantly larger than cGMP 1,2 or 3.
-Other expenses have gone up due to 2 one off charges: consultancy charge (5crore) & another one time 10crore charge.
-Outlook FY24: No change in Guidance as we haven't been impacted by any over inventorisation in agro. Q1- Sequentially you will see some drop, because the HPP plant in DAHEJ was shut for a month. 1 more line of HF was shut in Surat.
-R32: there is a lot of interest to buy R32 on a long term Basis. Demand will increase as it will be used as HFC & HFO blend. Pricing for R32 will remain strong.
-Not many companies are adding capacity in R32. Demand is strong and only a few players are adding capacity. For quite a few years there will be demand for R32 as a HFC blend and HFO blend. No one can add capacities for R32 post December.
-In Q4- achieved optimal capacity fairly quickly. There is still capacity headroom available in the Quarters to come. Will get close to the full capacity utilization. Debottlenecking will come into play next FY. For HPP- Honeywell contract.
-Annualized margins will keep improving. We can't comment on a QOQ basis.
-On ref gasses and Inorganic Revenue was flat.
-Extremely confident of growth in CDMO in FY24 and coming years.
-Maximum impact of Esop charges will be seen in the first 2 years, and in the third and fourth year. It will end up going down.
-In MPP: produced 3 molecules and supplied. In total there are 5 such molecules (4 agro, 1 pharma). Identified one more new molecule for a new customer.
-Working capital: will bring it down over a period of time.
Disc: No reco to buy or sell.
[/quote]
Navin is raising 750 cr by issuing shares.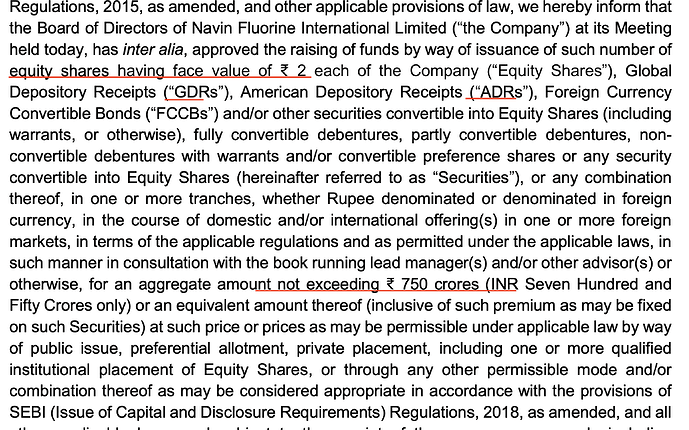 They have not diluted their equity in last 10 years (may be more but screener shows only 10 years). Despite record profitability in FY23 and huge ongoing capacity expansion, they are feeling a need to raise money through equity.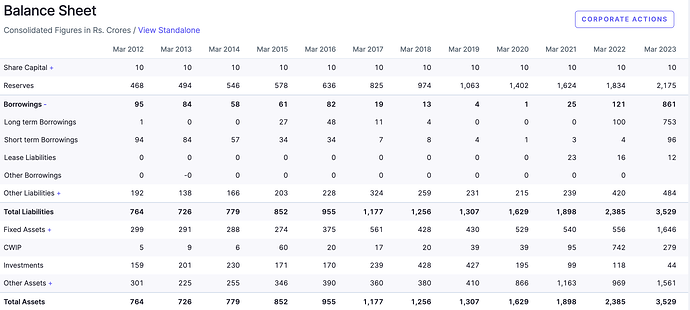 May be they want to reduce their borrowing which has shoot up in FY23. Or may be they are seeing huge opportunities and getting ready to address for them … time will tell.
Is this the reason for todays fall ? Stock 13% down.
Probably. And the session opened just 30 minutes ago, price may come back some by end of the session, or may fall more.
Investors of this forum, who follow businesses, do not react to tweets or other posts of social networking sites, unless the information has an impact on the business. And news like this is not uncommon, and will be notified to the exchanges by the company.
Have a trading position, SL got hit.
I was going through the Q2 concall and it really gave very negative impressions to me. The CFO and CEO kept saying one standard phrase "we cannot give forward looking guidance, we do not know how it will pan out, we do not know how much would be the demand from customers".
One can understand that the business is such that you cannot earn regular fixed revenue contracts but being the KMP running the show, you must be having fair idea of what can be the trajectory, the expected pick-up or consolidation in business!
They looked very defensive and appeared to be in no mood to make the interaction fruitful. Infact they did not talk about numbers at all! All they said was, at best, generic vague statements!
Radhesh Welling has resigned, Promoter holding is at 28%, No guidance/ affirmation from Management in the concall and a clear expression of not meeting the FY24 revenue guidance!! I know chemical space is in trouble at the moment, but the Management can soothe some nerves on the concalls, which was not the case here!
I would be really happy if someone from the forum can also share their views on the concall. Maybe I took some of the comments, the other way!! (Who knows)
Disclosure: Invested around current price. No buy/ sell recommendation.