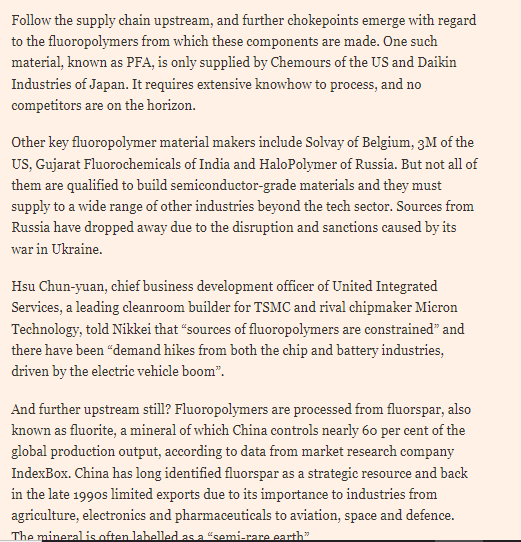 This is where the tri-party agreement between GMDC,GUJARAT FLUORCHEMICALS & NAVIN FLUORINE will matter.
Navin Fluorine Concall Q3-FY23
For Q3 revenue surpassed 500cr and EBITDA margins improved significantly due to ramp up and commercial production

Depreciation increased due to commercialisation of plants which impacted the PBT of company

MPP and dedicated plant for agrochem intermediates started in the quarter and co started supplies of commercial products post successful commissioning and qualification

Successfully completed plant audits by 4 MNC customers;

New plant in Dahej achieved close to designed capacity as operational efficiency in December; the new project in Surat will start commercial production in Q2-FY24

CDMO represented remarkable performance with YoY growth of 73%; cGMP-3 expansion is on track; CDMO is further ready for expansion and plan is currently under preparation

Honeywell HFO molecule has a wide range of applications; this is an independent molecule that has got multiple applications. Co is working on the molecule independently and this molecule is currently at very early stage and it will grow significantly and co will gain market share from other HFC

Currently commissioned first line of MPP with molecule and in Q4 there will be 2 more molecules going live; dedicated plants is commercialised 1 month prior to the target, from Jan reached at full capacity utilisation for the dedicated plant

CDMO will remain lumpy on a QoQ basis and one should look at it on a YoY basis. In CY2022 there was relatively soft demand; in CY23 there will be strong demand; Q4 will be better than Q3-FY23.

In HFO and agrochem dedicated plant company achieved close to full capacity; and will be the same at full capacity in Q4

Co started working on the debottlenecking of dedicated plants as well; it will be done in next 2 qtrs and will increase the capacity by 20% and then will speak with customer for extra capacity if needed co will do more capex which will take 1 year and will double the capacity

Trying to reduce the dependency on the generic pharma companies

Pricing for CY23 will be similar to pricing decided with Honeywell in CY2022 but company is seeing some softening the price of RM now

Out of the 4 customer for plant audits 1 is existing customer and 3 are new customers; 2 out of it are from performance material side.

In H2-CY23 company might see some softening in demand due to recession and macro events and some inventory buildup in agrochem in Brazil due to draught last year; but mid term trajectory is strong

Current run rate of Q3 EBITDA is sustainable in future on an annualised basis; as newer projects start getting commercialised the margins would further increase. Overall margins will increase at consol level to 30% from 25% currently as new projects' portion in total revenue will increase further.

By FY24 mgt hope to take 3 big new projects to the board; out of these 3 projects one will be HF another will be CDMO i.e, cGMP 4 and one will be in speciality with 200 cr+ capex for each project.

Currently segment mix is 60% agro; 20% pharma and 20% industrial; performance material is very small. This will move to 1/3rd to agro and ⅓rd to performance material and remaining ⅓ from pharma and industrials.

On CDMO for CY23 company will be able to achieve $10-12 mn qtrly run rate but it will be lumpy on qtrly basis but will be achieved annualised basis

cGMP-4 will be significantly larger investment than cGMP-3.
Disc: same as before. Old holding. No buys or sells in last 30 days.
e0e9f235-8c68-4d46-8016-b36338cf2fd3 (1).pdf (1.3 MB)
Now the promoter holding has gone down to almost 28.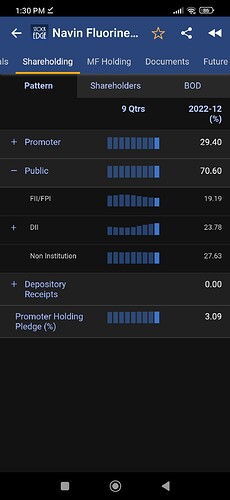 So is this a precursor before a stock split or bonus?
I know that this will not increase promoter sharholding but atleast will increase value since last split from 10 to 2 , brought down prices from 3000 to 600 and niw it is again to 4000.