Hello,
I started direct equity investments recently from April 2020. I understand business related to software & healthcare those; hence my portfolio has heavy presences of it. As I lack stock market knowledge, try to stick to large cap mostly. Expecting 12-15% return??
I will highly appreciate any comment, assistance…. From you all.
As suggested mentioned reason for buy. Concerning to sale I am hoping to continue with investments with periodical reviews hence not defining period etc.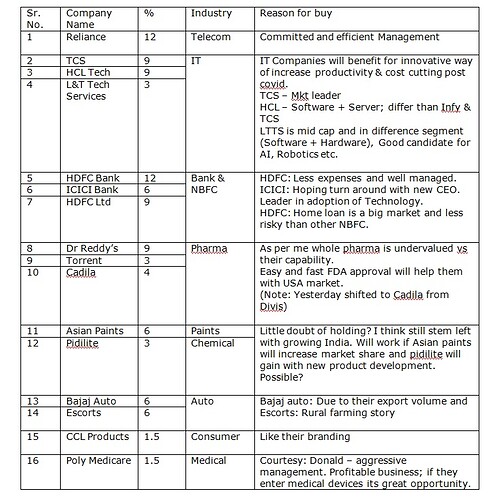 Watch List:
17. PI Industry: Thinks costly as of now?
18. Maruti Suzuki – Doubt on PV segment?
19. Britannia or Nestle - High valuation but like to have one FMCG.
20. Ultratech – Cement is commodity but ultratech presence across India is attractive. Can have it for long term?
Rejected with pain:
21. HDFC AMC
22. ICICI Lombard
23. ICICI Prudential Life Insurance
High contender for disruption. Fintech start up will take market share from brick and mortal players eventually that's what I think. Still have pain of letting them go. Open to change my mind as per your advice.
Ideally I like to hold 10-12 companies, which to leave is my dilemma?
Highly appreciate your feedback and assistance. Thanks in advance.
Devendra