Summary:
 Over the past 5 years, top line and bottom line have grown at a CAGR of 18% and 15% respectively
 The company has 57% market share in Coconut oil in India through its brands Parachute, Nihar and Oil of Malabar.
 In Q3FY15, the Company's market share continued to gain in more than 80% of its portfolio.
 In Q3FY15, the Company achieved double digit volume growth after 9 quarters.
The company's share price (as on January 29, 2016): Rs. 223.65 per share
Market Capitalization: Rs. 28,654 crores
52 week high –low: Rs. 169.33 (03-FEB-15) – Rs. 234.30 (21-DEC-15)
Business: Marico operates in Beauty and Wellness segment in Hair Care, Skin care, Healthcare and Male Grooming categories across India and outside India. More than 90% of the Group's turnover comes from categories in which Marico enjoys No. 1 or No. 2 position.
History: Marico was incorporated in the year 1988 and got listed on the NSE and BSE in the year 1996.
Brands: Marico has nurtured over 25 trusted brands in the categories of hair care, skin care, health foods, male grooming and fabric care.
 It's India Business, markets house hold brands such as Parachute Advansed, Saffola, Hair & Care, Nihar, Mediker, Revive, Manjal, Setwet, Zatak and Livon that have added value to the lives of 1 in every 3 Indians.
 Its International Business offers unique brands such as Parachute, HairCode, Fiancee, Caivil, Hercules, BlackChic, Code 10, Ingwe, X-Men, L'Ovite and Thuan Phatthat are localized to fulfill the lifestyle needs of its international consumers.
Insider Ownership: Promoter & Promoter Group holds 59.67%.
**
Investment Thesis:
**
I. Industry:
As per IBEF, the consumer durables sector revenue reached US$ 9.7 billion in FY15 and is expected to reach US$ 12.5 billion in FY16. Consumer durable market expected to grow at CAGR of 13 per cent from FY05 to FY20. The company believes that that the business sentiment improved post May 2014.
According to Nielson, FMCG industry in India is expected to grow from $37 billion in 2013 to $49 billion in 2016.
II. Marico's growth:
Over the past 5 years, the FMCG top line and bottom line have grown at a compounded annual growth rate (CAGR) of 18% and 15% respectively.
FY15: During FY15 Marico posted revenue from operations of INR 5,733 Crores, a growth of 22% over the previous year. The business delivered a volume growth of 4% with an operating margin of 15.2%.
Latest quarter results (Q3FY16): Revenue from Operations of INR 1,556 crores grew by about 7% over Q3FY15. The company's volume growth is 11%. After 9 quarters, the company achieved double digit volume growth at group level.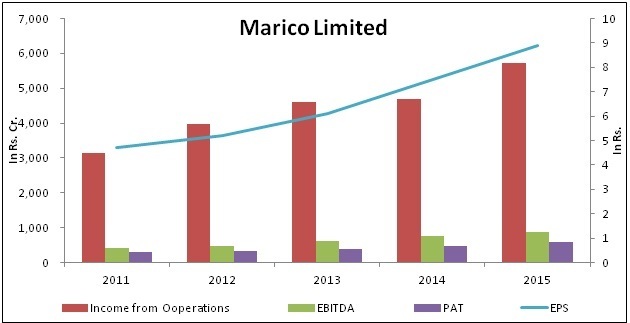 Source: Company
Dividend: On January 30, 2016, the Board of Directors of the Company has declared a second interim dividend of 150% (Rs. 1.50 per share)



Source: Company
III. Suitable environment: In April 2015, the copra was sold at Rs. 99-100 per kg. The Agro Marketing Intelligence and Business Promotion Centre of TNAU have said that the price of copra will be around Rs. 50- 53 per kg during January to March 2016.
Why is this important? Copra is one of main raw materials for Marico. The price of copra has been up by 60% in FY15 as compared to FY14, copra accounts for a major proportion of input costs, hence the Company's gross margins declined by 321 bps during FY15.
Hence declining copra prices helps Marico to improve its margins. Depending upon the speed and extent of the deflation of copra prices, the company expects to deliver a volume growth of 5-7% in the near term.
IV. Volume Market Shares:
The company has sizable market share in India in the coconut oil industry and is constantly making efforts to gain market share in rural India.
Coconut oil: The branded coconut oil market size is INR 4,500 crores and approximately 35-40% in volume terms which is still in loose form. The company expects that the loose component provides headroom for growth to the branded players. In Q3FY16 and YTDFY16, Parachute Coconut Oil had 4% and 7% volume growth respectively.
Saffola - Super premium refined edible oils and breakfast cereals: Saffola Oats has 25% market share in India and has No. 2 rank in the market. The company predicts that it will reach Rs. 120 crores in this year and Rs. 200 Crores by FY18. Saffola Masala Oats has launched two new flavours viz. "Chinese and Italian" during January 2016 to gain market share.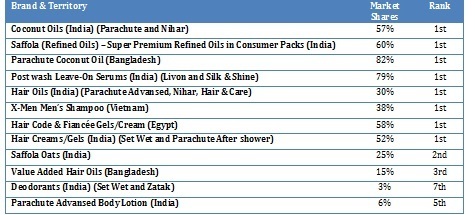 Source: Company
Awards:
 Marico won the "Best Domestic Company for Corporate Governance" across sectors in a poll conducted by Asiamoney.
 Saffolife #ProtectHerHeart won Gold at the India PR & Corporate Communications Awards.
 Saffolife #ProtectHerHeart won Gold at the India PR & Corporate Communications Awards.
Company's future outlook:
 In the medium term, the company aims to grow this franchise at a volume growth rate of 12-15%.
 In the medium term, the company aims to grow its international business at an organic top line growth of ~ 15%.
Conclusion
Marico's growth story and its growing market share in India make it a unique candidate for long term holding.
Exhibits:
Financials




Source: Company