Moldtek Technologies
Moldtek Technologies is a Engineering services firm, from the stable of Moldtek group.
Moldtek Technologies has 2 verticals Engineering & IT. Engineering is further subdivided into Civil & Mechanical divisions.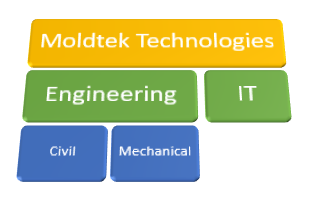 Company growth & profitability picking up in last 4-6 quarters and management commentary has been bullish.
IT Division :
IT division is quite small and company doesn't expect to grow much in this space for time being. They are only servicing their current customers.
Civil-Structural engineering
Services :
Design-Detailing steel conventional & complex structures, construction and consultancy.
Most of their work is for US based clients and of late they have been winning work from US tier 1 companies. They had acquired 2 US steel detailing firms RMM Global & Crossroads detailing in past. They provide consultancy and help in acquiring new projects. Most of the work happens in Indian offices interms of designs, detailing.
Company has started executing projects (sub contracts) in big ticket projects recently like Denver Airport extension work, Amadzon CVG Hub at Kentucky, 75 storied Oceanwide center. Management expect steady growth in this vertical.
As per Annual report 2018/19 - "The Workflow in Structural Steel Division is moderate in the
first few months of the next FY 2019-20. However the Company is adding more new clients to increase the overall sales."
MES - Mechanical Engineering Services
Services :
For OEMs, Process design for various BIW assemblies & sub-assemblies, designing, detailing, manufacturing of BIW Welding Fixtures; Robotic Simulation for Welding Robots & Guns for BIW , Design of grippers, weld gun arms and air-circuit design etc…
They have setup a GmbH in Frankfurt recently.
Management guidance for this vertical been bullish - They believe the MES division can 'more than double the revenue in FY19-20' and will be 'Star Performer'.
Management :
Same management as that of Moldtek packaging and have a proven track record in good capital allocation.
Financials :
Market Cap - 150 Cr
CMP : 56
ROCE : 35%
ROE : 26%
PE : 12%
Interest coverage ratio : 46.82
Current Ratio : 3.79
Dividend Paying, zero debt. Debtor days improving over the last 3 years.
Revenue 5Year CAGR % - 17%
Revenue 3Year CAGR % - 19%
PAT 5Year CAGR % - 41%
PAT 3Year CAGR % - 38%
Revenue by Operations (from annual report):
Given the growth, performance & management quality, its rather surprising that this stock doesn't have any institutional investors.
Opinion - If it continues to maintain this ROE & ROCE, its just a matter of time.
Risks
Revenue from geography is not diversified. Domestic revenue are negligible to overseas generated revenue. If there is economy downturn in US or economy issues for OEMs in EU and new projects stalled or delayed may affect them.
Since most revenue comes from international customers mostly US,the bottom line earnings is greatly influenced by currency fluctuations which could go either way.
References :
Annual report (2018/19) - http://moldtekengineering.com/pdf/Annual%20Report-MTTL-2019.pdf
FY20 Q1 result & mgmt commentary - http://moldtekengineering.com/pdf/Q1_results_mttl_2019-20.PDF
Disc : Invested