Q4FY22 con-call notes
Volume Growth -
FY22 - volume growth - 11.24% YoY to 29,250 tons from 26,300 tons. Personally, I was expecting to see atleast 15% volume growth due to the 15-20% growth projection given by the co. multiple times during the year. 25% degrowth in edible oil volume for the year could be a major reason for the low volume growth.
FY23 growth projection - 15-20%
Paints, lubricants: +11-13%. Edible oil sector growth: -25%. F&F: +40%
EBITDA/kg has increased from 36.72/kg in FY21 to 41.78/kg in FY22. "For FY23, 43-45/kg can be possible"
Q4 volume numbers - paints: 4676 tonne (55%), lubes: 2140 tonne (25%), F&F: 1580 tonne (19%). Total - 8400 tonne. Value wise contribution - paint (52%), lube (24%) and F&F (24%)
In the month of April 2022 (i.e. first month of FY23), volumes have grown at 18.9%.
Reduction in margins QoQ -
All RM inc in FY22 was passed on to clients. Sometimes there is 1 month or 1 quarter lag in passing on the price inc. Due to this, we could not pass on the price increase of march by April, so profitability took a hit temporarily.
Decrease in RM prices has been observed in April and May. So this phenomenon, along with obtaining RM price differential for March would boost the margins in Q1FY23.
General Updates -
Regarding the 4 big F&F clients the co. was talking about in Q3FY22 concall, one of them is GSK for which molds are being built. Another one is Kissan Jam packs, while the other two are also existing brands, not new ones. (potential to add 40 crs revenue in a full year, but for FY23: ~30 crs)
"Berger is asking us to start supply from July-Aug this year from sandila plant"
Regarding the increase in debtors - "Asian paints and some others have increased credit period. Also, RM price inc was also a reason".
No significant improvement in pumps scenario
QR coded IML pack -
Gulf has almost cleared the trail batch sent to them (they are currently shifting in one premium brand - which goes in big towns. Will start in June'22. Once they have confidence, they will implement in more brands and also deeper in villages etc.)
an edible oil has also been signed (they want a QR code on lid also, so MTPL has got another machine)
Castrol is also undergoing trials but have not mentioned any timeline
good to see the QR-coded IML finally starting to get clients, although quite slowly for now.
IBM -
Target is to reach 200 crs revenue in 3 yrs time starting oct'22. Samples of CRC caps and bottles will be sent in oct'22 which will take 5-6 months to get clearance from regulatory bodies and pharms cos.
For FY23 revenue from IBM would be: ~10-12crs. For FY24: 60-75 crs. 3 yrs down the line: 180-250 crs per annum
EPR regulations -
will be more of a challenge for film packaging companies but for container packaging co. like us, we can buy recycled polymer from cos. And use it.
Asian paints has some brands where it is mandatory for MTPL to use 10-12% of total polymer as the recycled one. Earlier % allowed was 7-8%. This is being done since last 1-1.5 yrs
FY25 onwards, 20% has to be reused. More and more clients are asking MTPL to supply partly mixed recycled containers.
The recycling companies have adopted really good technologies offlate and it allows to use even more than 20% recycled materials especially in paints.
Capex for FY23 -
~80 crs (50 crs - sultanpur, 12-15 crs for AP expansion, 12-15 crs for IML printing expansion remaining in kanpur)
for reference: FY22 capex - 51 crs
FY24 can be 80-100 crs as well
Capacity utilization - 70%
For Injection molding, jars will use 80-90% of capacity, caps will use hardly 40-50%. In injection molding, 70-75% is the best capacity utiliz, anyone can achieve unless they are selling only jars or only caps.
Results PDF - https://www.bseindia.com/xml-data/corpfiling/AttachLive/1e1e79b1-b3a6-4a2e-bcf2-7158f97c17d5.pdf
Concall link - https://www.youtube.com/watch?v=_bS7ShBwLX0
PS - The US restaurant that MTPL exports to is 'Desi Bites'. They had exported to US in Jan'22 (Source - Mold Tek Packaging Ltd | See Recent Shipments | ImportGenius)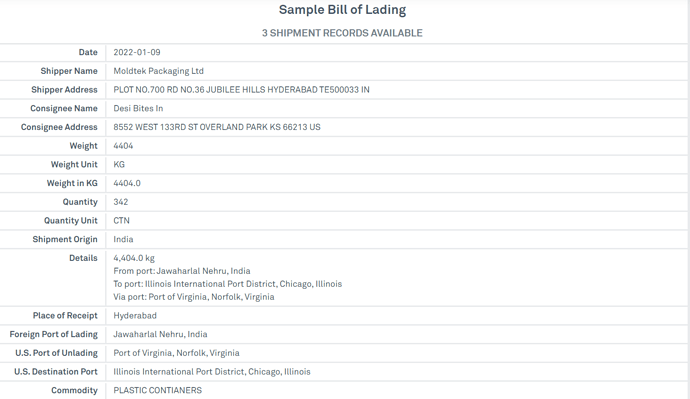 Disc. - Invested