While doing a periodic review of my holdings, I realized that VP is missing a dedicated thread on MindTree Ltd. Have created this thread with the intent of summarizing the facts that are handy with me so that we can have more intensive and focused discussion around this company under a single thread.
@Admin - Though active on this forum for sometime, this is very first attempt at creating a new thread for the benefit of community. Have gone through the guidelines etc. and will be mindful about that throughout. Feel free to point out, just in case some inadvertent gaps are there.
Company Introduction:
Some of the top executives of WIPRO established MindTree in 1999 as an IT solution and delivery company. At the early phase, was the fastest growing Indian IT player to touch $100M revenue mark within 6 years of inception. During first 8 years had an envious 38% CAGR revenue growth. However, only with the privilege of hindsight, it can be concluded that few strategic decisions had adverse impact on the company. Few examples to quote, bold move of pivoting into smartphone manufacturing by acquiring Kyocera in 2009 only to realize that this would be a money guzzling business. aggressive aspirations like USD 1 Billion target by 2014, non value accretive acquisition (Aztecsoft and few other).
In current avator the company earns ~2/3 of its topline from US. Evidently, Europe is loosing turf.

By service offering, Development, IMS and Maintenance are top 3 LOBs. Again, over a period of time, maintenance has shown a de-growth and Package implementation has gained good ground.
With intent company is transforming itself as a key Digital (SMAC) player. Digital has gained good growth currently ~40% of total revenue with expressed intent (supported by follow through action) to take it to 50% of total revenue by next 5 years.
Client concentration: Increasing dependency on Top client (from 10.80% to 14.10%). Good addition of sub $10M client count.
---
Financials:
Company has shown good (33.66%) top line growth for FY16 as against 17.49% revenue growth. HOWEVER, profitability is under visible pressure. Q2FY17 registered a massive EBIDTA drop of 600 BPS to 12.5%, its 21 Quarters low.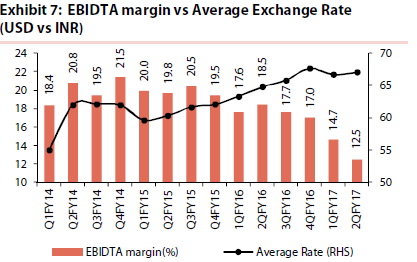 As a result. ROE/ROIC has gone below industry peers.Detailed financial data can be reviewed in the attached file.
MindTree_MS template.xlsx (101.9 KB)
---
What is impacting the profitability? A picture worth thousand words. To gain traction on Digital business, they have to rely on more of onsite technical competencies. Salary raise itself had a 230 BPS dent on EBIDTA for Q2FY17.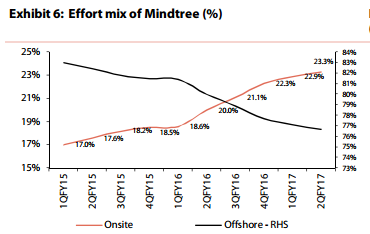 Likewise, revenue mix is also getting skewed towards onsite projects.
---
Counter measure by Management:
1.Healthy deal pipeline during the most recent quarter. 2x new clients TCV as compared to previous quarter and almost 3x on same quarter FY16.
2.focus and commitment towards Digital expansion. During last year they acquired BlueFin one of the top platinum SAP HANA Implementation partner to gain domain know how. Another strategic acquisition of magnet360 in the space of SalesForce implementation. Third one was DiscoverTure another premier Duck Creek implementation partner.
---
Overall Positives:
Digital has a real long runway. On top, with the paradigm shift, this will capture good chunk of IT budget for next few years.
Below industry average and 21 Quarters low EBIDTA. From IT service standpoint, a ~12% of EBIDTA can be an unheard thing. Is this the worst and only direction possible from here will be northwards?
Mr. Trumps stand of a protectionist inward looking economy can be a blessing in disguise. Better job creation etc. has incremental impact on overall health of the economy. Any signs on domestic growth recovery will compel US companies to increase IT spends.
Overall Negative:
Biggest drag to margins, onshore shift started happening much before Trump. Need to watch further trends with this gentleman formally in power. Any further pressure on this front will severely spook market sentiments.
MindTree currently is on lower side of the ROE among industry peers. However, ironically, is on the very higher side of PE multiple. will the rule of average catch-up?
---
With this, I am opening this thread to the formidable ValuePickr group. Please keep on adding your insights and hard facts about the company.
Disc: Invested, no transaction in last ~6 months.
Thanks,
Tarun