About the company:
Minda Industries Limited (MIL) is the flagship Company of UNO MINDA Group and one of the leading suppliers of proprietary automotive solutions to OEMs. They are one of the market leaders in Auto ancillary sector (Especially in Switching, Acoustic and Ligting systems, Fuecaps, Alloy wheels). With a consolidated turnover of over Rs.3,505 crore reported on 31 March, 2017, the company has established an entrenched presence in the automotive replacements market with a revenue share of 13%. It has global presence with 12 direct subsidiaries and 7 step-down subsidiaries, 3 joint venture companies and 5 associate entities with their headquarters in Gurgaon.
Business Overview: Consolidated turnover – FY2017




Business segments:
1. Switches
The Switch division of MIL is the largest manufacturer, by volume, of automotive switches in India with market share of ~70%.
The Switch Division operates five plants in India and two overseas plants in Indonesia and Vietnam
MIL is India's largest Switch Player, diversified across the 2Wheeler(2Ws) and 4Wheeler(4Ws) segments. The 4W Switches produced through a JV with Tokai Rika, a Japanese company.
Switch system that MIL manufactures: 2Ws and 3Ws (Handle Bar Switch, Modular Switch, Gear Indication Switch, Lever Holder Assembly, Panel Switch, Brake Switch) and Off-Highway segment (Rocker Switch, Plunger Switch, Ignition Switch, Column Switch, Push Button Switch, Rotary Switch, Keypad Switch, Brake Switch, Push-Pull Switch, Hazard Warning Switch, Horn Switch, Lever Combination Switch, Neutral Safety Switch, Push-Push Switch, Heater Starter Switch and Ignition Starter Switch).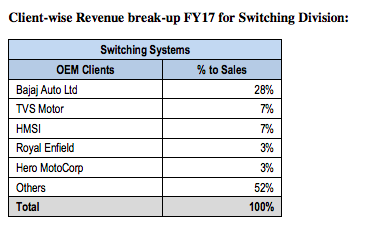 2. Lights:
MIL commands a market share of ~20% in India in the Lighting segment and 3rd largest player in this segment after Lumax and Fiem.
Lights are manufactured in these plants: Pantnagar, Sonepat, Haridwar, Manesar and Chennai. Capacity at Manesar was expanded in FY15 for production of Tail Lamp for Alto K-10 Model of MSIL
MIL acquired global lighting business of Spain based Rinder Group in June 2016 for €20mn, which will provide latest technologies with R&D in Spain
MIL has Technical Assistant Agreement with AMS Company Ltd. (Korean Corporation) for manufacturing head, rear and exterior lamps.
PT Minda Asean Automotive (Indonesia) that makes switches and lighting products and SAM Global Pte Ltd, Singapore is 100% holding company of PT Minda
Products: It caters following products to 2W, 3W and 4W: (Room Lamp Assembly, Front Lamp Assembly, Front Turn Signal Lamp, High Mount Stop Lamp, Spot Lamp, Reflex Reflector, Warning Triangle, Lamp Assembly Side Turn Signal, Licence Lamp Assembly, Head Lamp Assembly, Tail Lamp Assembly and Fog Lamp), 2W (Number Plate Lamp, Tail Lamp Assembly, Head Lamp Assembly and Indicator) and Off Road (Plough Lamp Assembly, Tail Assembly, Head Lamp Assembly, Rear Fender Lamp, Front Fender Lamp and Plough Lamp).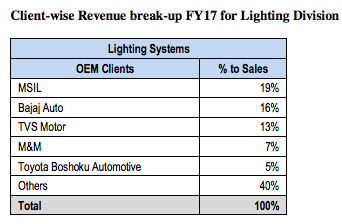 3. Horns (Acoustic), including Clarton Horns:
MIL is the leading manufacturer of horns in India with a market share of almost 50%.
The Clarton Horns acquisition catapulted MIL to being the second largest manufacturer of automotive horns globally after Fiamm
MIL & CH produces, Hypertone Horn, Trumpet Horn, Air Horn and Electronic Horn. It also makes Water-proof Horns
MIL is exploring options to introduce electronic horns in India, backed by CH's technology
Plants: Manesar and Pantnagar (India), La Carolina (Spain) and Tanger (Morocco)


*Other customers include various leaders like: Maruti, Mahindra, Tata, VW, BMW, Piaggio, Suzuki, Tata, Ford, Eicher, Kawasaki, Yamaha, Leyland, Swaraj, Escorts, Renault,
Other segments:
1.Batteries:
The batteries segment was making losses when it was started, then the management planned to downscale it, instead of spinning off. In 2015, MIL entered into a JV with Panasonic Corporation of Japan to form a new company "Panasonic Minda Storage Batteries India Private Limited (PMSBIPL)" in order to revive the fortunes of the business. Now its' catering to 2Ws and planning to cater 4Ws.
Since 80-90% of battery market is held by Exide and Amaron, it's difficult for MIL to expand, one wrong foot might take a hit on the company's financials.
2. Fuel caps:
MIL manufactures fuel caps from 2014 and has technology tie-up with Toyoda Gosei and Toyota Tsusho for manufacturing fuel caps along with other safety parts and has a plant in Manesar.
Traditionally, OEMs used to rely on imported products for fuel tank caps; mainly from China and Thailand. However, some OEMs are considering local sourcing of the same. Incremental revenue growth for this division would come from OEMs that start local sourcing of fuel tank caps and also from newer models of existing clients (MSIL).
3.Auto Gas:
The Auto Gas Division manufactures LPG/CNG kits and components for OEMs as well as for A.M.s. The OEMs client profile includes MSIL, TAFE, TML and M&M. It also supplies kits & components to Honda Power for Industrial Genset.
Over the longer term, with increasing Govt emphasis on using clean fuels and stricter emission norms, CNG/LPG (especially CNG) would be back in reckoning and it can contribute to the growth of the group.
4.Alloy wheels:
MIL has entered this segment only in 2015. And has JV with Kosei Aluminum Company Limited of Japan for manufacturing of Alloy Wheels for Passenger vehicles (PVs), with a plant in Haryana.
At present the company is supplying to OEMs (includes Maruti, Toyota, M&M, Honda, Renault) and planning for after market supply as well.
Aluminum wheels are lower in weight; however they are 4 times more expensive than steel wheels. Hence, they are mainly used in higher end cars. Like the battery segment, the alloy wheel segment has SSWL's domination, hence the growth is difficult but not impossible
The Alloy Wheels business reported revenues of Rs. 3.95bn in FY17, growth of 115% YoY and EBITDA of Rs. 806mn, implying EBITDA margin of 21%.
5.Blow Moulding:
MIL operates in the blow molding business through its subsidiary – "Minda Kyoraku Company Limited"
The company has products such as Roof Duct, Air Inlet Duct, Spoiler, Deck Board, Pallet Energy Absorbing Pad, Reserve Tank, Washer Tank, Lapin Energy Absorbing Pad and Resonator and caters to OEMs (MSIL, Toyota, Nissan, Honda, GM, Ford, etc)
MIL had a technical tie-up with the two companies since 2007 for Engine Rooms, Interior-Exterior Blow Molding Components for Toyota Innova which has been extended to other OEMs from 2011.
6.Casting:
MIL started manufacturing Aluminum Die Casting products for Automobiles in 2010 and in 2011 it formed a 50:50 JV with the JBM Group – MJ Casting Limited (MJCL). Over the past couple of years, MIL has increased stake in the entity to 98% as a part of its consolidation exercise. The JV has facilities at Bawal (Haryana) and Hosur (near Bangalore). MJCL supplies Aluminum Pressure Die-Casting and Precision Machining components for Engine Parts, Side Covers and Crank Cases.
Financials:
Basic Screener:
PS: For some reason, screener.in is reporting PE:83, which wrong, I've cross verified multiple websites, it stands between 37-40.
Risks:
Growth in business for Auto Ancillary companies like MIL depends on volume growth for domestic OEMs. Hence, any decline in their growth due to broader macro-economic issues or company-specific issues can adversely affect MIL's business
Since that exports contribute more than 20% to MIL's consolidated revenues, company is exposed to a risk or loss from the foreign exchange rates fluctuation, which may effect on operating results in both positive and negative way.
Slower than expected resumption of currency circulation may impact the aftermarket sales.
Muted performance from company's subsidiaries could impact its EBITDA margin, especially the dominent battery and alloy wheels segment.
Catalysts:
The biggest catalyst is, the Govt policy on e-vehicles, which will benefit auto & auto-ancillary companies in coming years
With the tax rates coming down from 28-30% to 18%, the GST has positive impact on the auto-ancillary companies

Disclosure:
I'm a retail investor, i bought Minda Industries around Rs.190 and sold at Rs.250 level (split adjusted) during the bearish market in 2016 (yes, typical newbie mistake). Since then i don't have any position in Minda industries. I'm planning to add at around 800 levels.
All the information above are collected from various publicly available reports, not my own.
Annual report: http://www.bseindia.com/bseplus/AnnualReport/532539/5325390317.pdf
Glossary:
MIL: Minda Indsutries Ltd
CH: Clarton Horns
PSA: Peugeot
MSIL: Maruti Suzuki India Ltd
HMSI: Honda Motorcycle and Scooter India
JV: Joint Venture
2W,3W,4W: Two wheeler, Three Wheeler, Four Wheeler
I kindly welcome the members to add your opinions.