About Metropolis
Metropolis Labs is a chain of diagnostic companies, with its central laboratory in Mumbai, Maharashtra. Metropolis Healthcare has a chain of 106 clinical laboratories and 1130 collection centers across 7 countries including India. The healthcare company was founded in 1980, as a single laboratory with a revenue of about US$1.5 million and 4500 employees.
The company offers a broad range of clinical laboratory tests (3,487)
and 530 profiles. It follows a 'hub & spoke' model for quick and efficient delivery of services through laboratory and service network, which covers 197 cities in India. As of 9MFY19, its laboratory network consists of 115 clinical laboratories, comprising a global reference laboratory, 14 regional reference laboratories, 56 satellite laboratories, 44 express laboratories.
The company caters to both individual (1631 touch points) and institutional
customers (9552 touch points). Metropolis has also been awarded tender from National Aids Control Organisation (Naco). Outside India, the company
has laboratory operations in Ghana, Kenya, Zambia, Mauritius and Sri Lanka. Also, it has entered into agreements with third parties for collection and processing of specimens in Nepal, Nigeria, UAE and Oman.
IPO:
Metropolis Healthcare came up with IPO in April month with a price band of Rs 877-880 per share. The issue comprised of 1,36,85,095 equity shares included offer for sale of up to 62,72,335 equity shares by promoter Dr Sushil Kanubhai Shah and up to 74,12,760 shares by CA Lotus Investments (investor selling shareholder).
Financials
Standalone Balance Sheet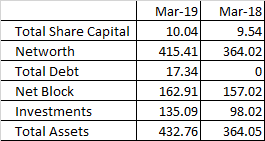 Standalone Income Statement

Competitors:
Dr Lal path Labs , SRL Diagnostic , Thyrocare Technologies.
Observation (may be red flag also):
The company is seen doing lot of acquisitions and lot of subsidiary/ holding companies (according to their annual report around 19 of them including overseas) .
Risks and Concerns
Unorganized with too many small and regional players
The diagnostic market is highly competitive with unorganized labs ruling the roost . Its major challenge to improve profitability and market share until the sector is consolidated under few branded names.

Government policy
Any government policy on charges for the services/introduction of pricing list will adversely impact. Also in case government starts offering diagnostic as free service it will become a major roadblock for sector as well as the company.

High dependency on hospitals & doctors
Almost every hospital has its own diagnostic center and general physicians provide locally run labs as preference to any diagnostic service . Though preventive care this may not be issue , it will be a major impact on the non preventive cases.

Branded competition
SRL Diagnostics, Thyrocare and Dr Lal Pathlabs compete in the branded space. Any price reduction by these competitors will make metropolis to follow suit and impact the financials.

New & Evolving technologies
Diagnostic is witnessing more evolving technology day by day . Any new cost effective technology can lead to decline in demand for the company unless metropolis is the
lead players in it.

Geography
Majority of the revenue is concentrated in Western India & South India Any region specific development will impact the company until the time it diversify all over India.
My View:
I strongly feel that diagnostic healthcare will be a closely watched sector in the coming years as people has become increasingly conscious about their health.
Though , lot of unorganized centers in each and every location is a biggest challenge , it will be interesting to see how branded companies succeed in this race.
This post is not a recommendation and individual investors are requested to do their analysis before investing.
Acknowledgements:
http://content.icicidirect.com/mailimages/IDirect_Metropolis_IPOReview.pdf