Many of us prefer not to remain fully-invested at all times i.e. sit on some cash; deploy it when market offers very strong buy signals. Key point is - What is "Strong buy signal"? NIFTY P/E below a certain limit (say 15) is one such indication. Depressed earnings of many NIFTY50 companies and consolidated v/s standalone earnings issue make this not so practical indicator in current market. Other such indicator is MCAP-to-GDP ratio. Believe there are more indicators, however will focus on MCAP-to-GDP ratio for this post.
If we look at the MCAP-to-GDP ratio graph below, we note that in the last 10 years, the market has strong floor around 55% (barring couple exceptions). The market bottomed in August 2013 at 53%. It bottomed again in February 2016 at 58%. I have been using 55-60% range as a guide for general deploy-cash strategy; this has worked for me.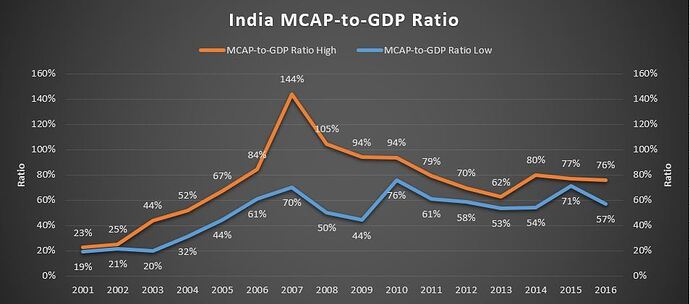 That said, there are always some stock-specific exceptions. Many times we come across a new quality stock trading at reasonable valuation. In such situation, I usually go ahead and deploy 50% quota for that particular stock (in couple chunks). Then wait for MCAP-to-GDP buy level to deploy other 50% quota. One of the limitation - Some years like 2015 keep you waiting and waiting without hitting the buy level.
It is a very simple model. See if it makes sense. Feel free to share your thoughts. Or any other entry model you use.
Hey, what about exit model? Will discuss if and when market is close to an extraordinary high valuation (not there currently I believe).
Happy Investing!
Source (MCAP): http://www.bseindia.com/markets/keystatics/Keystat_maktcap.aspx?expandable=0
Source (GDP): http://www.imf.org/external/pubs/ft/weo/2016/02/weodata/weorept.aspx?pr.x=55&pr.y=8&sy=2000&ey=2021&scsm=1&ssd=1&sort=country&ds=.&br=1&c=534&s=NGDP%2CNGDPD&grp=0&a=
Note: Will upload spreadsheet (containing raw data and derived graph) in couple days; in untidy state currently.