I was meaning to ask, Cost of Capital is 8.72% whereas banks CoC is 5%
With so many big banks and Small Finance Banks aiming to expand their retail loan book, With such a wide difference in CoC it makes one realize that MAS would have to lend to much riskier population, making underwriting much difficult. Higher Credit Cost.
What do you think?
How much % of its loan book is unsecured?
Hi Amit,
I am quite new to stock analysis, I am very much learning the ropes here. So forgive me if I am not able answer this properly.
From the FY21 annual report I found the following note for assets side (in lakhs):

During my research I found the below HDFC-Sec report and from what I could understand MAS has the below approach to reduce risk.
The loans to NBFCs and NBFC-MFIs are backed by security deposits in the form of cash collateral and corporate / personal guarantees taken by MFSL from the NBFCs and NBFC-MFIs. Around 56% of the loan book is to NBFC/MFI partners, this also reduces credit cost as per management as compared to direct sourcing.

MAS has securitised 37% of its book which de-risks its balance sheet. Securitisation and direct assignment transactions of their loan portfolios, reduces risks to the loanbook to a great extent. I think this reflects the confidence banks/others financial institutions have in MAS's underwriting and monitoring standards.

MAS Financial has also entered into revenue sharing arrangements with a
large number of sourcing partners, where part of a loan default is guaranteed by these sourcing partners, effectively making them directly accountable for the quality of the loan portfolio they originate.
MAS is catering to lower income and middle income group customers, especially those transitioning from the informal sector, spread over rural and semi urban areas within the micro finance sector, this has always been a brutal segment and with COVID we all know it is one of most stressed sector. So this makes MAS a risky proposition.
Adding to what you mentioned about the MAS catering group compared to Banks, Mr.Gandhi mentioned about the speed of the loan disbursement as one major factor which affect borrower choice along with interest rate. If borrower gets loan early will save him more than 1% higher interest rate.
What's going on with MAS Financial Services? Continues hitting 52W lows everyday in such strong market.
They have managed Covid crisis well, have prioritized balance sheet quality over growth. Their disbursals have been conservative because of Covid related uncertainties. NPAs are expected to rise further in next few quarters because of a) Covid related downturn in business b) RBI's new NPA norms for NBFCs.
Would like to understand views of those wo are invested in it or closely tracking it.
Disc: Have a tracking position.
FY21 RoE <15%. AUM growing sub 5%. Stock trades at 2.9x P/BV so looks fairly valued.
I agree the gradual daily decline in market cap is kind of worrying given there is no major industry / company / global news or event which is causing this. Financial services as an industry has underperformed the other sectors since the pandemic began but no other good quality NBFC/bank is touching new 52w lows daily.
Given there is no fundamental company news behind the current fall, I continue to maintain my conviction and have been gradually increasing my position over the past month. I'm not sure what else a fundamental investor can do except load up when good businesses are available at fair valuations.
Sharing a couple of brokerage reports with very attractive targets over the next year. Although the Axis Securities report should be taken with a bowl of salt as the AMC holds 5% of the company.
MAS Financial Services Ltd_03-11-2021_10.pdf (1.1 MB)
Disc: Invested with good allocation
Thanks for your response, Gurjot.
Well, markets are always forward looking. So whatever I have read and understood so far, the correction can be attributed to:
Increased NPAs due to RBI's decision to bring NBFCs under the ambit of the prompt corrective action (PCA) framework.
Covid related book restructuring.
Low growth in AUM. MAS has been conservative with their disbursals post Covid. This is in line with their historical philosophy of preferring balance sheet quality over growth.
CRISIL recently posted a good report on NBFCs' revival post pandemic blow.
I was going through the press release for Q3FY22. May be the correction can be attributed to the following statement that caught my attention:
"Company has changed its NPA classification criteria, in line with RBI circular RBI/2021-22/125 DOR/STR/REC.68/21.04.048/2021-22 dated Nov 12, 2021 on prudential norms on Income recognition, Asset classification and Provisioning pertaining to advances- Clarifications and similar policy changes have been adopted for stage 3 classification criteria."
I can see the stock price went on a downward trend starting 15th Nov, 21
On the other hand when it comes to their housing loan business "Rural Housing & Mortgage Finance" they state that the NPA and stage 3 classification was in compliance with above RBI circular.
In that case in MSME, 2W and CV loans their NPA classification was not in compliance. I could be wrong. May be someone well versed with the subject could throw more light on this.
Both NPA classification are in compliance. Following are the snapshots from the presentation they released: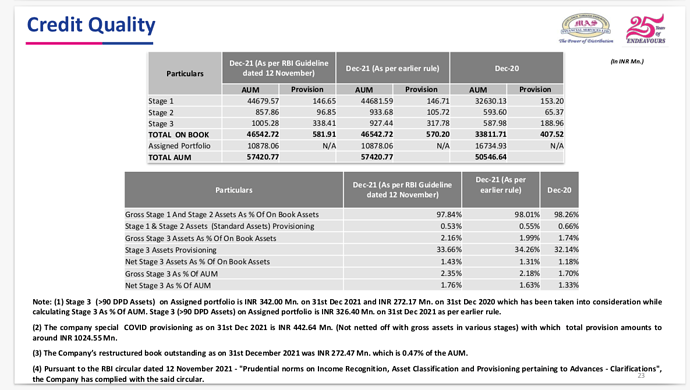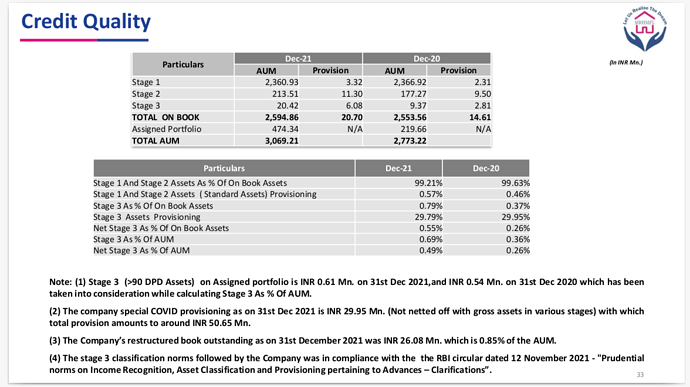 Marcellus has exited from MAS financial Services in their 'Kings of Capital' portfolio. However MAS Fin is still a part of their 'Little champs' portfolio. Reason cited for replacing Info Edge with MAS fin is "Info Edge has a higher longevity score than MAS Financial."
Nevertheless, MAS Fin, in my opinion, remains one of the better run NBFCs trading near historic low valuations.
10 yr ROA/ROE - 3%/19%
Asset quality - Way better than peers. Fairly well protected balance sheet during Covid.
25% AUM growth guidance but it won't need to raise capital for years to come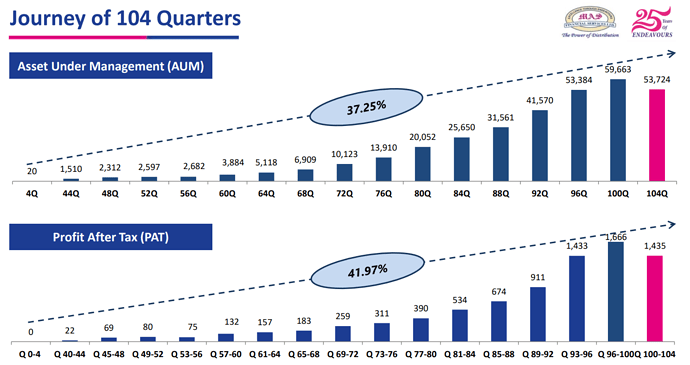 Current AUM ~5750 cr
Tier-1 capital at 24%
ROA ~ 3% (10 year average is 3.3%)
There is lot of wiggle room for AUM growth without equity dilution. Let's say AUM grows by 20% for next 3 years to 10000 Cr, with Tier-1 capital at comfortable 17-18%, financial leverage 5.5x, ROE can be 17%. With 6.5x leverage ROE would be ~20%. This is self sustainable model without the need of capital raise in years to come.
MAS Fin trades currently near historical low valuations at 2.5x P/B.


Disc- Invested
Those golden days will be past . I don't think those figures of growth and assets quality will come back.
Due to loss of one of the co founder person mr.mukes Gandhi.
Every organisation has some strong pillers for rach and evry work, I guess after the absense of mr.mukes Gandhi MAS can't fullfill the gap.
Between the key employees and the management.
Disc . Holding some shares .
Q4FY22 ROE was 15%. Before FY20 company used to do 20%+ ROE. So this year also they can easily do 20% ROE. Fundamentals are improving, promoters are buying from open market.

Valuation is also good

What else some one needs fundamentally?
Technicals: Below 30 WMA, Heading towards support line.

What is it that market is seeing that we are unable to see? Coming recession will give rise in NPA? Well company handled covid very nicely. So that should not be a problem.
Looks like sme DII felow is selling. Let them sell.

It will be good to use technicals to make fresh entry.
Disclosure: Taken entey in February, average price 560. Planning to buy with further improvement in fundamentals and numbers.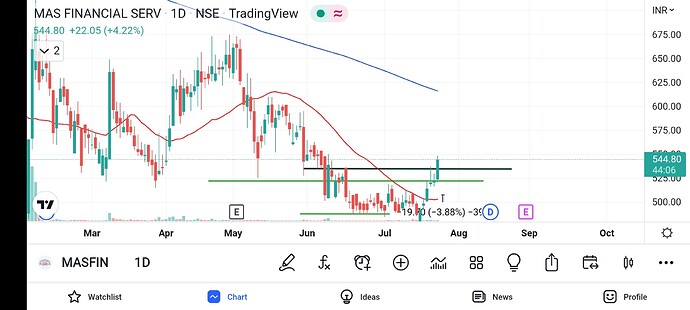 And a breakout.
Disclosure: Invested at 560 earlier. Recently bought some more around 515. Charts are for study purpose. No recommendation.
Q1FY23 Result:
Positives: Very big jump on PAT on QOQ as well as YOY basis, along with AUM growth.
QOQ ROE improvement to 15.28 vs 14.47 previous quarter vs 13.76 in Q1FY22. Co used to do 19% ROE precovid


Negatives: Though GNPA & NNPA ratios improved QOQ but absolute numbers have jumped at a faster rate than AUM growth. Total provisions more or less same.

Valuation wise company is at PB ratio of 2.35 used to be available at PB ratio of 4 pre-covid. So the question boils down to can it touch pre-covid ROE while maintaining the asset quality? What gives comfort is when DIIs and retail fellows sold in recent correction the Promoter bought from open market.

Looks like once IDFC Sterling Value Fund stops selling the stock will go up. Till then it'll consolidate maybe.
Disclosure: Invested and biased.
There has been a general de-rating in finance companies post covid.While some have reverted back to their peak pre-covid valuations ( likes of arman , iifl , etc), some are yet to revert back to the peak pre-covid valuations despite the upcycle.
This is true for big banks and big nbfcs as well.
yeah right. It might not get back to that level of valuation. Arman finance is growing their aum like crazy with very high ROE. while MAS has a ROE of around 15% so it won't be able to get those valuation I guess. Precovid MAS has 20+ ROE.