Here is my observation from Manappuram's concall. Management mentions that gold loan demand was buoyant until November and then it suddenly disappeared for low ticket sizes (which offer higher yields).

To bring back AUM growth, company had to focus on high ticket size loans which comes at lower yields. On top of this, they offered extra incentive to employees to boost collections and spent additional money on advertising to try to boost demand.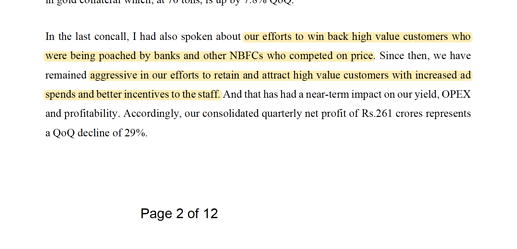 This additional advertisement didn't bring much fruit as there was no return of demand (for lower ticket segment) until February.
What I found interesting was the stock price movement in this time frame. Stock started falling from mid-November (which coincided with demand evaporation) from 220 levels to 145 in January. The next leg of de-rating below 140 coincided with the results. This probably implies that there are two set of market participants, one who got a whiff of this demand evaporation in November itself and the other ones who reacted post bad results.
Disclosure: Invested (position size here)