The ongoing dispute amongst the promoters is hurting the investors & the company. It is time that some sense prevail
I'm researching about Man Industries for the first time as it came up on my value screen. I am confused about the pledge scenario. In some interview promoter said that the pledge was created for a loan for project from SBI and the pledge shall be removed. But on screener.in the pledge percentage is shown as 33.4%. I even confirmed the same on the BSE website.
Can someone clarify this pledge scenario for me?
Strange case of Man Industries
SEBI letter dated 22nd Nov' 21 requesting a Forensic Audit for Man Ind being informed to the exchanges yesterday ie 10th May '22.
Although a mediocre business, the outlook has been improving apparently and has garnered interest from investors lately.
Also, poor corp. governance isnt a new thing for the company as it has been fined and reprimanded by SEBI previously (hence the valuation)
Overall,
Management sounds enthused since last few quarters, macros (crude oil prices 75$ and above) augur well for Oil and Gas sector which gives 80% of the current topline, doing a sizeable capex which should be more value accretive (better asset turns), gave an interim dividend recently, next genereration joining in, working on both topline and bottomline improvements, divesting non core assets.
Has seen promotor buying.
Is this priced in already?
When I bought Man Indus at 90+ price, I had already factored poor corp governance into the price anyways. I do it to almost all small caps, mid caps and even PSUs.
So today's additional fall is merely a buying opportunity for me.
Over the long battle between the brothers many skeletons have come out even though market is aware of the forensic audit the language by sebi letter is now including for the scope of siphoning of funds and doubt on the provisions now we all know some diversion happen in merino but if found guilty of manipulating then it's a disaster for retail investors over 10 yrs always smoking some sort of corporate issues should we catch the falling knife based on the perception of value or to assume the old adage IF THEY CAN STEAL FOR YOU THEY WILL STEAL FROM YOU ONEDAY
DISCL came out of the holding after long time
Unfortunately, everyone is just acting quick bytes. The disclosure was made way back in Feb'22. The news was double discounted.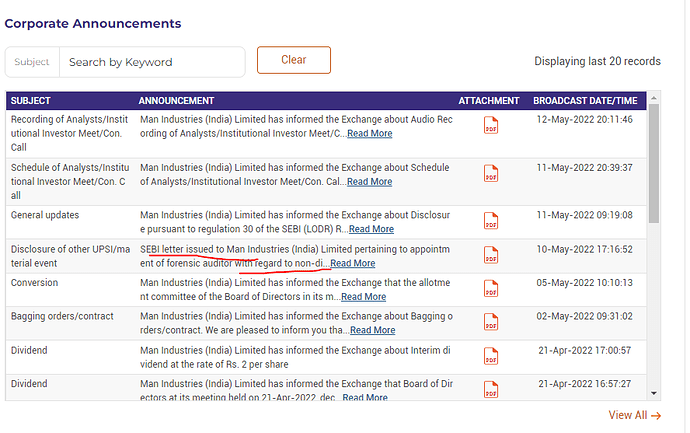 Hi anybody following this company closely? The book value is more than double the CMP and they have significantly reduced debt and have strong free cash flow, results have been muted in the last two quarters.
What is the reason of such less valuation?
If you dig deeper into companies' history, you will find a lot of irregularities in financials, especially in their Real Estate division. The company has invested huge sums in Real Estate Projects and I doubt they are able to realize any money out of it.
Also, we can see contingent liabilities are huge and if any of it realizes, could easily burn one go, all the cash company has. Management on the other hand is not so predictable with their targets, guidance, and so on.
So, factoring all this in, don't think valuations can be fair till the execution takes place.
Disc: Tracking Position Only.