M&M posts healthy operational performance in Q3FY22 - ICICIdirect
M&M posts healthy operational performance in Q3FY22
What's Buzzing:
Amid higher-than-expected gross margin decline for the quarter (200 bps QoQ), Mahindra & Mahindra (M&M) reported a healthy performance in Q3FY22. EBITDA margins for the quarter came in at 11.9%, down 60 bps QoQ. This was primarily tracking substantial savings realised in other expenses, which for the quarter were down 120 bps. The management shared healthy demand outlook for the company's product basket with current order-backlog at 155,000+ units including ~70,000+ units of the recent launch i.e. XUV700.
Context:
In Q3FY22, for M&M, standalone sales for the quarter were at Rs 15,239 crore, up 14.5% QoQ. Automotive sales volumes for the quarter were at ~1.21 lakh units, up 19.2% QoQ, with tractor volumes recording 4.6% QoQ increase to ~0.9 lakh units. EBITDA in Q3FY22 were at Rs 1,806 crore with consequent PAT at Rs 1,353 crore, down 5.5% QoQ. Higher PAT for the quarter was also supported by better than anticipated EBITDA margins, higher other income (dividend from subsidiaries and JVs) and lower effective tax rate (~18%).
Perspective:
Mahindra & Mahindra (M&M) is India's largest tractor manufacturer (38.2% FY21 market share) and prominent player in the CV & PV domain. The CV space is undergoing a cyclical recovery while there is robust demand for M&M's product basket in the PV domain, especially for successful new launches like XUV 700, Thar among others. Hence, the company is well poised for healthy profitable growth ahead. The company is also leading the EV transition domestically and is currently the industry leader in the E-3-W space with a presence in the electric-PV segment as well. It has guided for aggressive model launches in this domain, going forward. It is also walking the talk on revamped capital allocation strategy and is well poised for healthy double digit return ratios starting FY23E.
I just started analysing M&M. Can anyone explain to by why there is such a large valuation differential between say maruti @ 2.5 L Cr Mcap and M&M @ 50k Mcap (after removing subsidiaries) when both businesses have the same earnings and infact M&M seems to be much better placed in terms of EV
Is it purely devaluation for the capital allocation in loss making subsidiaries is the US and Korea or is there any thing else at play?
disc: not invested but very interested
In PV segment, Maruti's market share was 48% vs 6% of M&M last year.
M&M makes most money from tractors.
But it does seem to be cheapest stock in auto share.
Disc: Invested. 5% of PF
Yes m&m make most of their money from tractors, suv's and lcv/uv.
But they have a really interesting portfolio of electricity autos, other farm equipment etc so they have a much more diverse portfolio that looks like the growth will be good in as well.
The profits for maruti are compressed at 3000cr but so is m&m at around 4000cr, even in the best case that maruti goes back to 15% roe at 9000cr pat and m&m goes to 6000cr pat there should be some reason why the valuation differential is so huge
Sometimes it is just buying opportunity.
When tata chemicals was at 300 I was asking over analyzing and wondering that there must be something wrong. Next time I checked it was 1000+

With high corporate governance companies/not in sunset industry low valuations (need to be sure of this, just comparison with something overvalued may not be best way to judge) is an invitation to buy.
Commodity inflation is definitely concerning for any discretionary consumption.
Compare with John Deere, to get a better perspective.
So, M&M EV capabilities itself got valued at what was value of complete company few months back. This adds around Rs 300 to valuation. Intrinsic valuation north of Rs 1500.
Add to this Thar. There is large booking for that too. Just hope that semicon shortage does not play spoilsport.
Sowing Seeds For Success Bears Fruit for Future
Recently Mahindra & Mahindra has rallied quite a bit due to its recent successful launches such as Scorpio- N and XUV 700.But apart from these successful launches there were few steps taken by the company in 2020
The company in 2020 had record losses from its subsidiaries due to which the company's profits were deteriorating such that it almost fell by 97%. In order to solve these issues the company decided to reallocate its capital in 2020.The company set target of generating Return On Equity (ROE) of about 18% from 0.5% in FY20. The company took the following decision to achieve the targets
· Subsidiaries which will generate return on equity of 18% .M&M will stay invested in these subsidiaries.
· Subsidiaries with unclear path to profitability but are strategic. M&M will continue investments in such subsidiaries
· But Subsidiaries with unclear path to profitability. M&M will liquidate its investments.
As you can see in the image due to these decisions the losses from subsidiaries decreased and Return on equity kept increasing .
The Next target which the company is set is to achieve EPS growth of 15-20%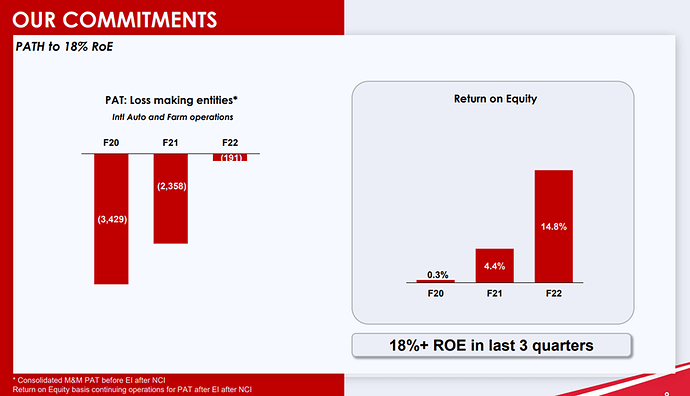 Where can I find M&M segment wise data(i.e CV, PV, tractor etc) for last ten years. If any one knows please help