About:
Mahindra & Mahindra Ltd., a mobility products and farm solutions provider, is the flagship Company of the Mahindra Group. They offer a wide range of products and solutions ranging from SUVs to electric vehicles, pickups, commercial vehicles, tractors, two-wheelers, construction equipment.
BUSINESS PRESENCE IN 100+ COUNTRIES WITH 49% REVENUE FROM OUTSIDE INDIA
Management thought process:
"It is tempting to see the "group" as a conglomerate, but Mahindra prefers to call it a "federation" where each company is ring-fenced from the damage failure elsewhere can do, even while being free to finance its own growth and make its own mistakes." Federation outlook of Mr. Mahindra.
Business:


My thoughts:
In terms of EV, I find Treo auto can be a game-changer for M&M. Mahindra Treo & Treo Yaari Electric Vehicles | 1st Lithium-ion powered electric auto | Motown India - YouTube
Ford JV seems to be a win-win deal though we need to see if it succeeds. Previous automobile JV didn't work out well for M&M as well as Renault.
Roxor can help M&M gain a foothold and establish the brand in the US auto space. But again, we need to track further product launches of the company in the US w.r.t automobiles.
Scorpio & XUV500 were quite successful models. Marazzo seems to be struggling as it competes with Maruti Ertiga. M&M needs to come up with a few competitive models and gain market share. I have lately observed Creta & Venue being preferred by SUV buyers.
With the present government having the intent to increase farmer income, a policy aimed at achieving the same can be a big boost to tractors and farm industry.
Corporate governance is top-notch in my opinion.
Meru acquisition and shared mobility are also part of M&M strategy.
Though sometimes I feel they have spread themselves quite a lot, it can be an issue or not, I am unsure.
Jawa has grabbed customer attention, current waiting time is a problem, going forward this can be reduced with proper mfg operation in place. Two-wheeler space with Jawa models can give a thrust to not so good numbers of M&M 2W.
Shareholding Pattern: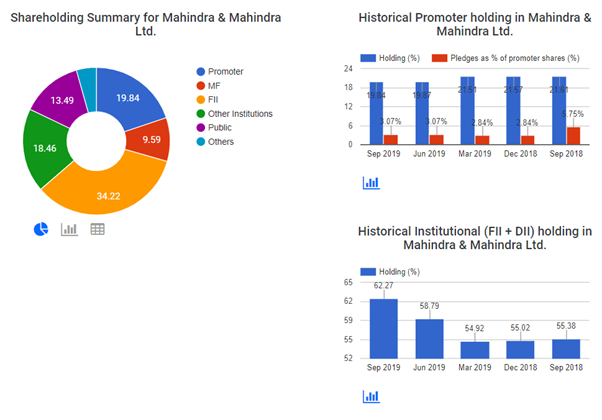 Quarter Ending September 2019
Stock Trend: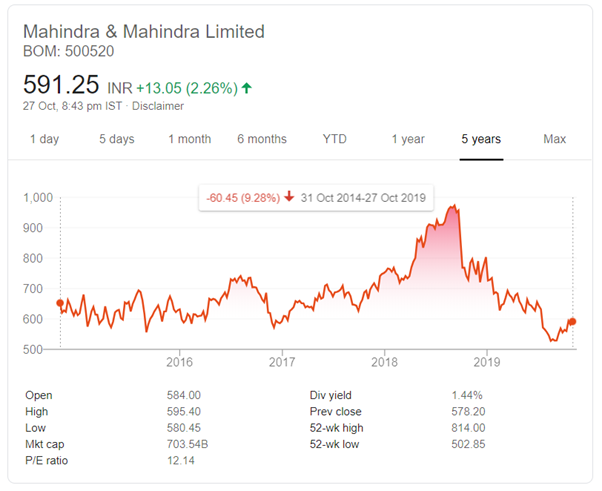 References:
https://www.mahindra.com/resources/investor-reports/FY20/Announcements/M-M-Integrated-Annual-Report-2018-19.pdf
PS: This is my first post and I am a newbie to stock markets! Request to VP members to share feedback!