that means MSN labs and Lupin are into the race. Lupin bigger player can have the upper hand…isnt ?
I am not able to comprehend the part mentioning royalty. Lupin to give royalty or they would get !!
Lupin will get milestone payment if the product makes it to market.
Say Milestone payment 1 after successfully completing phase 1 clinical trail…milestone payment 2 after clearing phase 2 clinical trial and milestone payment 3 after clearing phase 3 clinical trial
The success rate of compound clearing all the clinical phase is quite low
after successfully completing clinical trials, the product will be launched in the market and Lupin will get royalty payment on sales
Q1FY21 results seem dismal, not just that sales have dropped, but what maybe spooking the markets is that the sales have dropped while costs have risen, and hence profitability has taken a big drop… not able to understand why has the cost gone up instead. Dependence on China for APIs? but then why is it not the same for other Generic producers? I initially thought could it be due to increase in Inventory, however no, inventories have actually gone down… So what explains this jump in materials consumed while sales have fallen?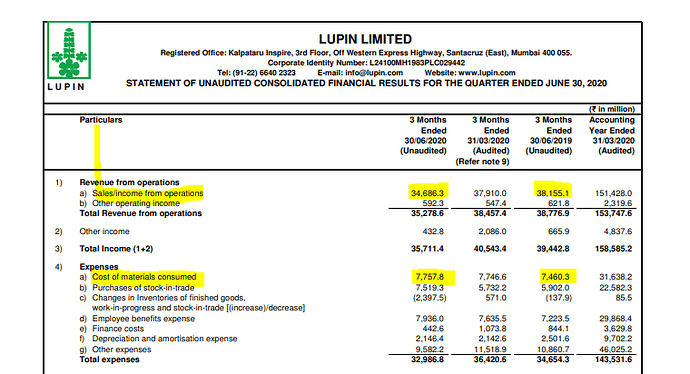 Management was also quite disappointed with the results, here are my notes from the conference call
Adverse product mix in US mainly responsible for bad performance along with loss of metformin revenues; Saw demand contraction due to higher stocked up inventory in March; Biggest drop was because of flu season products like Erythromycin; Will be back to $180-190 US revenues Q3 onwards; Branded business impacted adversely in Q4FY20 and Q1FY21;
Q2 to be much better than Q1; API growth guidance growth at 10%; Domestic business impacted in July; August has started off much better (expect growth in Q2 over Q1)
Manpower costs increased because of speciality business restructuring and one-time COVID incentives; it will come down in the next quarter (below Q4 levels)
EBITDA margin will be 17% for current financial year (excluding forex and other income impact)
Albuterol (Proair is the largest brand) approval expected in August (was already expecting approval by now which was delayed because of change in the API supplier); Expect launch in September; Market has normalized (in terms of pricing) to pre-COVID levels and pricing is currently stable; Might come with a larger discount because Albuterol is a major product for them and are looking at it from a longer time perspective for a few years;
Expect fostair approval in Europe by end of calendar year and launch by the end of fiscal year; Will be first launched in UK
Make 20%+ margins in important products (like albuterol)
Levothyroxine: competition coming in (eg: Strides Pharma), not easy product to ramp up so expect competitors to struggle (12% market share)
Solosec: Demand is coming back with express scrips; Just 10% of target physician office in US is open face-to-face
Investing in inhalation in last 6-7 years; Inhalation portfolio will start kicking in from this year
Biosimilar:
o Launch of etanercept will be in this quarter starting with Germany;
o Expect to file pegfilgrastim by end of this financial year; Target launch in FY23;
o US biosimilars (ranibizumab, pegfilgrastim) will be marketed on own
FDA not in a position to do physical audits in India but doing inspections in US for mission critical facilities; Offered Somerset for reinspection; Pithampur and Goa will be offered for reinspection in the next couple of months;
API business: Looking to ramp up fermentation based APIs where there is overdependence on China; Guides for 10% growth this year
Impact of trump new rules: Not big in the US government business as the government prefers to buy from local manufacturers
Big problem in compliance was investigation; Evaluating the scope of third party reviews; Trying to improve internal investigation
Metformin: NDMA issues impacted multiple players in the market but not everybody; Confident of getting back into the market by Q2; Have been a very strong player over the past 5 years. Will probably not be like a SARTAN issue;
Long term growth rates: Target is 10% CAGR (double digit) sequentially over the next 5-7 years; Target to get margins back to 20%+ over long term; Target R&D within 10% of sales
Entered into exclusive marketing agreement with ForDoz Pharma to market two complex injectable assets (oncology, anti-infective therapeutic areas) that will be manufactured by ForDoz but sold by Lupin in US. This will bolster Lupin's Institutional business offering. The two assets are probably Doxorubicin (will be filed next year), Amophotericin (will be filed in the year after next);
Disclosure: Invested (detailed position size here)
Thanks Harsh for all the amazing research and notes you keep sharing on this platform. I am learning a lot from your work.
Lupin concall:
The management is very confident for complex generic portfolio for next few years and believe they are at inflection point.
Lupin hope to get approval for proair by August and a launch by September.
Hope to relaunch Metformin by end of Q2. They don't see Rx to change to alternative products as still few products are there in market without NDMA issues.
US business to do better on QoQ basis…
India business to grow by double digit this financial year.
Solasec demand coming back slowly.
Prescription to improve substantially going forward.
Expecting Etanercept launch in Europe this quarter. They would launch in Germany via partner this month only.
Fostair Europe launch also expected in this Financial year.
Goa, Pithampur and Somerset re inspection should happen in next 3 months.
Albutrol pricing likely to happen @20-30 pc discount and it would lead to higher competition amongst existing players.
US business is lower largely due to early storage in March and low sales of sporins and influenza products…
Management sees not much impact of trump order.
Employee, sga expenses to be lower as pc of sales going forward.
Maintaining r&d to be lower than 10 pc of sales in long term.
Management is looking for ebidta margins in early twenties going forward.
Can touch USD 200mn back by Q3 this year.
Partnership with Fordoz is for 2 molecules in injectable portfolio. Impact likely to be seen in next 2 years.
Thanks for sharing this link @danielPegus. Gave a single pane view of the quarterly results.
The link talks about paring down debt to the extent of 300 million $ debt which will essentially have a positive effect in the medium term to long term.
Any insight into when this can happen if it indeed happens.
Disc : Invested a small % of my savings into this recently.
Lupin Q1 concall notes -
Revenues at Rs 3468 cr lower by 9.1 pc YoY. US sales down 28 pc YoY to $ 157 million. In q4 last yr, US sales were as high as $212 million. India branded formulations down 6pc. IPM de grew by 4.9 pc in q1. Demand revival in India seen in q2. API business showed strong growth of 24.5 pc sequentially with strong demand and pricing. Expect the strong API performance to continue.
Gross margins at healthy 62.9 pc. Manpower cost increase due to one time specialty restructuring in US and COVID related incentives. Freight , manufacturing and other expenses also higher by around 100cr. There was a fall in travel, legal and sales promotion costs.
Going fwd, company expects operating margins to improve due mkt share expansion in levothyroxine ( thyroid drug ), relaunch of glumetza ( anti-diabetic ) in Q2. Also, pre winter buying of Azithromycin and Cephalosporins (both - anti bacterials ) , Oseltamivir ( anti viral-used for flu treatment )…helps the cause.
Much awaited Albuterol launch expected by Sep.
Tight control of manpower , SG&A costs to boost margins in Q2.
Higher competition in levothyroxin, however the smaller competitors are not able to scale up easily. Lupin in good postn from supply chain, manufacturing standpoint. Current Mkt share at 12pc.Company intends to take it to high teens.
Metformin recall related costs - mostly absorbed in Q1. Re intro of metformin to help drive sales in Q2.
8.Company expected to grow India sales by 5-8 pc in Q2.
Company expects Pro Air ( Albuterol ) approval by Aug end and launch by Sep. Aim to target 20pc mkt share. Pricing for albuterol has been fairly stable.
Solosec sales had plummeted in Apr due fall in OPDs. Across…May, Jun , Jul…its improving again.
Critical year for Company's inhalation products - Albuterol, Tiotropium ( approval expected ). Biosimilar - etanercept ( for auto immune disease ) expected to be launched in Europe. Aim to file Pegfilgrastim ( given to patients undergoing chemotherapy to reduce chances of infection ) this yr.
Company aims to up its compliance game. All inspections this yr have had a positive outcome. Expect to get positive outcomes on Somerset, Goa and Pithampur facilities. Apriso ( used to treat certain bowel disease ) launched in late Q1.
Eternacept launch will first be in Germany then France and Sweden, then UK. Lupin strong in Cephalosporin APIs, penicillin intermediateries. Looking to do a few more APIs now.
Fostair ( inhaler for chronic obstructive pulmonary disease ) launch expected in Europe by the end of this FY, early next yr.
Remidiation costs should decline over a period of time as the facilities become more complaiant and company also learns.
Company expects to clock double digit growth for the next 5-7 yrs on the back of sucessive biosimilar, complex generic and speciality product launches. Management believes that they are on the cusp of good growth going fwd. Their pipeline for these products is indeed rich.
Company expects to maintain R&D spends at 10pc of revenues for froeseaeble future. With cost saving initiatives, better product mix ( speciality, complex, biosimilars ) …company aims to get EBITDA margins into 20s.
Partnership with Foe Doz Pharma for 2 products ( injectables ) - Doxil ( anti-cancer ) and AmBiosome ( used for life threatning fungal infections ). Expected launches in FY 22 and 24.
Company would like to commercialize bio similars in US on its own, backed by the complex injectables infra that the company has.
Albuterol cometitors - Cipla and a couple of US players…whose costs are higher. Only 2 Indian players mean that the prices may remain stable for some time.
Disc: Invested from Rs 910 levels.
Small, tracking position.
What kind of revenue Lupin expect from this product
US generics market has de-grown from $67bn to $57bn in last 5 years, more competition from smaller Indian companies taking market share in commodity generics
Aurobindo has been a huge winner in terms of market share in last five years
Got albuterol approval as per guidance; Proair market growing by 13% backed by COVID tailwinds; price erosion will be lower
Q1 revenue of $155mn was an aberration; US revenues will be back to $180-200mn quarter levels
Metformin to be launched by this quarter end
Perrigo recalls albuterol sulfate inhalation (a generic for proair). Cipla launched albuterol sulfate earlier this year, Lupin will launch this month. There might be a temporary spike in Lupin's revenues for the next couple of quarters because Lupin is the only one apart from Perrigo and Teva (innovator) who makes proair. Cipla only makes proventil (and not proair). For context, the albuterol market has three large brands (proair, proventil and ventolin). Proair sales account for $1.3bn out of the $2.9bn albuterol sulfate market. Another interesting development is that Lupin is planning to shift its manufacturing of proair to US. This is in-line with management commentary of transferring important healthcare products to US.
https://www.accessdata.fda.gov/scripts/cder/daf/index.cfm?event=overview.process&ApplNo=021457
While researching about animal healthcare market, I found that Lupin recently got an approval to make Albendazole tablets (anthelmintic drug used for animal pharma). I have never heard Lupin's management commentary into animal healthcare, does anyone have insights into this? Or maybe it is simply because of the temporary demand-supply mismatch of albendazole which is why its prices went up quite a bit. Just thinking out loud here.
https://www.lupin.com/portfolio/lupin-receives-approval-for-albendazole-tablets-usp/
Albendazole is used for even humans. It is not for animals

Here are my notes from today's concall:
Excluding last time NCE licensing income, sales were slightly up YOY (by ~3%; not sure about number)
India sales growth should be 6-8% YOY in H2FY21 (IPM should grow 4-5% in H2FY21); chronic part has done well but acute is lagging (bigger brands have done better and Lupin doesn't have big brands in acute);
Overall sales growth will be ~10% in H2FY21
Q4 EBITDA margins will be back to ~18.5% and EBITDA margins should come back to 20-22% in few quarters; gross margins will go up going forward because of flu products (Tamiflu etc.) and also higher sales from products such as albuterol and ramp up of levothyroxine; Manpower costs should be 18% of sales going forward
Levothyroxine: 13% market share currently from the 12% in last quarter; 16% market share in generic market
A large chunk of the remediation costs are done, waiting for the FDA audits (currently FDA is not having virtual audits)
Launch of albuterol and relaunch of glumetza (metformin) were done at the end of quarter
Albuterol: Ramping up supply due to very strong demand because of supply shortage due to perrigo recall; pricing is holding up as Lupin is the only generic for proair; Expect complete ramp up (with sales >1mn units/month) from Q4FY21; Harder to ram up as product has a complex supply chain due to 3rd party vendors in the supply chain (especially for the medical device);
gSpiriva: Is in constant dialogue with the FDA; product launch date is after June 2022 (positive that will get approval by then); not aware of any other company that has made significant development on the product
Fostair: Approval should come next quarter from MHRA
Solosec: Business was down 50% due to covid and restructuring of manpower (reducing number of people from 120 to 45). Scrips and revenues were flat from FY21Q1 to FY21Q2; Majority of revenues is coming from one time product use only
Injectable portfolio: Should ramp up in the next 3 years (4 target areas: peptide, iron chloride, depo injectables out of Netherlands (like provera); Liposomal product from Fordoz); Will first file the peptide product glemeremex (hopes to launch in FY22); Liposomal products will be launched in FY24 & FY25
Near term growth will be driven by inhaler portfolio
Somerset inspection: Still ongoing; Longer inspection in COVID times + facility had a COVID positive case leading to a 2-week hiatus
Quality action plan: Observations from any regulatory body will be addressed across sites; Was launched in July 2020; Gives example of how problems in "investigations" have been addressed across manufacturing sites
Flu season has been delayed
Other regulatory bodies such as DGCA have done virtual desktop audits
FDA might start asking to compare impurity data from the reference drug during approval of injectable products
Disclosure: Invested (position size here)
Here are my notes from the last couple of management interactions.
30-12-2020 (CNBC)
12 launches till date; FY22 will be much better in terms of sales than FY21
Number of platforms that Lupin has been working on is one of the highest in the industry (complex generics, injectable, inhalers, biosimilar, specialty)
Q4FY21 EBITDA margins should be >20%
Somerset inspection went badly
13-01-2021 (JP Morgan)
16 ANDA approvals and 13 FDA filings in CY20
Albuterol market share stands at 8% of generic market share in Q3FY21 (is manufactured at Pithampur)
Somerset inspection was challenging
Expect to file 1 out of the 2 liposomal product in partnership with ForDoz
Have one of the largest portfolio of in-licensed products that are sold in India
Aim to move from the current rank of 6 to 3 in the Indian pharma market over the next few years
Have invested substantially in 3 major areas – inhalation, biosimilar & long acting complex injectables
Specialty business: women health in US and Canada; gastrointestinal in Canada, neurology in Europe
Disclosure: Invested (position size here)
Here are my notes from today's concall.
Stable price situation (low single digit price erosion) in US currently
EBITDA margins (excluding forex exchanges) improved to 20.6% and operating EBITDA improved to 18.6% due to improved business mix and cost optimization. Forex loss was ~26 cr. for this quarter. Targeting EBITDA margins of 20-22%
Flu product demand was very low due to the weakest flu season in a decade leading to low growth in US
API has done poorly because demand for antibiotics product has been very low globally
Effective tax rate have improved to 15.9% as most of subsidiaries have done well. For the whole year, it will be in mid-30s. For next year, it will be sub-30s
Solosec: Most of the benefit due to rationalization of sales force have been recorded
Albuterol: Ramp up has gone well with monthly market share of 9%+ of the generic market. Hope to get to 20%+ market share in the next couple of quarters. Market is 70mn units and Lupin is targeting 14-15mn units (is capable of higher numbers). Is manufactured at Pithampur Unit III
gSpiriva: Litigation is on-going and FDA filing is on-going, queries from FDA is normal IRs. Expect to launch in mid CY 2022
Fostair: Branded product; Expect FDA approval in the next couple of months. Have been inspected for this in the past; Expect district court decision within a year. Is manufactured at Pithampur Unit III and Coral Spring facility
Levothyroxine: Currently at 17% generic market share and 14% of overall market; Want to go up to 20% market share of the generic market (i.e. 300 bps more)
Complex injectables: Depo products out of Netherlands ready to go into clinic (first product will go into clinic this quarter; next one will follow soon). Fordoz liposomal: expect at least 1 filing in the next fiscal year; Peptides: Will file one of the products in the next couple of months
Ranibizumab: Will go into Phase III this year
Etanercept: Ramp up has been slow with launch in 3 EU markets so far because it's kind of a branded product; Expect product to be rolled out in all key markets in 12-24 months
Goa, Pithampur and Tarapur: Ready for inspection; Expect FDA visits to only happen in H2CY22
Somerset observations: Unhappy with 13 observations, was a tough and very long inspection, wouldn't generalize with other facilities. Deeper transformation program initiated. Still work to be done on the compliance front
Mandideep, Pithampur: Have a very deep transformation program
R&D will remain at 9% for FY22
Company is now qualifying US sites for government products
Expect 6+ injectable filings each year; 3-4 inhalation products; total 30-35 ANDA filings to US each year
Branded US sales was $2mn this quarter (40 people sales force)
Brazil operations is now profitable
Nebule product are outsourced (contract manufactured)
Disclosure: Invested and position size same as before