Retained earnings are not directly available for reinvestment, as they are part of the company's equity, while cash reserves are the funds set aside by a company to be used in the future.
Company came out with decent nos, with sales and profits growing at 11% in FY22. Management had an interaction with Zee business where they mentioned that the cephalosporin capacity will start in a month, which can contribute to 20-25% sales growth in FY23. Notes from interview is below.
20.05.2022 (Zee Business interview link)
Production from expanded facility should start from June, most of the expansion is in tablet segment
Expect 20-25% growth in FY23 (will be visible from Q2FY23)
Disclosure: Invested (position size here, bought shares today)
don't you think the company is not aggressive enough??
120 crore it has already achieved in a couple of quarters last year, not sure where the growth for the years ahead will come from , though valuation looks good
Disc: Invested
A very basic question. Why would Lincoln succeed in achieving projections of Rs 150 Cr. (in 3 years mentioned in the past or earlier) of Cephalosporin ? If its a USD 18 bn market with multiple players, how would a new player get its feet in ? Searched write ups on the net including rating rationale, but didn't find any answer to this.
Lincoln Pharma came out with their annual report, a brief summary is below. Related party loans continue and have actually increased in FY22. FY23 growth should come on the back of new launches from Cephalosporin facility in Australia and EU.
AR22 notes:
Revenues grew by 11.3% from 424 cr. to 472 cr. with PAT increasing by 11.3% to 69 cr.
Revenue break-up:
o India: 205.9 cr. (vs 163.55 cr. in FY21)
o Export: 266.18 cr. (vs 260.63 cr. in FY21)
o 1 customer contributes 17.69% of revenue (vs 15.37% in FY21)
Subsidiaries: Zullinc Healthcare: Sale 36.41 lakhs| PAT -0.32 lakhs
R&D (breakup not given)
o 30+ scientists, received 7 patents (same as FY21) and filed 25+ patents (same as FY21)
o 1700 product registrations with 700 more in pipeline, developed 600 formulations (same as FY21)
Received approval from Australia's medicines and medical devices regulator – Therapeutic Goods Administration (TGA).
86th rank in IQVIA in July 2022 (vs 90th in June 2021)
Launched 14 products in India and filed 110 dossiers in other geographies. Looking to build a chronic portfolio in India focusing on women's healthcare, dermatology, gastro and pain management to complement acute portfolio
2 manufacturing units (same as FY21)
Due to amalgamation of Lincoln Parenteral Limited, share count increased by 29,728 (from existing share count of 2 cr.)
Acquired plant in Mehsana, Gujarat for Cephalosporin product range (tablet, capsule, dry syrup, injectable). Invested 30 cr. for capacity expansion. Plant is expected to contribute 150 cr. sales in 3-years and EU-GMP, WHO-GMP, TGA and ISO-9001:2015 certifications
Growth drivers
o Expansion in Cephalosporin products
o Foray in EU and Australian markets
o Expand presence in Africa and South East Asian countries
Promoter holding: Increased to 42.05% (vs 37.26% in FY21)
Number of employees: 1'525 (vs 1'246 in FY21) (managerial remuneration increased by 15-16% and other employee by 20-21%), contractual workers: 750 (vs 700 in FY21)
KMP remuneration: 1.59 cr. (vs 1. 6 cr. in FY21)
Anand A. Patel is appointed on board. He specializes in procuring of raw and packing material, business, administration, distribution channel and social activities. He was Whole Time Director of the erstwhile Lincoln Parenteral Ltd since 2010
CSR: Spent 1.48 cr. (excess of 10.93 lakhs which will be setoff next year)
Shareholders: 32'975 (vs 21'415 in FY21), price (low): 221.3, price (high): 414.75
Audit fee: 11.5 lakhs (vs 11 lakhs in FY21)
Income tax dispute: 0.23 cr. (vs 2.3 cr. in FY21)
Current loans given
o Inter-Corporate Loans 17 cr. (vs 14 cr. in FY21)
o Loans and advances given to others 14.53 cr. (vs 4.78 cr. in FY20)
Non-current loans given
o Inter-Corporate Loans 2.3 cr. (vs 2.3 cr. in FY21)
o Loans given to others 24.54 cr. (vs 22.79 cr. in FY21)
Disclosure: Invested (position size here, bought shares in last-30 days)
Promoter holding increase seems to be transfer of shares between one gentleman and promoter (Not sure) as the said person has exited and approx equal proportion of promoter holding has increased.
Company is giving out many plans but the scale up doesn't seem to be happening. EU and Australia approvals are not resulting in good scale up of business. Not sure whats happening.
The balance sheet seems strong. But recently margins have dropped.
Stock price has barely moved here.
Anyone has met the promoter or visited the plant?
Sorry for the digression.
Hi @ayushmit,
From a corporate governance standpoint, I think you would agree that these transactions (images below) create doubt in the mind of an investor as to its legitimacy.
My question is more on:
How much do you weigh them in your investment process (Do you discard a company right away) or
Do you still continue the research and even invest in such situations ?
Just trying to understand, is this an absolute deal breaker according to you ? Also, how do you see companies purchasing inputs or selling most of their products from/to related parties ? Again a deal breaker or you continue further.
If these are not your deal breaker, can you please share your major red flags beyond which you move on to the next company ?
Thanks in advance!
Hi All,
A couple of questions from my side:
In the FY2022 Annual report Pg 139, Ishwarlal A. Patel is shown as part of the promotor group while at the same time is an Independent director of the company. How is he independent?
In a board of 11 directors, only 4 are shown as independent (1 of which is Ishwarlal). As far as I know there should be equal of independent and non-independent directors, right?
@ayushmit and more experienced members of the forum, please help us here if you have ever come across such scenarios.
Regards,
Ashutosh
Disclosure : Not invested
Hi,
I'm ok and flexible with these things in small caps if the valuations are very attractive and from number perspective I can get a feeling that nos are good and true. For eg in the case of Lincoln, there has been material repayment of debt and now they are having surplus cash. All this is possible only if the business is there and it generates free cash flow. I don't think that a pharma co is available at such low valuations (and the reason is corp governance and lack of aggression). But things do change and at certain point good advisors come and companies transform too.
Cheers,
Ayush
Thank you so much Ayush for sharing your wisdom! It helps refine my thinking on these items.
Any views on recent promoter buying
This seems to be some case of transfer of shares from some promoter entities listed as public to the main promoters. I am not sure about this.
The numbers don't completely add up.
However, what can be pondered is that why would the promoter take up all this stake on him? Who is funding this purchases? No shares pledged.
IMO, this seems to have a positive spin given the balance sheet and credit rating is indeed strong. Waiting for them to scale up and grow and have meaningful exports (As being commented consistently over the last couple of quarters w.r.t entry in Australia and European markets)
Agreed. Just wanted to understand is this some kind of inflection point for company
Promoter bought approx. 2.5 Lakh shares in last 10-15 days from open market. A good sign for LT.

Disc: Invested
From results :-
Lincoln Pharma has a state-of-the-art manufacturing facility unit at Khatraj in Ahmedabad, Gujarat, complying with stringent international quality and compliance norms and certified by WHO-GMP and IS0-9001: 2015. Recently company has also received European Union (EU) GMP certification for its manufacturing facility which will allow it to market its products in all the 27 member countries of EU and also give access to European Economic Area (EEA) countries. Company is engaged in manufacturing of pharma formulations like Tablets, Capsules, Injectable, Syrups, Ointments, etc.
Going green, company has also set up a new Solar Plant of 1 MW at factory's rooftop in addition to two windmills. This way we are producing renewable energy to our consumption nearly 65% resulting significant saving in the electricity cost and helped the company to become a self sustainable and environment-friendly organization.
Commenting on the results and performance, Mr. Mahendra Patel, Managing Director, Lincoln Pharmaceuticals Limited, said, "Company has delivered a robust operational and financial performance during the quarter and confident to improve our growth numbers going forward. Recently company has also received an approval from Australia's medicines and medical devices regulator - Therapeutic Goods Administration (TGA) for its Khatraj facility. TGA and EU GMP approvals will further strengthen company's presence in the export market. Strategic growth initiatives, product and geographical expansion, operational efficiency are likely to maximize value for all stakeholders in the near to medium term."
Any clue on which FII is building position here? Currently stands at 1.44% as of Dec'22 (Prior Qtr - it was 0.63)
Also there is a gentleman named Dheeraj Kumar Lohia - who now holds 1.33%. (last year it was Nil). This person has total 100 Cr (as per disclosures) invested across many small caps. But no convincing trends visible.
Any info on these?
The company has been saying export market from a long time. When will the actual point of inflection come?
Ratings notes below
31.03.2023 (ICRA notes)
African markets generates ~32-35% to export sales
Manufacturing facility in Khatraj, Gujarat, received clearance from Therapeutic Goods Administration (TGA) for all three departments—tablets, capsules and creams
In FY2022, company had acquired a plant in Mehsana (Gujarat) for Cephalosporin products. The production from this plant started from September 2022, which is expected to aid to near term revenue growth and earnings
Extended sizable inter-corporate loans to unrelated parties, which stood at ~Rs. 58.6 crore as on March 31, 2022.
There has not been any instance of bad debts in the past
Higher credit period (up to ~120 days over ~60-90 days in the domestic market)
Disclosure: Invested (position size here, no transactions in last-30 days)
Has anyone tried writing to them regarding the inter corporate loans/ deposits. There is a brief mention about it in a AGM recording available in their site, where they have made some vague remarks about it. They have mentioned that those are for certain future expansions and so.
As far as business is concerned cephalosporin seems to be the near term growth driver. Export to EU and Australia to contribute to Growth. Exports contributed to 60 % of sales in Q3. Export network to grow to 90 + countries from the current 60.
Its interesting to see stable margins in a tough environment. Its good to see promoters increasing their stake in the company.
Sales contribution

Company is net debt free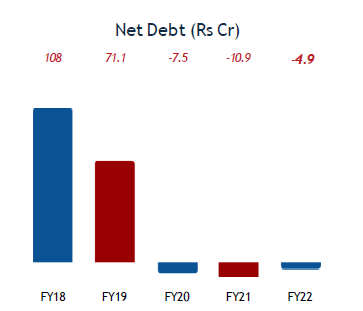 Cash equivalents
The company has cash equivalents of 21 crores and quoted investments of 101 crores as of Sept'22.

They had a current investment of 97 crores as of March'22.
As per AR'22, the following are the investments

So the cash equivalents and investments add upto Rs 61 per share as of Sept'22. These mutual fund investments are marked market to market and are liquid. I believe these can be considered very close to cash equivalents. If we consider these as cash equivalent the Enterprise value comes down further. If we exclude other income from the last quarter earnings and annualise it considering that earnings are sustainable. The current adjusted EV/ EBITDA will be 6.29 which seems to be cheap for a pharmaceutical company.
Key risks
Regulatory risks: This is a risk common to all export-focused pharmaceutical companies. The Tanzanian government banned the company in 2016 due to some issues with its Chloramphenicol sodium succinate injection. An African Govt revoking its license could have a serious dent in its reputation. Now, that the company is getting approval from the Australian TGA and EU, I would consider these as issues of the past.
Trade receivables are seen continuously increasing over the past few years. In the HY, the receivables have increased from 116 to 174 crores. As the company exports to many African countries the recoverability of these receivables needs to be monitored.

The general credit period for both exports and domestic sales is 30 to 90 days. And the company marks all receivables beyond 3 months as credit impaired.
The company has significantly brought down the impaired receivables above 3 months considerably from 10.83 crores to 4.78 crores.
The company has a credit loss allowance of 1.68 crores for impaired receivables of 4.78 crores. The company made a reversal of 98 lakhs of bad debt allowance made in the previous years.
3)Intercorporate deposits:
There are large amounts of loans and advances. As per AGM recording, there was a vague mention that these deposits are charged interest and are given as part of certain expansion plans. There are not many details regarding these intercorporate deposits.
As on Sept'22 :
Non-current: 29.85
Current: 25.63 Total: 55.48
As on 31.03.22:
N: 26.84
C:31.77 Total: 58.61
As on Sept'21:
N: 27.11
C: 36.75
Total: 63.86
As on March'21:
N: 25.09
C: 18.78
Total: 43.87
The figure in the screener doesn't seem to match the balance sheet. The intercorporate deposits seem to be increasing regularly. Even though the current part of these deposits is reducing over the last few quarters the non-current deposits are continuously going up.
The company had 9.99 crores in other income in the last financial year. Of which, 5.02 crores were interests. 0.5 crores interest from Bank, 4.52 crores interest from others. It is possible that this interest corresponds to intercorporate deposits. 4.52 crores interest on the intercorporate deposit seems close to market rates.
In the cash flow statement, 5.02 crores are deducted from PBT to arrive at CFO. But only 2.62 crores are shown as interest received in cash flow from investing activities. I don't know where the remaining interest went. There is an interest receivable of 34 lakhs in other financial assets.

The company has a bad debt write off of 69.68 lakhs in FY 22, but I am not able to find out any details about it in the AR.
From what I understand the company has really done well to improve its margins in a very tough cost environment. The company's focus on exports seems to be margin accretive. Exports is 60 % of the sales as on Q3. I believe company's focus on further expanding its network could aid to growth and margins further. Entry into regulated markets of EU and Australia can be another positive. Cephalosporin capex can be a growth driver in the near term and the company is net debt free. The reducing freight could also aid margins. With a lot of near term growth drivers it seems that the company is available at cheap prices. The company seems to be managing its receivables well considering its end use geographies.
Having said that, a lot of pharmaceutical companies have started focussing on the African markets, it needs to be seen how the competition pans out in the future. Another cause of concern is the constantly increasing intercorporate deposits. At a time, when the company's profits are increasing and is net debt free, how will the cash flow be utilized? could be a nagging thought in the mind of investors. Will it further increase the intercorporate deposits. So a clarification in this regard could go a long way in changing the perception. Else a declining or stagnant trend of intercorporate deposits should be visible.
LPL 2022-23 , Qtr.-3 Business Presentation.pdf (1.2 MB)
Link to recording: https://www.lincolnpharma.com/Investor/Disclosures%20under%20Regulation%2046%20of%20the%20LODR/14.%20AGM-EGM%20Results/2022-23/Transcript%20for%20AGM%202022.mp3?_t=1676715362
Discl: Have a small position and trying to understand better. May be biased.
Presentation of Q1 FY2023: