Goenka Group's flagship company Laxmi Organics Industries Ltd has filed for an IPO for 800 Crs.
Fresh issue - Rs 500 crore & Sale by promoter Yellow Stone Trust - Rs 300 crore
Fresh Issue proceeds will be utilized for capital expenditure of setting up a manufacturing facility for fluorospeciality chemicals, working capital requirements, purchase of plant and machinery, and upgrading existing units, etc. The company expects to make the fluorochemicals capacity active from 2021-22, to help substitute for Chinese imports and reduce commodities dependence like ethyl acetate.
IFC had invested ~47.5 Cr for 10.05% stake in 2012 which the company bought back in Jan 20 for 82 Cr.
Laxmi Organic Industries was established in 1990, to manufacture alcohol-based chemicals. First plant was set up to manufacture Acetaldehyde and Acetic acid from Ethyl alcohol, which was procured from the local sugar factories in India. Laxmi expanded over the years in production volume & in product portfolio. Laxmi is currently among India's largest players in the Acetyls space with the capacity to produce 120,000 tons of Ethyl Acetate annually which translates to approximately 30% of the India market share. They also have capacity for 30,000 tons per year of Acetaldehyde. After the successful acquisition of Clariant India's Diketene business in 2010 they are the only producers of Diketene chemistry in India with ~55% of the diketene derivatives market. It caters to the pharmaceutical, agro - chemical and colorant industry.
Presence in over 30 countries including China, the Netherlands, Russia, Singapore, United Arab Emirates, the UK and US.
They also offer CRAM opportunities based on Diketene and Ketene chemistry.
Direct presence in Europe with office the Netherlands & subsidiaries include
• Cellbion Lifesciences Pvt Ltd,
• Laxmi Organic Industries (Europe) BV,
• Laxmi Petrochem Middle East EZE,
• Laxmi Lifesciences Pvt Ltd and
• Viva Lifesciences Pvt Ltd.
• Saideep Traders
• Yellowstone Fine Chemicals Private Limited
• Yellowstone Specialty Chemicals Private Limited
Products cater to sectors including pharmaceuticals, crop sciences, life sciences and solvent applications & Key clients include Syngenta Asia Pacific, Mylan Laboratories, Alembic Pharmaceuticals, Dr. Reddy's Laboratories, Hetero Labs, Laurus Labs, MacLeod's Pharmaceuticals, Neuland Laboratories, Suven Pharmaceuticals, Granules India, UPL and Sudarshan Chemicals.
RESTATED CONSOLIDATED STATEMENT OF PROFIT AND LOSS - DRHP
| Particulars | For six month period ended September 30, 2020 | For the year ended March 31, 2020 | For the year ended March 31, 2019 | For the year ended March 31, 2018 |
| --- | --- | --- | --- | --- |
| Revenue from operations (gross) | 813 | 1,534 | 1,569 | 1,393 |
| Other income | 1 | 4 | 6 | 3 |
| Total income | 814 | 1,539 | 1,574 | 1,396 |
| | | | | |
| Total expenses | 758 | 1,483 | 1,476 | 1,283 |
| | | | | |
| Profit before tax | 56 | 81 | 98 | 113 |
| Tax expense | 11 | 11 | 25 | 38 |
| Total comprehensive income for the year | 46 | 70 | 72 | 76 |
| | | | | |
| Earnings per equity share (nominal value of share INR 2 each) Basic & Diluted (Rs) | 2.02 | 2.86 | 2.89 | 3.03 |
From the look of it it does not seem to be a very high margin business now & the global prices of the products may hamper realizations at times, but the expansion in fluorospeciality chemicals could be a big bet.
Market Outlook
Global Chemicals Market:-
The global chemicals market is valued at around USD 4,738 Bn with China accounting for major market share (37%) in the segment followed by European Union (17%) and United States (14%). India accounts for ~3.5% market share in the global chemicals market. Going forward the APAC is anticipated to grow at the fastest rate of 7-8% during the forecast period (2019-24F). The chemicals markets in Western Europe, North America, and Japan are relatively mature and hence would record slow growth rates of around 3-4%.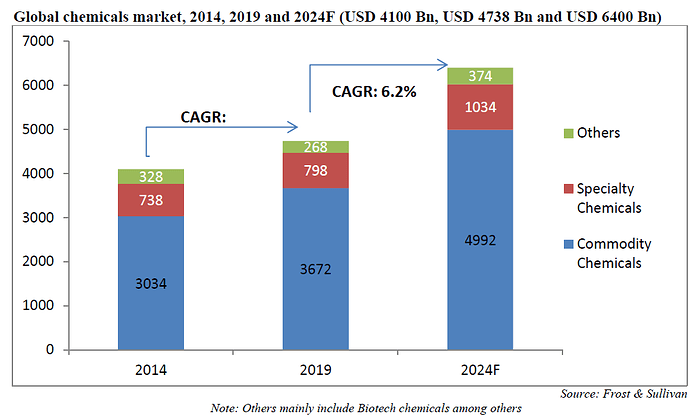 Global Specialty Chemicals Market
Specialty chemicals are low-volume and high-value products which are sold on the basis of their quality or utility, rather than composition. Thus, they may be used primarily as additives or to provide a specific attribute to the end product.
Rapid industrialisation in India and China is expected to drive demand for specialty chemicals. The Asia Pacific (APAC) dominates the market across the world, with a share of 42%, owing to the huge customer base, leading to high demand for specialty chemicals, increasing industrial production, and robust growth of the construction sector in the region. APAC is followed by Europe and North America.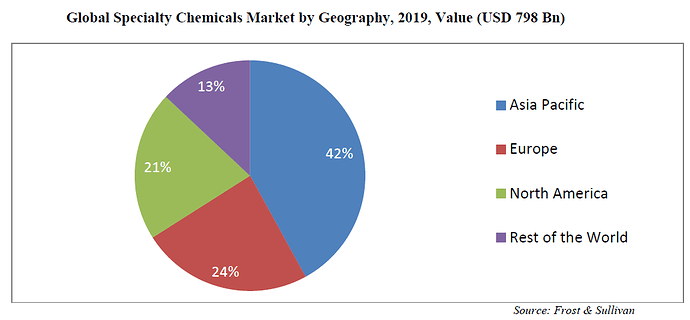 With a high population base and majority of countries being underdeveloped or developing nations in Asia Pacific (APAC), there is high rate of construction activities resulting in higher demand for construction chemicals and paints & coatings additives.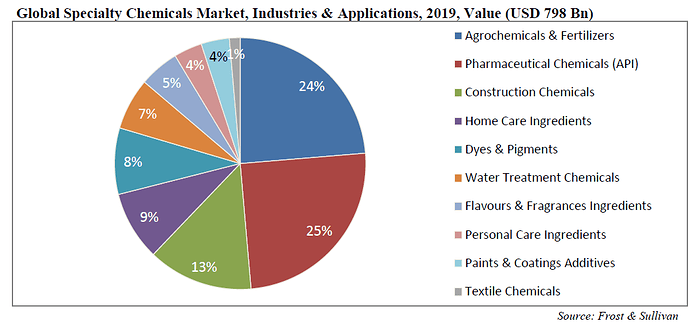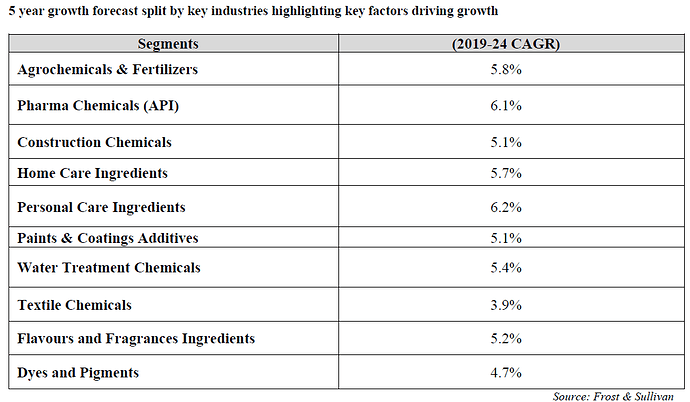 Indian Overview
The Indian chemicals market is valued at USD 166 Bn (~4% share in the global chemical industry) with the commodity chemicals accounting for almost 46%. It is expected to reach ~USD 280-300 Bn in the next 5 years, with an anticipated growth of ~12% CAGR. The specialty chemical industry forms ~47% of the domestic chemical market, which is expected to grow at a CAGR of around 11-12% over the same period.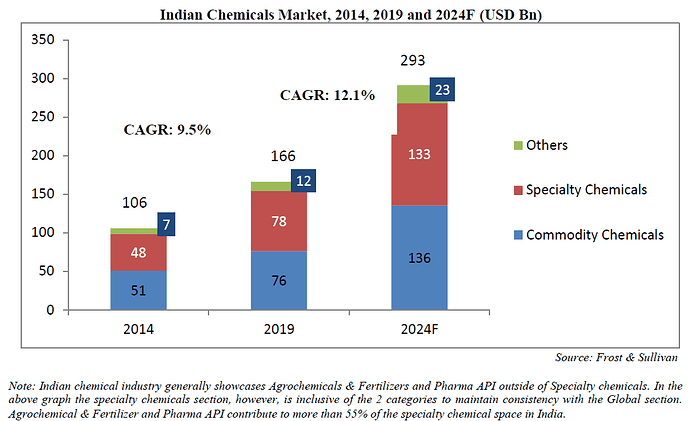 5 year growth forecast split by key industries highlighting key factors driving growth
In this below projections the same rate of growth is assumed which may or may not happen. Although the structrual change is already happening for the same.
There is an ample replaceable export market for India to capitalize on and weave a strong growth story for chemicals – led by speciality chemicals.
Several global players prefer a "China + 1 offshore strategy", with capacities shifting to cost efficient markets with strong technology capabilities like India. Stringent environmental regulations and increased cost of labor have already stifled growth in China, which contributes 35-40% to the global chemical industry.
The pandemic has compounded the situation further as companies across the world are looking for alternate supply solutions. Japan's announcement to offer incentives to companies shifting base from China to India further proves the desperation engulfing countries to reduce dependence on China and develop local supply chains. JVs/ Technology transfers will drive the knowledge wave for the Indian industry, given stronger IP protection rights.
With new regulations in place and the Chinese companies adhering to new norms, they are expected to bounce back with certain level of reforms in the way of operations. Whenever the Chinese companies make a comeback, it would be at a significantly higher cost of production given the significant investment in environmentally compliant equipment and manufacturing practices.
India, in the meantime, would have significantly strengthened its position in the global supply chain and would be a very viable alternative for global players looking to de-risk their supply chain, while retaining their sourcing costs. Pharmaceuticals and agrochemicals are some of the key sectors that are particularly set to benefit from this shift in dynamics, wherein the Chinese manufacturers continue to operate at lower capacity levels, given the increased monitoring of safety standards and compliance norms. The powering trend of de-risking of input procurement from China by global chemical leaders offers great export as well as domestic sales opportunity for Indian specialty chemical industry.
The DRHP is forward looking in many aspects & has very detailed explanations & projections of the products/industry Laxmi operates in and has ample growth estimates for it to expand. Other Indian companies are also expanding due to macro factors & there seems no reason for it to not be able to grow. The management is capable & industry tailwinds are supporting. It remains to be seen how much can be executed.
If the IPO is priced fairly it could be good candidate for long term spec chem play. I will be researching further on it and request the folks in the forum to please share inputs.