Contribution of ARV to total sales is 42% as mentioned by Dr. Chava in concall today.
ARV API's: 379 crores
ARV FDF: 267 crores
Total: 646 crores.
Looking at the break-up of API revenues for Laurus for the last 3 years, looks something like this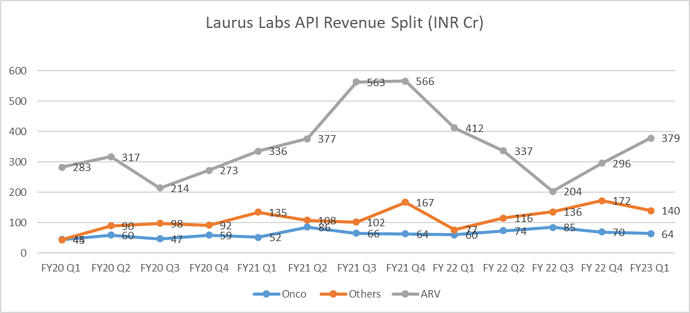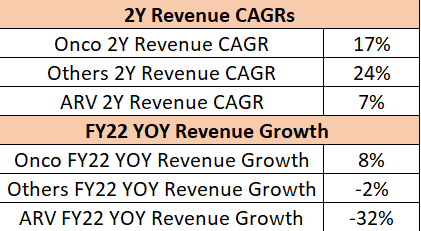 FY22 was not only a bad year for ARV APIs, it was pretty bad even for Onco and Other APIs. While CDMO is taking the bulk of the load in transitioning Laurus towards a less ARV dependent future, its critical to track revenue growth from Onco and Other APIs as well because they are also a key part of the diversification-away-from-ARV thesis.
Q1 FY23 numbers are encouraging for Other APIs (102% YOY growth) and flattish for Onco (7% YOY growth)
one more concall note with key insights discussing why cdmo revenue will continue.
Disclosure: Invested.
FY23Q1 Conference Call Summary
P&L Statement
Rev 1.5KCr YUP 20%

Rev(Formulation): 0.35KCr YDN 33%

ARV Rev: 0.38KCr

volume & prices will stabilize
leading MS / will inc marginally

Onco API

Rev: 63Cr YUP 5%
has largest high potent capabilities

API (excl onco+ARV) : 0.14KCr YUP 80%

incl diabetes, CV and asthma
new contract supplies
Ft: healthy growth FY23

GPM 57% YUP 1% ← better product mix

EBITDA: 0.45KCr / EBITDAm: 30%

RoCE: 29%

CAPEX: 209Cr / Ft: FY23 & FY24: 2KCr (1KCr - CDMO + 1KCr non-ARV)

Overall GPM stable

lower ARV margin offset by higher CDMO margin

other expenses: 33Cr (higher)

power sourced from pvt sources ← R: power shortage
forex losses (restated loss, not real loss)
CDMO - Synthesis
Rev: 580Cr/Q YUP 190% [YUP - growth YoY]

contracts: 2

multi CDMO contract with niche API
global major life science

high demand → inv in 3 mnfg sites + R&D unit

steroids, hormones, high potent molecules
large volume products in animal health.

-: Mngt is not commital on future run rate

commercial products: 7 - intermediates: 4 / API: 3

late-stage products: many

+: NCE - patented → long runway

+: pricing is predictable and stable / not much pricing pressure

Focus: commercial execution & pipeline expansion&execution

most rev coming from CMO

Ft: CAPEX asset turn: 1-1.5

Ft: Rev share: 33% ← 25%

differentiator - speed & flexibility
Laurus Bio
Rev: 30Cr

rev will pick-up with

ramp-up of new capabilities
debottlenecking for a large scale CDMO partner

alternate food industries

scale, cost and functionality will remain the core drivers

fermentation - world is overdependent on China

capacity built for:

synthetic biology
alternate foods
recombinant food proteins

Revenue forecast

FY23Q1 30Cr
FY23Q2 30Cr Same
FY23Q3&Q4 inc in rev <–R: downstream debottlenecking
FY24 ← flat
FY25 Ramp-Up ← R: CAPEX

CAPEX 3-4M ltr capacity

Plan: FY23Q2: land acq
opportunity is there, lacks capacity
facility ramp-up FY25
start of CAPEX to peak commercial sale: 3-4Y
competion of CAPEX to peak commerical sale: 2Y
(full capacity utilization)

R1 facility expansion

new R&D block
downstream balancing equipment
R&D / Filing / Launches
US ANDA filed: 30 / Approved: 11 / Ten App: 14

CAN App: 11 / Launch: 5

EU: CMO opp: product validated: 2

DMF Filing: 74 (1 non-ARV in Q1)

launched lopi-rito combination in US

non-ARV formulation: lot of filing done, lot of approval anticipated

R&D/Sales: 3%

Products in R&D pipeline: 55 / Addressable Market Size: $40B
(review + dev)
ARV
ARV volume stable

ARV formulation will pick-up next quarter

Rev: ARV:non-ARV - 42%:58%

ARV API+FM prices down 10% FY22Q4

down another 5% FY23Q1
Ft: not expecting any further significant price drop

Ft: ARV revenue (API+Fm) 3KCr

inc volume + dec price → GPM will go down
maintain leadership position
no more high margin business
cash cow
Revenue Forecast
Ft: FY23 Rev 7KCr
we have capabilities, customers, orders, product approval in place to achieve the goal
rev growth - not linear, but stepwise
Misellaneous
calibrated tendering approach

R: focus on profitability

4 "C": capacities, capabilities, credibility, clients

not a chemical company, but a chemistry company

chemistry capabilities (large scale)
* chromatography
* biocatalysis
* fermentation
* hydrogenation
* continuous flow chemistry
* very low temperature chemistry
* spray drying
scale to offer value to our partners

leadership in molecules: 8 / N2Y: 10 / aspiration: 15 [N2Y - in next 2 Years]
CAPEX
CAPEX N2Y 2KCr - mostly from internal accruals

Asset turnover: 1-1.5
CDMO: 1KCr
non-ARV CAPEX (1KCr) : 2/3 API + 1/3 formulation
ARV - no more CAPEX

sterile R&D lab - commissioned

started working on a few priority projects

adding addl mnfg capacities in non-ARV & non-Onco API

formulation - new capacity caming-in

Added significant capabilities + reactor volume

at scale capabilities:
* hydrogeneration, cryogenic
* biocatalysis, continuous flow

capacity fungible ??

animal & human seperate
some equipment technology specific - not fungible
majority of the reactors are fungible

Unit #2 capacity: 10B (now)

5B - installed and qualified
brownfield expansion: 5B (after 10B capacity is utilized)

Multi-Year contract with animal health company

commercial supply from dedicated plant: FY24
till then: unit

#4

(interim set-up)
Tendering process looks a bit disrupted now, happened before in 2014.
disc: invested
I have few questions.
1.What is the current market share of ART in India?
2.Who supplies the most ART to govt?
3.Who will benefit the most? (Laurus or Cipla?)
About 5% shares of Laurus have been acquired by New World Fund Inc USA on 16 Aug 22 through open market. This should be a bullish news for short term / mid term.
There is news of shortage of HIV medicine in India as per BBC. On the other hand the management was lukewarm about the immediate prospects of HIV medicine in Q1 23 concall.
They were already holding 4.9%. They acquired around 0.1 % on 16 Aug. As such there is nothing substantial in this



Can anyone explain these ??
1.leadership molecules
2.animal company zoetis or not?
3.how can we know more about those technology or similar best COMPANIES in the world
in which category it will come for laurus. they didn't mentioned any note on q1 23 concall
Good question. Considering the fragmented nature of pharma sector today, important to understand the niche.
Came across an article in simply wall street… mentioned in that laurus labs has too much debt exposure against earnings… can anyone throw some light on the whole seriousness?
The overall borrowing as on 31st Mar 2022 was 1777 crores. The Cash Flow from Operating Activities in 2022 was 911 crores. So assuming that Laurus would be able to grow earnings at around 25% CAGR, it would take 1.5 years of earnings to repay complete borrowings provided it would not take any new debt. The thing with fast growing capex intensive companies is that you need funds to grow topline, and that fund would either be equity or debt (rarely it would be completely from internal accruals).
Cheers,
Krishna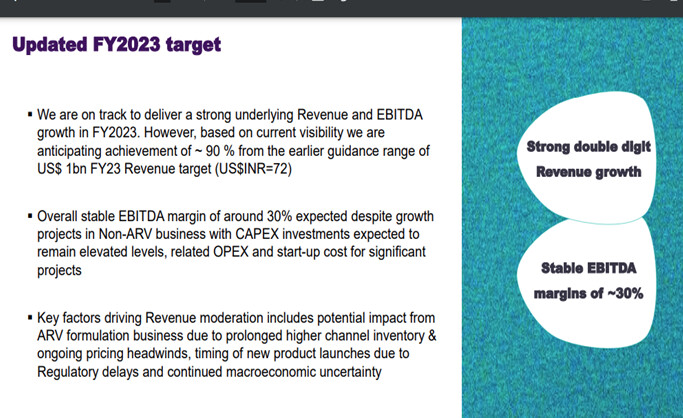 Results are below expectation led mainly by slump in FDF segment. Guidance is also reduced as per PPT.
Disclosure: Continue to Hold
Q2FY23 Concall Notes
ARV formulations was down , pricing pressure in that business had let down the revenue guidance.we lost 500crs in H1 in ARV formulations.
Will not have more downgrade of guidance. We didnt not revise the pricing in tenders and lost a lot of tenders. Client side destocking over , we have visibility going forward.
75% of our business will not be impacted by European situation.
EBITDA margins was low because of lower margins in ARV API and deleverage in ARV formulation sales.
Newly commissioned FDF unit already shipping products. We have area left for another 5billion brownfield capacity expansion will take a call on it next year we can do it in 12M
against 24M incase of a greenfield.By the end of this FY23 we will have 75% utilization of 10billion FDF capacity ,less than 20% of new capacity was allocated to ARV business
Dedicated R&D block for a large Lifescience client will be commercially available next year september-october