Naval Ravikant, Angel Investor and Philosopher also says on similar lines: Take accountability and attach your name with the idea.
Quote from above article:
Chandna said that Kotak Mahindra Bank has now "pressed the accelerator" on unsecured products and is confident that credit cards as a product will continue to stay, although form factors may change due to technology developments and changes in consumer behaviour.
.
"The idea of individuals wanting a credit line will stay. They may or may not use the plastic. That does not matter. The application has already gone digital. The card business is here to stay and is something we are invested in," he said.
.
Going forward, Kotak Mahindra Bank also plans to invest more in Buy Now Pay Later (BNPL) given the potential in that area.
Interesting!!
Lots of acquisitions and minority stake purchases in various fintechs in the news from KMB over the last several months. Would be interesting to note how this "conservative" bank is planning to disrupt in the face of change in banking industry.
Invested. One of my core holdings.
Mint: Kotak Prime acquires passenger vehicle financing portfolio of Ford Credit.
Maybe to defend its Image?
They must have wanted to establish that they didn't do anything wrong with respect to IPO financing or faulty promises to HNI clients about allocation.
Q3FY22 Results
Consol Q3FY22 highlights:
Consol PAT at Rs. 3,403 cr up 31% YoY
Subs & associates:37% of Consol PAT
Major Subs PAT:Kotak Securities–Rs. 270 cr, Kotak Prime–Rs. 254 cr, Kotak Life Insurance–Rs. 247 cr, Kotak AMC & TC–Rs. 149 cr
Assets under mgt/advisory ~Rs. 386,465 cr up 23% YoY
Bank Q3FY22 highlights:
PAT at Rs. 2,131 cr up 15% YoY
NII at Rs. 4,334 cr up 12% YoY
NIM at 4.62%
Net Total Income at Rs. 5,698 cr up 10% YoY
CAR as per Basel III, incl unaudited profits, as at Dec 31, 2021 was 23.3% & Tier I ratio was 22.4 %
Deposits:
CASA ratio as at Dec 31, 2021 at 59.9%
Avg CA for 9MFY22 Rs. 49,417 cr
Avg SA for 9MFY22 Rs. 119,645 cr
TD Sweep for 9MFY22 Rs. 23,429 cr
Advances & Asset Quality:
Customer Assets (Advances + Credit Substitutes) Rs. 274,569 cr up 20% YoY
Advances at Rs. 252,935 cr up 18% YoY
NNPA at 0.79%
Credit cost for Q3FY22 on advances was 35 bps (annualized) (excl reversal of Covid provision); (63 bps for Q2FY22)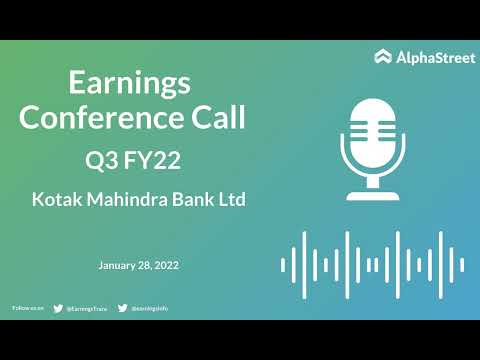 Investor Presentation
Financials