ValuePickr Members,
I started investing in equities very late in my career. Though I knew this asset-class 20 years back, I never put enough efforts to learn, research on businesses & sectors.
Like other investors I too had a rough begining, fortunate enough to experience 2020 fall in short span of period.
Recovered most of my relaized losses, I am now all set to compound my Concentrated Portfolio. I am in 40s and have following allocations:
Stocks - 9 Nos.
ETF - 1 No.
MFs - 3 Nos.
My allocation is👇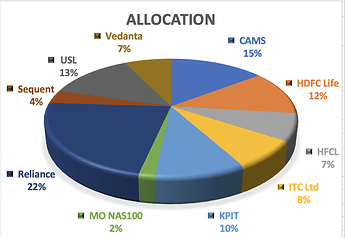 As I am accumulating ETF via demat account - I am treating it as my 10th Stock. I dont want to stop SIP in 3 MFs, as they have given me 20% above annualized returns.
I have slowed down pumping in fresh capital since March 2021, I now wait for susbtantial correction & add more qtys of portfolio stocks. In current correction I infused some fresh capital. So far all looks good for me.
I have a term insurance, medical insurance outside office, funds to take care of growing kids & never touched my Provident Fund.
Other asset-classes I am considering to invest is in Gold/Silver (physcial) & Crypto-currency.
Objective of investing big in Concentrated Equity Portfolio is to transition my self from middle-class to rich.
Any views there?
Kiran