Kingfa Science & Technology (India) Ltd
Industry: Plastic Products
Mkt Cap (15Jan2017) : 890 Cr. Financial details are readily available at:
https://www.screener.in/company/KINGFA/
Kingfa acquired controlling (66.5%) stakes in Indian compounder Hydro S&S Industries Ltd. in 2013 for 10.65 crore (US$1.94 million). The company changed its name from Hydro S&S Industries Ltd to Kingfa Science & Technology (India) Ltd.Presently, it operates through three manufacturing units situated at Puducherry, Pune and Manesar (Gurgaon).
a) Puducherry(Present Capacity: 19,200 MTPA)
b) Pune(Present Capacity: 15,000 MTPA)
c) Gurgaon(Present Capacity: 6,000 MTPA)
Combined manufacturing capacity of 40,200 MTPA.
Promoters viz; M/s Kingfa Sci and Tech Co. Ltd. holds 74.99% equity share capital
A report from HDFC has more details about the company:
http://hdfcsec.com/Share-Market-Research/Research-Details/StockReports/3017336
Products : Plastic Products for Auto, Appliances, Lighting and electrical industry
a. Polypropylene based compounds
A metal substitute in engineering applications, 'HYFIL' brand, Used in car bumpers, Instrument panel,Door Trims, A,B, C Pillar Trims, Grab Handle, Fans and Washing Machine TUBS
b. Engineering Plastics Compounds.
Home Appliances (CFL Housings, LED light housings, MCB's etc, Televisions, Connectors and Telecom industry)
c. Thermoplastic Elastomers compounds.
Pen Grips, Bushes,Bellows for 2 wheelers, pads, Seals, strips , washers etc
Top ten customers for the Financial Year 2015-16
• Bright Auto Plast Ltd.
• Plastic Omnium Exterior (India) Pvt Ltd.
• Motherson Automotive Technologies & Engineering
• Renault Nissan Automotive India Pvt Ltd
• Hanil Automotive India Pvt Ltd.
• Mutual Industries Ltd.
• Sundaram Auto Components Limited
• Reydel Automotive India Pvt Ltd.
• Yanfeng India Automotive Interiors Systems Pvt Ltd.
• Tractors and Farm Equipment Ltd.
More customers at india are shown in the attached snapshot: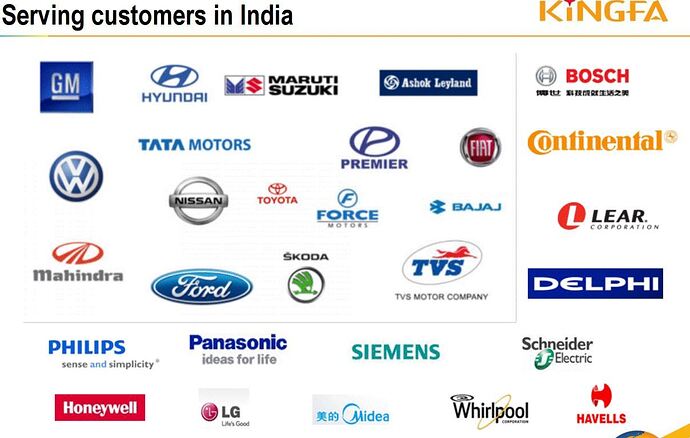 Recently company got approval for rights issue.
OBJECTS OF THE ISSUE
Company intends to deploy the Issue Proceeds to finance the fund requirements for:
Setting up of a new facility at Chakan Industrial Area, Village –Vasuli Tal-Khed, District-Pune;
Upgradation of Research & Development facility at the existing set-up at Puducherry;
Expansion of facilities at the existing set-up at Puducherry and Manesar;
Meeting the working capital requirement;
Meeting Expenses to the Rights Issue.
Per say Rights issue Document—>
A) Our Business Strategy
We are into the business of manufacturing and supply of high quality custom tailored Engineering thermoplastics based on Polypropylene (PP), Polybutylene terephthalate (PBT), Polyamide ¶ and Thermoplastics Elastomers. Although we currently supply to various industry segments, about 88% of our revenue comes from the Automotive industry.Going forward, we want to focus on increasing our exposure and revenue contribution from industries other than the Automotive industry. Our focus would be directed towards segments which are poised to grow at higher rates. LED lightings, appliances (front loading washing machines), air conditioners, water heaters, electronic chargers, telecom are a few industry segments where we have started making progress already. With wider industry reach and exposure we would be able to mitigate any risk associated with dependency on single industry segment.
B) Rationale for the rights issue is as below:
Due to increased demand of the specialty products across multiple industry segments like electronic billers and printers, convenience appliances, telecom and office automation, mass transportation to name a few with increased sales volume, there is the need to increase our capability and capacity. Investment in upgradation of our R&D facilities would enable us to meet the diverse demand supported by development of new varieties of specialty products to meet the new norms of safety, comfort and performance. In view of the increased demand of our products we propose to expand our manufacturing capacities at our existing units at Puducherry and Manesar. However in view of the limited expansion options available at our existing manufacturing locations, we propose to set-up a new manufacturing unit at Pune (Chakan) of global scale and standards confirming to international safety, design and capability.
The facility will have an initial installed capacity of 23000 MTPA.
We propose to expand the capacities at our existing set-up at Puducherry plant from 17000 MTPA to 26,000 MTPA and Manesar plant from 6500 MTPA to 15,000 MTPA.
Post expansion the overall capacity at all the locations put together will be 94,500 MTPA.
Noteworthy Points:
Relationship with established players in industry: Customer base includes a diverse set of
industries including Automotive, Home Appliances, Lighting, and other Industries.
Technical Strength of the main promoter i.e Kingfa China to develop cost effective formulations backed by our research and development
team . More details about the Promoter:
KINGFA SCI. & TECH CO.,LTD was founded in 1993
 KINGFA is the largest MODIFIED PLASTIC enterprise in Asia Pacific
 2013 Revenues in Excess of US$2.3 Billion
 A-share company listed in Shanghai Stock Exchange
 Leader in New Materials in China
 Honored as National Innovative Enterprise in China
 Sales offices world wide and Products sold across 100 Countries
 Approved sources for all major Trans National Companies and OEM's
Company has availed unsecured loans from promoter - Kingfa Sci. & Tech. Co., Ltd.,(Kingfa China). The total outstanding payable to Kingfa China as on September 30, 2016 amounts to 1,599.79 lacs. The tenure of the said loan is 7½ years.
Logo' ' is registered in the name of the Promoter i.e; Kingfa China. As of now, neither entered into any agreement with Promoter nor paying any royalty for the usage of the Logo.
RISKS
Negative cash flows, incurred losses in past resulting in erosion of fifty percent of the then peak net worth. Consequently, company was notified to BIFR in 2014. Subsequently, company's financial health improved and funds were infused in the Company by way of a Rights Issue in the FY 2015-2016. Further, for the FY 2015-16 the Company earned a net profit of 1079.95 lacs. Presently networth of the Company as on September 30, 2016 is12617.11 lacs. Vide our letter dated February 26, 2016 informed BIFR about the Company being out of the purview of BIFR.
In FY 2016, 88% of revenue came from the Automotive Industry - 4 wheeler. Also, supplies products to the consumer appliances industry viz ; front loading washing machines, air conditioners, LED & CFL lighting.
Primary raw material viz; Polymer resin is a petroleum based product leading to higher susceptibility to price fluctuations in future. 75% of raw material consists of Polypropylene.
Foreign currency volatility as raw materials like Polyamide 6 & PBTP, Glass Fibre and Elastomers are imported from countries like China, Malasia, Singapore, etc
Although, author does not present substantive evidence but does point a finger.
Stock manipulation: Kingfa Science & Technology India
Disclosure:
No Position as of today. Shared the idea for discussion purpose. All the above is taken from various articles whose links are provided in this note.