@kalpesh4430
Sir, I think they are targeting 1500 crore revenue for the next financial year.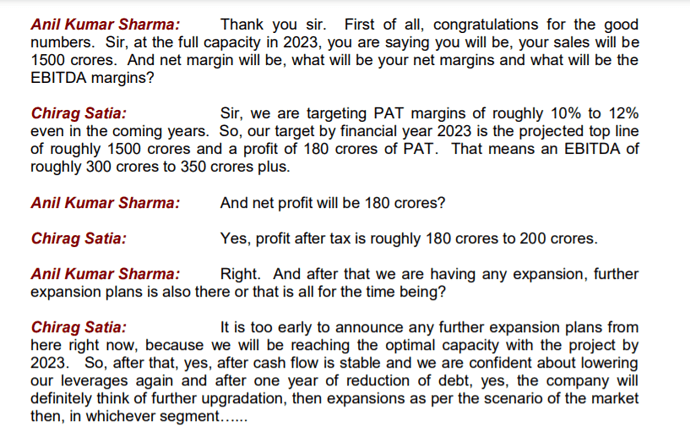 yes. I tried to be conservative here so I spread it over 3 years. Also to market such huge capacity they may also have to take little hit on margin's, so I think 3 years is good for stabilization of margins and profits to properly convert to cash flows.
Sir,
Sorry for this query, but I see two tables side by side for calculating projections for each stock. Both has different fair value.
Can you please guide me on this? Which fair value to be considered from table on right or left?
Table on the left show today's fair value of a business, whereas table on the right calculates buying price to get aprox 25% CAGR returns.
got it now clear. Many thanks for patiently addressing all queries.
Sir,
Do you mind if I share your this in-depth analysis of 5 stocks in public?
No problem since It's already on the public forum
Hi Kalpesh, Thanks a ton for all the information on Satia industries so far. I have a couple of queries if you got the time.
Do they make copier papers for other brands. I could see their brand in google images but it's not available in amazon or flipkart. All the other brands like JK, TNPL and century are available on Amazon. Do you happen to know the approx revenue contribution of copier paper.
In one of your earlier posts you say bought truck loads, however I find the stock to a bit illiquid and gtt orders on zerodha hardly get executed. From one of the con calls I listened to, an investor asked about large percentage in retail being held by parties close to the promoters for the last 15-20 years. I also heard an investor by the name Kalpesh on the call, was that you:). Circling back to my question how do you manage to place large orders.
Thank you again
I don't think so, and about revenue contribution I do not have exact figures.
See I'm individual investor and "what looks truckloads to me, may look peanuts to MF or large investors", I find current liquidity sufficient for me.
That was not me.
Volume spike today… Any reason?


As per email response today from company secretary, plant is running at around 65% utilization, lets see Dec qtr number to get clear idea of correctness of my calculations.
Hi Kalpesh,
On Vipul organics what do you make of this crisil report. Its of 2020 though.
Vipul Organics Limited (VOL) did not cooperate with crisil.
https://www.crisil.com/mnt/winshare/Ratings/RatingList/RatingDocs/Vipul_Organics_Limited_June_30_2020_RR.html
I see in one of your earlier posts dye manufacturing has no real moat, low cost companies/countries will take up market share. In this scenario isnt Sudrashan chemicals better placed to take up market share. As I understand the driver behind your investment is utilization of the additional capex.
Regards
Regards,
Shashank Yerdoor
It's no big deal, companies do that to save costs or sometimes they shift to other rating agency.
You are spot on,
Yes Sudarshan is a great business and great focused management, it is also available below fair value and I'm almost sure that they will do great in future.
Only reason for sticking with Vipul is it's available at great discount and seating on huge capacity at this time. Once that discount is gone, I may shift to Sudarshan, because I see Sudarshan as very very long term story.
Vipul Organics
As per email from CS on 13 Jan that plant is operating at 65% utilization and revenue from Dec 2021 qtr (31Cr) it is confirmed that my earlier calculations may be wrong.
It means they can generate revenue of 190 to 200Cr at full utilization.
Their backward integration plant is under progress and it will help improve margin's going forward once start operating.
These are rough calculations and I can be wrong.
3rd Qtr results (Dec 2021) -
Vipul exports around 80% of revenue.
Covid has impacted the business in very unusual way,
What happened is manufacturers in Europe and US suddenly became more competitive due to following effects,
Logistic cost has increased manifold, which affected Asian exporters big time, but local EU & US manufacturers were unaffected (Actually benefited)
Logistic disturbance created delivery period uncertainty, which again acted as benefit to EU & US manufacturers
Input cost increase unable to pass on completely.
So demand is there but due to Eu and US manufacturers suddenly became cost competitive and they were able to follow delivery commitments, market share shifted to them.
I think this is the main reason Vipul Organics not able to grow revenue from last two quarters.
But I see this as a short term event which may last for next 6-8 months (actually i don't know may be less may be more) but eventually logistic issues will be solved sooner or later & input cost inflation will be passed on to customer, with that Vipul will again became cost competitive and revenue growth and margin's will come back.
These are my views.
Satia has started production from PM 4.


@kalpesh4430 ji – can you comment why the revenue will increase by 1.6x and not 2.0x if the capacity is almost doubling…? Perhaps because the operational efficiency may not be there in the first year(?)
Edit: my English teacher used to say that prepositions are litmus test of English – something I never managed to get right. Note says revenue will grow by 1.6x and not to, so I am guessing they mean 160% growth with FY22 as baseline(?)
I concur with you assumption or maybe they are trying to be conservative with their forecasts (unlike many other management groups who fail to live up to their promises).
*I am a junior member, and could be wrong. I hope @kalpesh4430 sir will be able to explain in detail
This is because earlier they were running plants at 120% capacity, which means 20% more than installed (Theoretical) capacity which they count from some formula (management explained in one of the con-call, I don't remember now).
read between the lines -
"With ~100% capacity utilisation, we estimate our revenues to grow by more than ~1.6x and substantial increase in profits for FY23 driven by increased capacity, product mix and higher efficiency."
So I guess they can sweat these assets more than 100% capacity utilization.
Bottom line will increase disproportionately because -
22Cr per annum will be saved from wood pulp digester automation
PM 4 will run at better efficiency
Product mix change due to (PM4 & ZUME) value added products
These are my views, can be biased.
Thank you.
Kalpesh ji – many thanks for sharing your thoughts!