Just Dial Short term pick
Date :- 27-01-2016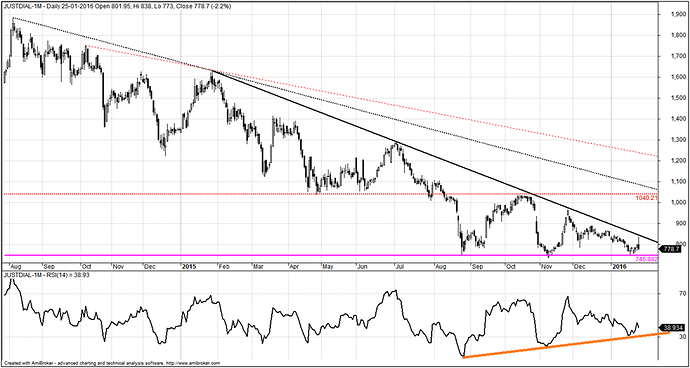 Observation
Just dial is in clear down trend from 5-Aug-2014.
At current level ie 730-770 it is observed that stock is consolidating and trend has changed to side way
It has also consumed more time for deflation as compares to its previous rally.
Price has move in perfect channel which indicates that fall is not impulse.
RSI :-
RSI on daily chart is indicating some bullish consensus and indicating demand zone near 730-770 area.
Action plan
One can buy just dial with the stop loss of 725 for the target of 830-875-910 (for trader)
Investor can buy with same stop loss and may wait for higher targets , may expect 25%-30% return if it does not trade below 725 level on closing basis.
Report prepared by :-
Nayak Ajit Srinivas
Note :- Report prepared for educational purpose only , trader or investor need to do their own analysis .Author is not responsible for any loss .
just dial.pdf (149.8 KB)