Disappointing Numbers. Similar to what we saw with Laxmi Organics.
the energy cost literally killed the bottom line.
Q1 FY23:
• ENERGY COST INFLATION: Coal was not supplied by Government as per arrangement. Because of this, coal had to be imported at sky high prices. 45cr impact. From 1st of December Government supply should resume.
Raw material input cost increase passed on but unprecedented coal prices couldn't be passed on. Expect to pass on some cost in q2.
• VOLUME GROWTH: Speciality Chemicals revenue grew by 26% YoY driven by volume growth across product segments
Chemical Intermediates volume have grown while revenue is impacted mainly due to lower prices of key RM i.e., Acetic Acid. Acetic Anhydride volumes grew by 22% on YOY basis
• QOQ DIP IN SPECIALITY CHEMICALS VOLUME:
China 2-3 months lockdown impacted some export volumes.
They had to change Catalyst in one plant (changed every 6-7 years), that impacted some production and subsequent sales of SC.
Both of the situations are now normalizing. Expect volume growth QOQ in Q2.
• Share of revenue to customers having Agro Chemical end use grew significantly.
Speciality chemicals: Serving 15 of top 20 Global Pharma & 7 of top 10 Global Agrochemical companies
• EUROPE: Big growth in sales and market share in Europe for Acetic anhydride due to new uses for anhydride
• ANIMAL NUTRITION: Sales impacted due to avian and swine flu in US and Europe. Situation said to be improving. To normalize by quarter/year end.
• Diketene plant fully stabilized. Sales to start contributing from Q2 onwards.
• All Capex plans going as per plan.
Annual report, felt positive after reading the MDA and other sections explaining the potential/opportunities.
Invested, biased.
This is a good pick only when operating leverage starts playing out Till then it is a question mark though lot of guys are bullish on this
Initiating coverage on Jubilant Ingrevia and its peer Laxmi Organics
From crisil rating doc,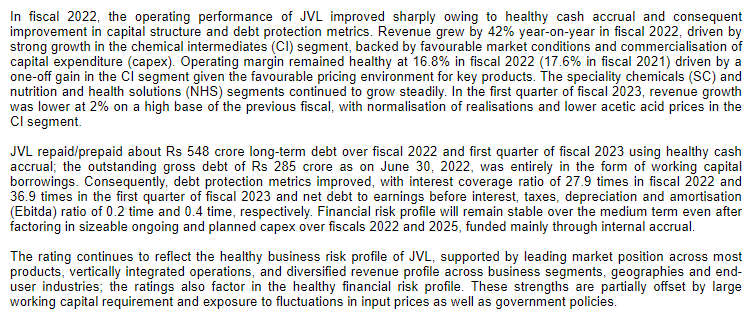 JVL repaid/prepaid about Rs 548 crore long-term debt over fiscal 2022 and first quarter of fiscal 2023 using healthy cash accrual; the outstanding gross debt of Rs 285 crore as on June 30, 2022, was entirely in the form of working capital borrowings
So Q3 results are out and they don't look great. PAT, EBIDTA and Revenue all slumped considerably QoQ. Net profit is down 29% to Rs 92 crore on 10.16% decline in revenue from operations to Rs 1,152.63 crore in Q3 FY23 over Q3 FY22. Even YOY, overall revenue is 10% lower, mainly on account of lower sales performance of nutrition & health solution business.
The Good:
Revenue from specialty chemicals grew by 34% YoY to Rs 468 crore and absolute EBIDTA grew by 15%, driven by higher price realization and volume growth across product segments. Share of revenue to customers having agro chemical end use has shown significant growth
The company has further improved its market share and volumes of Acetic Anhydride in EU region on YoY.
Committed to ongoing Growth Capex plan, which is now improved from earlier Rs 2,050 crore to now Rs 2,275 crore during FY22 to FY25 Period.
The Bad
Revenue from nutrition business de-grew YoY by 39% to Rs 132 crore in Q3 FY23, on account of lower demand, due to prolonged impact of bird and swine flu in EU and US regions, leading to lower realization
Revenue from chemical intermediates de-grew by 23% on YoY to Rs 559 crore in Q3 FY23, mainly driven by lower price of feed stock (ie Acetic Acid) leading to lower realization of finished products i.e. Acetic Anhydride & Ethyl Acetate
Commentary
The demand related challenges of Vitamin B3 are short-term and we continue to remain focused towards improving our presence in food and cosmetics segment. In chemical intermediates business the revenue on YoY basis is impacted due to lower prices of feed stock (Acetic Acid), leading to lower sales prices of Acetic Anhydride and Ethyl Acetate.
The company has firm plans to significantly reduce overall energy cost in phased manner through various initiatives by sourcing power from Grid and renewable sources, optimizing coal consumption through efficiency improvement in consumption as well as in generation
Seems like there have been no major quesions in concalls(still going through) related to pollution crimes committed by this business. Why isn't this being given importance to. Is it because mgmt won't allow those asking questions in next concall like Pharmova also does to Sajal Sir.
This is not a small risk and we have seen crackdowns done by China on chemical industry.
A sustainable view on a business is always important before entering. I won't explain too much as Chins has done an amazing job above already.
Also, seems like one of the better threads on this forum. Has multiple viewpoints and forms a nice lifecycle thread to carefully monitor their transition.
Disc: Invested but doing small scale scuttlebutts on this front.
Jubilant Ingrevia Ltd acquires 37.98% stake in Mister Veg Foods Pvt Ltd | EquityBulls
Jubilant Ingrevia Limited has acquired 37.98% stake of Mister Veg Foods Private Limited, an associate company of the Company.
MVFPL is a private limited company incorporated and domiciled in India. It was incorporated on 11 September 2020 under the Companies Act 2013. The Company's registered office is situated at Plot No 150, Sector 58, Faridabad. The Company is primarily involved in the business of food products.