Initiating a thread on Jiya Eco-Products Ltd so that we can work together on this business for better understanding.
How I found it: Recently it filtered through screener as I was looking for businesses with Sales between 50 and 100cr and where Sales were growing at 10%+ for last 3 years.
About Jiya in few words: Company claims itself to be India's First Company to produce Bio Fuel by agriculture and Forest Waste and any form of biodegradable waste. Bio Fuel can substitute solid fuels (Fuel or Wood) at cheaper cost and can easily be used in various kinds of thermal applications. Pellets and Briquettes (Jiya's Bio Fuel Products) are considered to be prime renewable energy throughout the world. Company has tie-up with 52 villages in Gujarat for raw material procurement. It's manufacturing unit is located in Bhavnagar, Gujarat and they are currently setting up 2 new plants in Gandhidham and Ankleshwar in Gujarat. Company claims that it's Bio Fuel products are at least 30-45% cost effective compared to Diesel, LPG, and LDO.
Jiya's Journey So Far: Company has had very swift journey from being incepted in 2012, listing on BSE SME in 2015, and migrating to BSE Main Board with current market cap of ~130cr. Below is the snapshot of their journey so far.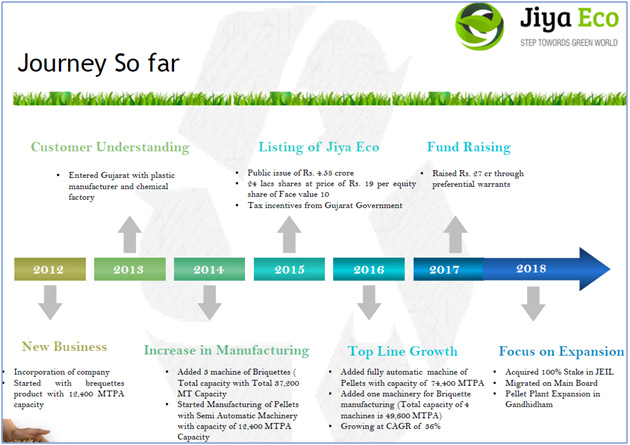 Seems like transparent management: I have seen very few micro cap companies sharing the level of detailed information that Jiya shares with investors. Company regularly shares quarterly presentations and also provides detailed rationales of all announcements/corporate actions. Here is the link to their FY18Q4 quarter presentation shall help you to understand this business more: https://www.bseindia.com/xml-data/corpfiling/AttachHis/f842c0fa-599d-4874-9bce-166cc4835999.pdf
Numbers Snapshot: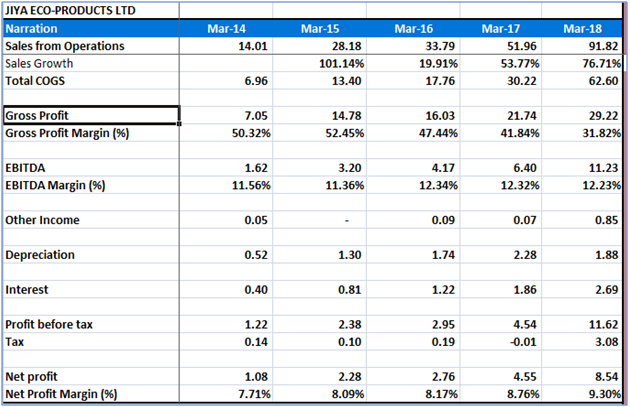 Opportunity Shared by the Company: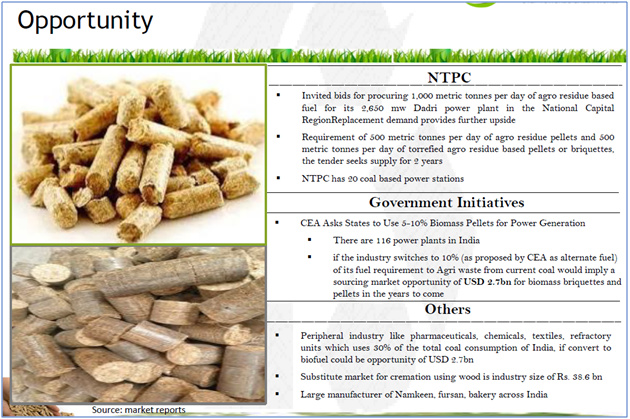 Things I like about the company:
Company has grown topline from 28cr in FY15 to 92cr in FY18. FY17 to FY18 growth in topline has been 76.71%.
EBITDA margins and NPM have been decent and stable. ROCE is > 25% and ROE is close tp 20% for last 2 years.
Company has been expanding aggressively for its products at Bhavnagar and Gandhidham location which shall provide good economies of scale. Have rated capacity of each Briquettes & Pellets at Bhavnagar of 1.19 lakhs MTPA. And 2.6 lakhs MTPA in Gandhidham with 6 Pellet machines.
Management seems to very energetic, young, and transparent.
Seems like they have first mover's advantage, however, I am still trying to figure out market potential for the company to address. Company is planning to enter in new geographies like Rajasthan and MP.
Shifting focus from Industrial customers to Retail SME. Going to focus on domestic/retail business of Pellets which shall lower working capital cycle and provide higher realization.
Very impressive performance by the company in last 3-4 years. Will be interesting to see if the company can continue or better current growth trajectory.
Possibility of bidding big NTPC tenders. CEA asks states to use 5-10% biomass pellets for power generation for which market size is $2.7bn.
Things I DON'T like about the company:
No patent protection and can possibly be easily copied by new entrants. Will have to keep an eye on how fast competitors are coming to snatch the opportunity pie.
Business not generating CFO or FCF. Most of the cash is being stuck in high receivables. Since business is growing most of the cash is going towards capacity expansion and working capital requirement.
Issued 49,74,585 warrants at Rs. 54 each for total consideration of 26.86cr in Feb of 2018.
Low cost producers can be its only MOAT. Will be interesting to see if company can achieve it by scaling to a level where it gets excellent economies of scale.
Risks/Negatives:
Auditor (M/s Hitesh Agrawal & Co.) resigned on 16/04/2016 due to preoccupation in other assignments.
Auditor M/s Pary & Co resigned on 16th Oct, 2017 without giving any reason.
No patent protection and seems to be low barriers for new entrants.
Company has not proven outside of its home state Gujarat where it can face many challenges.
Possible commodity product business.
Views invited.
Disc: Invested. Currently 1% position. Its part of my tail portfolio and may acquire more at lower levels, if conviction increases.