Company's recent update shows good results for August.
The Swachh Bharat Mission-Urban 2.0 envisions a plan to make all cities garbage free by ensuring grey and black water management in all cities except those covered under AMRUT.
Does this mean more orders for Jash Engineering?
What is the lifespan of the products that Jash manufactures? Do the installed products need to replaced after a specific time period as part of maintenance or something?
Disclosure: Tracking
Flash floods due to climate change is going to spur demand for flood security systems
Is it going to benefit Jash?
Jash has been able to maintain the monthly order inflows. The order book momentum is also healthy with 476cr worth at hand.
The Jump in Rodney Hunt business is good news.
Jash has come to my notice quite late it seems through a successful stock picker I've been following on Twitter. Read and listened to Q2 and Q3FY22 concalls to understand the company and what it's been doing recently. It seems like a company Peter Lynch would buy or recommend. After reading the posts here, I feel the company is poised for growth and has a long runway because of its long history and the kind of industry it's in. Plan to read the AR and DRHP for more insights and make a pilot buy tomorrow.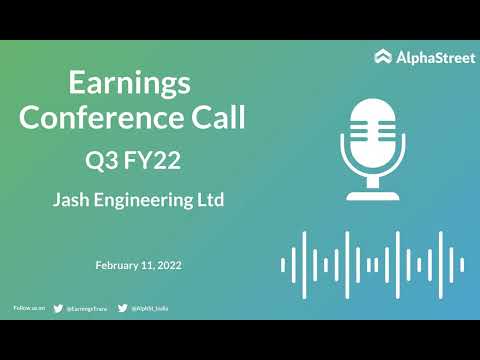 good results and a very encouraging con-call. Rodney hunt should break even this year. Orders are getting bigger. New clients are getting added. Product portfolio is constantly expanding. IMO The next few years should see strong earnings growth even if RM prices doesn't cool off from here. Earnings would be largely driven by exports. If for some reason domestic picks up it will be a bonus… Considering all this Valuations are still very reasonable
Disc: invested
Q3 con call updates Jash Engineering:
Improving performance of Rodney Hunt in order execution and increasing confidence of US clients about the future sustenance of the company is finally resulting into bigger orders coming to the company. We are pleased to inform that we have secured 3 large orders totally worth over Rs 60 crores in first 10 days of February. This includes an order of Rs. 20 Cr for supply of Roller gates to Sevier Bridge Dam project in Utah, USA , order from Technib (France )- Chiyoda ( Japan) JV for supply of Sluice gates and Stoplogs worth Rs. 28 Cr to RAS LAFFAN Gas project in Qatar and an order of Rs. 12 Cr for supply of Sluice gates to Sand Island project in Honolulu , Hawaii.
In addition to these three orders we are also expecting another order worth Rs. 37 Cr for supply of large Cast iron gates to a project in Kansas, USA. This order is under final stages of negotiation and is expected to be awarded to us within February.
The company has received its maiden order from Acciona - Spain , a major international EPC player in Water / Waste water / Desalination projects, for supply of valves worth Rs. 1.85 Cr to its Philippines project. With this order the company gets an entry into Acciona and can now vie for orders for its other products as well.
The company shall formally inaugurate the new Cast Iron Gates manufacturing plant at SEZ Unit 3 in early April and start commercial production immediately thereafter. This shall help greatly in meeting the rising demand from export markets and spare up capacities in domestic manufacturing facility of Unit 1 to meet the expected rising demand of Indian market.
The Foundation stone for the new Stainless steel products plant at Unit 2 will be laid by Marcus Hoeffkin, MD of Invent Germany in April. During this visit of Mr Hoeffkin the company will also sign the collaboration agreement for the new products that it intends to offer in Indian market.
Total turnover from existing capacity can be 500+ CR potentially
Rodney Hunts 9MFY22 Revenue is 91cr from 59Cr last year PAT is (2) from (6) last year
Consol revenue is 214cr & PAT 9cr for 9M FY22
Consol order book is 476 CR & by year end should be in range of 450-500cr
Order pipeline negotiated is 85CR & un =-negotiated is 111cr
Have got first order with Accino in Philipines & this opportunity can be big post successful execution
Consol revenue target for year remains -340-360CR for next FY 400-425CR. Exact guidance to be given next quarter
New orders are with highere RM prices unlike CY
America is on cusp of entering investment cycle- especially water. Last cycle was in 2000's
Rodney Hunt 65% production is from India. Yearly CAPEX to be 10CR India & 3CR USA
Singapore market also should open up this year with ease in restrictions
Input prices should not be a conern going forward
Debt 55CR is WC, 16CR Term loan & 90CR guarantees
Focus is on 65% exports as margins & recoverability is better'
Pratik Patel to be at helm another 7-8 years & internally they are doing grooming & hiring for successor
Unit2 CAPEX for additional capacity to commence from April. Doing 35CR stainless steel & 65CR carbon steel products as of now in this unit. Potential to increase 2x
1st & 2nd quarter is weak & historically have done only 10% business in these quarters. Managemnt will strive to improve this ratio towards 40%.
Very insightful. Looks like all the acquisitions they made will start contributing to the overall Sales and PAT in a significant way in 2-3 years time. It does look like a company that is well planned out in terms of how and where they want to be in 3-5 years' time i.e. de-risking by spreading across India, Americas and RoW, a plan in place to increase PAT to 14% in 4-5 years time. On the flip side, their accounts receivables and inventory periods have been increasing over the last 3 years. They did clarify that it is not to be taken as an indication of future bad debt problems but that is a concern. Also, any adverse impact in retaining or attracting skilled manpower (who understand their custom engineered products well) is the biggest risk according to them. So this is also a key monitorable.
It is a very detailed document covering all the details about the company like - its Moat, competitors, strengths, weakness, opportunities, capital allocation, capex strategy, capital allocation - acquitsition / tie ups, expected turnover in next 5 years…etc
Most of the details are covered as required by any investor in this FAQ document
In my view Jash will be a decent compounder giving 15-22% CAGR over the next few years driven by earnings growth (PE expansion is difficult since stock is decently valued). Given dependency on customers to pick finished goods, high WC requirement and conservative management, stock price returns of 25-30%+ looks difficult. Disc - Tracking and invested since long.
Probable reason for the sudden surge in the market capitalization.
Regards,
Dr. Vikas
Jash Engineering Limited
Ratings reaffirmed at 'CRISIL BBB+/Stable/CRISIL A2 '
https://www.crisil.com/mnt/winshare/Ratings/RatingList/RatingDocs/JashEngineeringLimited_April%2013,%202022_RR_285146.html