Dear all,
I am introduced to this forum at the beginning of the year.
I had few shares though ESOP from my company in 1998. When I felt that the future of that company is not good, I moved them to TCS and Infosys circa 2006.I held without any transactions until beginning of 2016 where I felt, I need to redeploy them to stocks which can get better returns.
Then, I started redeploying slowly and during this period I was an uneducated investor for an year trying to figure out investment thesis from sites like moneycontrol news. End of 2016, I realised I did not reach anywhere and I sold when stocks appreciated 10-20% of buying price. Then the search led me to VP and value investing in Jan 2017.
Another 6 months (unil June 2017), without much understanding, I initiated certain positions, exited some as I did not had much conviction. Now from May-June 2017, I am trying to build a long term holding PF. Some of my old positions and some other positions I like to exit top bring it down to 15 from current 22. I am still building up my conviction on few and like to keep my PF at 15 shares at max in future.
As of now, in this raging bull market, I am at 4% loss mainly due to my top holding is at huge loss.
Most of the names except Tatamotor DVR are additions after Jan 2017.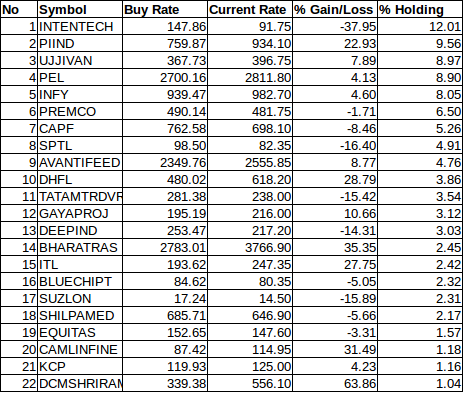 I will add rationale for buying and holding in the next post. My target is good learning and 10-15% CAGR for first year and improve it over 2-3 years to 20-25% CAGR. However, I get less time to do my learning and still figuring out fundamental analysis and a big zero in technical analysis.
Please review my current PF and give me your valuable advice.
Especially I like to hear from seniors as well.