ITC is huge exporter of wheat, export ban can hurt it badly.
A couple of points on this
The banned wheat variety is Durum wheat only. Others seems to be still on. Durum is used for macaroni and pasta.
And this seems to be more diplomacy oriented, where the GOI directs exports on Country to Country basis rather than individual trade between private traders, presumably to prevent price gouging down the road in their respective countries.
It sounds good on paper but the admin overhead in getting approvals may prove to be something different.
Results are out and its largely in line with expectation. See the presentation here.
Some Interesting excerpts from the presentation:
Full Year Revenue and EBITDA up 22.7% and 22.0% respectively; surpassing pre-pandemic levels - largely on account of Cigarettes volumes surpass pre-pandemic levels - Net Cash Generation from Operations stood at over Rs. 13000 crores (+32% YoY) - Note that the full year profit is still below the numbers for FY 2020.
FMCG revenue +12.3% on a relatively high base (+30.1% vs. FY20); EBITDA Margins at 9% (+75 bps YoY) despite unprecedented inflationary headwinds. For the year, FMCG Revenue up 8.6% YoY on a high base (+24.5% vs. FY20) - EBITDA Margins at 9.1% despite unprecedented inflationary headwinds - 110+ innovative products launched - across hygiene, health & wellness, naturals and convenience categories.
Sharp growth in Q4 Agri Business Segment revenue; up 29.6% y-o-y driven by wheat, rice, leaf tobacco exports leveraging strong customer relationships, investments in sustainable value chains, robust sourcing network and agile execution.
Hotels witnessed smart recovery in spite of the third wave impacting recovery momentum in Jan/Feb'22; exit occupancies surpass pre-pandemic levels - Note that this business continues be loss making - expect a better Q1.
Paperboards, Paper and Packaging Segment delivers strong performance; Q4 Revenue up 31.8% y-oy along with margin expansion of 110 bps - Paperboard volumes at record high; robust growth aided by demand revival across most end-user segments; sustainable products portfolio continues to be scaled up - this is one business i believe has a potential to get listed during the next few years - very impressive product innovation helping it grow and I believe this is poised for double digit growth for the foreseeable future.
Total dividend for the year at Rs. 11.5 per share. Final Dividend of Rs. 6.25 per share announced.
'ITC e-Store', the Company's exclusive Direct to Consumer (D2C) platform is now available in 15 cities and continues to receive excellent consumer response.
Results Summary

ITC Infotech's performance as you can see below is not very impressive compared to other mid tier IT companies - I believe they should be a targeting a growth in excess of 20% YoY. Margins continues to be resilient and industry leading.

Thanks,
AJ
Disclosure: Remain invested.
ITC Infotech FY22 profits: 541 crores
Tata Elxi FY22 profits: 549 crores
Tata Elxi Market Cap: 52,000 crores
Saw this message in social media.
Lets talk about cigarettes.
Background:
Main reason for market to punish and re rate ITC started happening after 2017. On July 2017 it touched 367 and in downtrend since then. ITC cigarettes volume growth has been abysmal mainly due to higher taxes. consumers shifted to illegal cigarette mainly being them so cheap.
Can ITC get back to its old growth in cigarets:
ITC management has demonstrated to Finance ministry that although they had heavily increased the taxes, it has collected lesser taxes from cigarettes than years before. Meaning illegal cigarettes market have grown multi fold and consumers also switched to that being super cheap and every one ITC + government has lost revenue.
In the recent years finance ministry seems to understood this and didn't increase the taxes on cigarettes. And that lead to increase in volume for ITC ( of course covid re opening also played a role, no doubt). So ITC could very well get its volume growth back. ( Note: here this doesn't mean there will be new smokers, this simply means shift towards legal cigarettes from illegal ones ).
Since ITC has improved margins, any additional revenue on cigarettes will bulk up the bottom line. OPM for cigrattes are about 60 % now.
Opportunity size:
Cigarette consumption is not high compared to other countries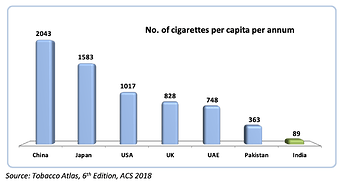 We have one of the youngest population in the world ( Im not batting for youth to smoke more, but many young persons smokes during college days and leave it after that ( me being one example of that)). Indian demography is such that peak population is around 16-18.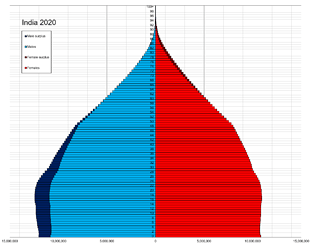 So there is enough head room to maintain the revenues.
ITC plan for Future:
ITC is always looking forward in its prospects adopting Industry 4 as well as sustainability. ITC realised that other forms of nicotine consumption are on the rise that could act as a replacement to smoking. To capture the growing demand for oral and vaping products in the US and EU markets ITC has setup ( in the process of building ) a nicotine production plant in Mysore using a new subsidiary "indi vision" in Mysuru. This is expected to put ITC as one of the manufacturers of purest nicotine in the world (stringent US and EU pharmacopoeia standards for use in pharmaceutical products). This plant will produce nicotine and nicotine salts mainly for the purpose of exporting to US and Europe markets. Hence it will also bring lots of dollar revenue.
Discl: holding same as last post. I hold a large portion hence my views are biased, please do your own due diligence before investing.
Thanks for sharing your detail working. However, the decline in Cigarette revenue in FY18 in value terms has more to do with GST (excise continue to be imposed but was lower amount as compared with previous year.)
Find enlcosed screen shot of September 2017 results (standalone, first quarter from which GST implemented) We can see material decline in Revenue as well as excise duty number in September 2017, Sep 2016 and June 2016 number. So, in my limited understanding, this has more to do with accounting adjustment then only pure decline. There could be decline in sales but not as material and high as indicated by the sale figures, in my limited understanding.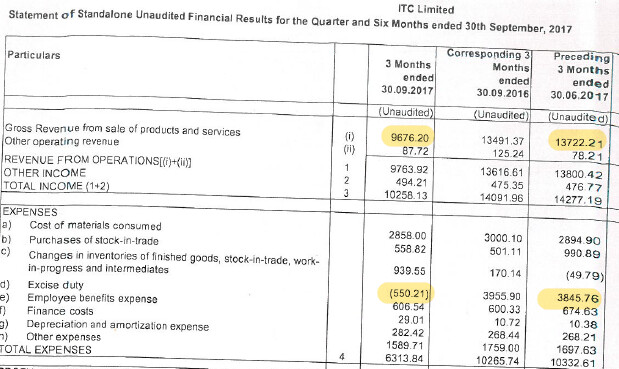 As compared with June 2017 quarter, Cigarette sale in Sep 2017 declined by Rs 4200 Cr, but EBIT was almost same level. So decline in sales was more to due change in GST which needed Sales amount to be net of all taxes. Since VAT, Cess and Other levies, where accounting for very large portion of sales revenues, same were netted during September quarters from sales figures. There was virtaully no impact on EBIT despite almost 50% drop in revenue . In my limited undestanding, that was reason for major in Cigarette revenue ,almost 50% drop in Revenue over quarter.
Thanks for your efforts in putting acorss your view point.
Discl: My highest holding, No investment in last 6 months. My view may be biased. Not recommeding any investment action. Not SEBI registered analyst
Thanks @dd1474 and I'm sorry for my oversight, I have modified my write up.
I see this company fit perfectly with ITC. Firstly. It helps in ESG scores. Secondly the paper, mosquito repellants and tobacco compost can be part of ITC paper, ITC fmcg and ITC agri businesses. Soft toys and pillows can be used to donate to the underprivileged kids. Such efforts re what a democracy like India needs.
Read this article and I remember there were discussions earlier in this thread that vaping could gradually be the next growth driver for tobacco companies abroad in markets where it is allowed. Also, if I am not wrong, ITC was working on exporting ingredients to such players…
This articles looks contradictory to above as vaping looks like an even more faster dying industry abroad as regulators are removing products, which they have not done for even cigarette also?
Anyone with insights can provide more details - Is vaping really a future industry or dying industry?
Why regulators are more strict on vaping as compared to cigarettes abroad?
Looking at above article, it seems India's decision to not allow vaping has been more mature? Any insights? Thanks
Vaping has been found to be more harmful than cigs. You can do a google search for the same.
Thanks, yes we understand this now, but my question is until just couple years back, the idea was different, why? Is this a sudden realization because of any particular reason? Vaping was supposed to provide people option to leave more harmful cigarette earlier…
how, why & when this new realization happened? And what does it mean for Vaping industry in US/Europe/UK, any future vaping industry in India & Cigarette industry globally?
Well, it takes time for a new harmful product to show its effect on the human body. The clinical research only came later when many youngsters started reporting lung infections.
As a consumer i agree if we ignore Maggie classic most of there other flavour are very disappointing and not have catch-up that well.
As a foodie Maggie classic is still the best overall but if you want something else itc and other are actually better in developing better taste overall and also itc is more likely to have better aquisition policy then other FMCG players.
Any idea why the revenue figures for ITC on Screener do not match those declared in the Annual report? There's a delta every FY.

AR FY21


AR FY22

Deduct excise duty amount of ~Rs 4,500 Cr from Revenue from operations and you would be able to reconcile the figure broadly.
Most of the complaints about ITC FMCG was that its products doesn't have a shelf space in stores. I have revisited my hometown ( tier-2 city ) after two and a half years. Last visit was pre-covid end of 2019 and this time I have travelled around. My observations here are limited to two southmost states and please pay attention before extrapolating it for pan India.
Yippee
Yippee certainly has about 70 % of shelf space of Maggi ( No surprise that Maggi still tops the sales and shelf space). Maggi had a dedicated rack in addition to what's shown above. Good thing is that its much more than what I have seen in my last visit. And my nephews ( one in college and another in school ) both knew about yippee ( which wasn't the case last time).
As one can see there is cult following for Yippee as well as it triggered a massive arguments over internet.
That also augments well with the kind of growth that company has shown in the past 10 years. Habits take time to establish and Yippee may very well be in a good direction.
B-Natural
I must admit, I didn't expect it to be popular at all. But I found many elders drinking the B-natural Guva flavour and it had as much shelf space as Real. I also don't remember seeing it at all last time that I have visited.
B-Natural is number 3 in the market with and number 2 in the modern trade (e-commerce). Although it seems to have penetrated households, still some distance to cover. But I have seen them in the domestic flights in Indigo that could certainly play a good role in covering middle class population.
Engage Deo and Perfumes
Engage has about 12% market share compared to market leader Fogg that has 16% market share. Brand Engage was bought to market about May 2013. so in roughly 8 years they could bring the brand to number 2 position. As one can see there it has prominent space. I also found them everywhere including pharmacies. Its also favourably priced compared to others
Fiama body wash gel and Vivel
Indian showers are still dominated by detergent bars rather than liquid wash, but its expected to grow 15% cagr next decade. I myself tried Vivel and found it to be refreshing. One can also see shower to shower in the bottom shelves. But when it comes to soap HUL owns almost every brand and there is absolutely no competitions whatsoever. Although I was happy to find Fiama and Vivel soaps.
Sunfeast Biscuits
Moms Magic is a big hit and a good competition to Good day from Britainia. Sunfeast bounce also caught up pretty fast and moving well. I certainly see much more shelf space for sunfast than my last trip. But I must say Parle-G has certainly upped the game expanded to many categories. Now there is Parle Marie as well as Sunfeast Marie light.
Britania and Parle lead the market with 28% market share while ITC has about 11% market share. Given the late entry of Sunfeast compared to established players like Parle and Britainia ITC seems to have done well.
But whole section has lots of overlaps with even the packages looking similar to each other. Dark Fantasy also has a cult following, but Britania also came up with similar product including packing. If at all I worry I see than Britania is under pressure from Parle and ITC.
Bingo
I haven't seen a single shop without Bingo chips. Mad angles seems to have better taste than generic chips but not many seems to be aware of it. In Kerala Bingo is number 1 for sure. I have seen shops without lays but not without Bingo. Pepsi has about 22% market share in western snacks while ITC has about 13 % market share. Recently it was reported in moneycontrol that Bingo is gona bring ethnic snacks like Aloo Bhujia and other things. This would be good accretive as brand Bingo seems to be well known.
Source: ITC reports, articles and Ventura Research
Disclosure: ITC is one of my biggest holdings, so my views are certainly biased. Please do your own due diligence.
It is good and heartening to see that ITC is doing a good job in grabbing more shelf space since it is a key requirement to increase the market share in these segments.
However, I still believe that ITC is not fully capitalizing the established brands like Ashirvad (cereals, sugar, salt), Sunrise (oil) and Savlon (hygiene). Dettol, Himalaya, Marico and even Godrej is coming up with innovative products in this space but is hard to see Savlon anywhere though it was once the #2 player in the market.
Likewise, while Ashirvad atta is available everywhere, you don't get to see salt or other items.
Oil is another lucrative market but there is not much push from ITC. Saffola and Fortune are ruling this space.
It takes a lot of investment and time to establish and sustain a brand. But if they don't exploit the full potential of such brands, they will lose out to the competition.
Disc: invested