As a learner we read books, and listen to the experts with rapt attention. One of the theories that we swear to follow, but seldom do is the credo that one should select a company and forget it.
Often we are given the example of an Asian Paints. One is supposed to have just bought it in 2013 at ₹440 and lived happily ever-after. Today's price of ₹3115 makes you wonder why one's parents did not buy it! But then they did not buy Pidilite either ₹211 in December '12 to ₹2610 today.
But then there was an article by Devina Mehta, where she puts forward a different argument.
If we do our research, we can give a thought to what was hot in 2012, and what has happened to them.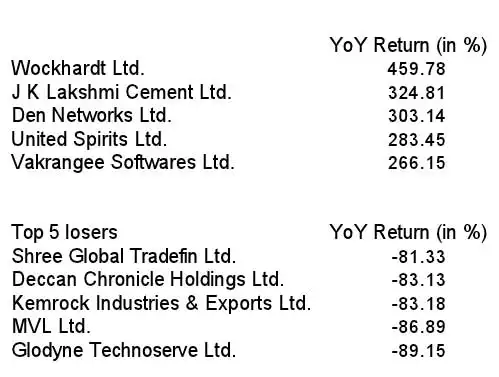 Wockhardt was more a thousand in Dec 2012. In March '13, it crossed ₹1700. Today it is ₹224!
JK Lakshmi Cement of course has gone from ₹160 to ₹795 in about10 years.
Den Networks has gone from ₹198 to ₹35 in about the same time.
United Spirts was ₹198 about 10 years ago, and is ₹878 now.
Vakrangee was ₹32 in Jan '13, and is now ₹27.
So, from an examination of the 5 winners of 2012, we get mixed results.
So, what it ultimately amounts to is, it is your choice in the companies you invest in, and though everybody (including me) pretends not believe in it, the luck factor too.
Lesson to me is that every company is not an Infosys or a Divis. Today's winner may make its name as a leading dud some years hence.
Of course, if there is nothing the wrong with the company, but only the market has tanked or the sector is out of favour temporarily, and one needs to emphasise temporarily, because Kodak was the leading film maker without which we could not imagine our camera at one time, one adds to one's portfolio.
Really, the wise ones would have got out of the companies which fell on bad ways. And that puts paid to the theory of sticking to your choice. Patience is a virtue, but even the bravest general sometimes choses discretion over valour and lives to win the bigger war.