Introduction:-
Iris Business Services is a company headquartered out of Navi Mumbai, and they define themselves as a RegTech SAAS company. Iris provides technology services/SAAS solutions in the regulatory compliance space.
Product Portfolio
Iris categories it's products basis end use and application into 3 separate segments:-
Create is 59% of revenues : Iris Carbon under this vertical is a SaaS software to help companies create & generate their compliance and financial disclosure reports and submission to regulators in XBRL/iXBRL format

Collect is 36% of revenues : Iris iFile provides a software platform for regulators to collect submissions from those that they regulate

Consume (5% of revenues) : Mainly trying to develop software products addressing data analysis as a need
Customer base seems impressive with a large list of marquee clients both in the regulators space and in the enterprise/company filers space
Management Team:-
Iris is led by a technocrat team with the 3 co-founders. Credentials of the management are well detailed in the below slide from the latest investor PPT.
Interesting excerpts from a comprehensive 2023 annual report:-
On why the management feels the company is at an inflection point in terms of growth:-
On how the company has transitioned from a services to a SAAS products dominated company:-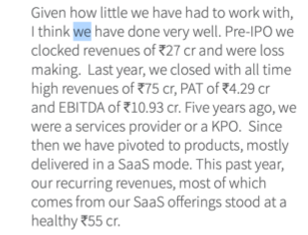 On the fast growing RegTech space they operate in:-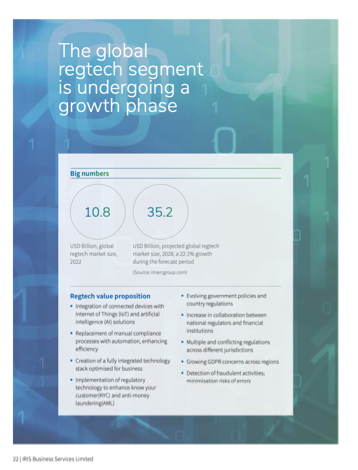 My rationale for investing here:-
I have been looking at SAAS companies with interest being already invested in Rategain, and beyond a certain point if these companies can grow then there is a massive amount of operating leverage at play which can bring in disproportionate bottom line growth. With >50% revenue through Create and that also being the faster growth vertical, Iris fit the bill.

They are operating in a market which I expect to grow further given the importance of technology and data in the regtech space and already have proof of concept through marquee clients. Additionally, they seem to be vying for the right growth triggers now, with the focus on Carbon and new products like the enterprise based disclosure management tool mentioned in the last concall. Going forward, increase in scale is expected to be supported by the expansion of Federal Energy Regulatory Commission (FERC) mandate wherein IBSL has the second largest market share and environmental, social and governance (ESG) reporting mandates by regulators across the globe along with increasing interest in various regulators towards XBRL for other regulatory reporting (Source : ICRA credit report Nov'2022)

There are quite a few interviews of the management online + AGMs, and to me they came across as conservative + smart. Employee reviews are reasonably good on Glassdoor.

Valuations were very reasonable versus Rategain (~2.7x sales vs ~9x sales, big gap in other metrics too). Obviously Rategain is a company with a totally different market, but comparisons are limited in the space currently.
Potential Risks:-
Inherent risks of being a microcap investment
Some part of the growth (regulator side) would be mandate driven and hence demand presumably could be lumpy and less predictable
Elongated receivable cycle (Source : Nov'22 ICRA credit report)
Disclosure : I am invested in self and family accounts and am biased. Transactions in the last 30 days. I am not a SEBI registered advisor and this is not investment advice.