Starting a thread on IRCON as there isn't one.
Before we get to anything, it's important to set expectations for those going through this. Is this an incredibly amazing opportunity that's going to be 10/20 bagger? Probably not.
This is a fairly straightforward play. Consistent performance + Dividends.
It's a company that has:
Future visibility on revenues (via the order book)
Decent margins on the orders
In a nationally important sector
Yearly performance targets tied to MoUs with Ministry of Railways
Limits on debt (also has low debt)
Institutional preference (loose MOAT as other PSUs are competing, but the majority of the business is on nomination business).
Committed to paying out 50% of its profits as dividends (with a low PE, this turns out to be an incredible dividend yield).
The major overhang is the additional 10% that is to be divested by the government to meet listing norms. This has been getting pushed forward.
The Industry
Infrastructure is one of the most difficult industries to be in. There is no problem that doesn't exist in this industry – execution delays (environmental clearances, work-related delays, etc.), payment delays (but there's escalation (i.e. you get paid extra as costs have gone up with time) sometimes), litigation (following from payment and execution issues), debt problem, low entry barriers (leading to), intense competition (which leads to competitive bidding at prices that aren't realistic with the hope of making it up in escalations), sub-contracting problems (shoddy work by the sub-contractor and the contractor is responsible with performance guarantees, payments being withheld, etc.), middlemen and agents handling the process ('business development' expenses), execution issues (it's not easy handling hundreds of workers on the site).
The process is fairly simple. A government (state or central) comes out with a tender and a list of pre-requisites (called Pre-Qualification (PQ)) that the bidders need to meet. Whoever bids the lowest wins the tender. The government then has to hand over the site to the contractor unencumbered (i.e. the full land has to be acquired without any issues).
Business Development - Identify and decide which tenders to bid for (this is dependent on factors such as "geographical location of the project, financial requirements, the degree of difficulties in executing the project in such location, our current project workload, profitability estimates and our competitive advantage relative to other likely bidders."
Bidding - Apply for the bid (here there is a round of negotiations or if the company is the lowest bidder (L1), it is awarded the contract. The application could be done alone (by IRCON alone) or with other companies if IRCON doesn't qualify on its own because of specific experience or proprietary technology.
Project Management – once the contract is awarded, the company creates a detailed project management plan that looks at budgeting, revenues, cash flows, resourcing, etc. The execution team follows this to implement the project. They start procuring stuff with a view of executing the project. Sometimes, they may subcontract parts of the project out.
The other route is nomination where the government department calls you and says "I want to do this. Kitna lagega (how much will you charge)?". You go back and estimate and stuff and come back with a figure. Then negotiations follow and if all goes well, the order is yours. The majority of IRCON's business (85.33%) comes from this route. This route also has scope for higher margins than the bidding route. How much higher? In India, the margins on bidding are in single digits (mid to high). In the case of nomination by railways, the figure was fixed at 8.5%. This system has changed now and there is restricted bidding (by only PSUs) but the management is hopeful of having margins somewhere around this range. In the international context, it can reach anywhere between 20-30%.
IRCON
About IRCON – it is a contracting company that's been around for 40+ years (AND has always been a profit-making company). They've participated in projects around the world.
What kind of work do they do in Railways? Building railway tracks, bridges, tunnels, upgrading tracks, electrification, etc.
For IRCON, railways continues to be the dominant source of business with 95%+ of its order book linked to railways. 99% of its business comes from governments.
Figures from June-20 Investor Presentation:


There is a focus to increase their bidding business (Dedicated Freight Corridor is part of this).
Their international business is linked to the government's relations abroad. When GoI extends a line of credit, IRCON gets some related work (Bangladesh, Sri Lanka). Also in other countries, diplomatic relations and interactions matter.
Revenue distribution FY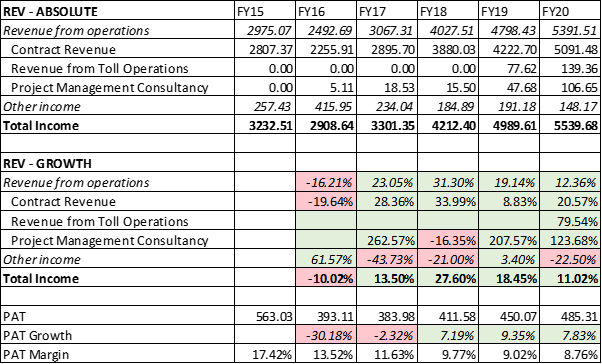 Top revenue generators:

Contracting continues to remain the main revenue generator. Toll operations and PMC have been increasing steadily. Other income is primarily interest income and dividend income and appears to be declining. Cashflows are an important issue for a contracting company. From FY15 to FY20, IRCON has managed to have a positive cash flow from operations for most years (except FY18 and FY19).
Subsidiaries/JVs.
In terms of subsidiaries and JVs, the company has a lot going on. Below is an image from the prospectus.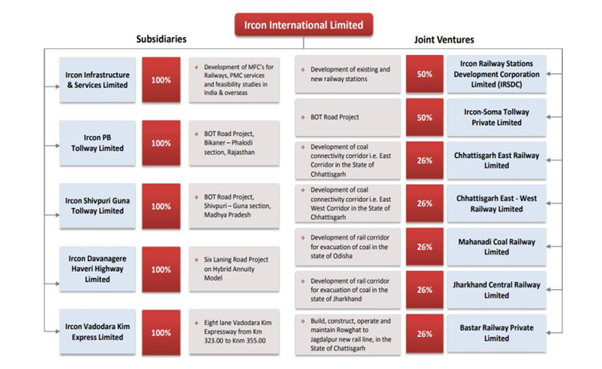 Among the subsidiaries, Ircon Infrastructure & Services Limited ("Ircon-ISL") has good potential. IRCON ISL is a PMC (project management) company (similar to RITES) where margins are in the range of 20%+. This is an area of growth which the company is focusing on. (Interestingly, RITES is moving from PMC (high margin) to actual contracting work (lower margins)).
Among the JVs, IRSDC is a promising venture. RITES has also bought into it. There are two things the company does – station facilities management and PMC on station redevelopment. These are good margin ventures that aren't capital intensive.
The relationship with the subsidiaries is that IRCON has to keep pumping in money by way of equity or loans to keep the project going.
In three specific cases, IRCON is also looking at selling part of toll road projects.
Vadodara-Kim Highway Project under HAM model
Davanagere-Haveri Project, again in HAM model in Karnataka
Shivpuri-Guna project (tolling has already started)
There would be some development around these in the coming quarters.
IRCON is also trying to replace the financing of its subsidiaries with a bank loan. The stake sale and this switch is part of their effort to free up capital.
They have a parcel of land in Bandra which they have taken on for development. If this works out, it could result in a huge payday. The payment of the Rs. 1800 crore loan on their books is also tied to this project.
They're also developing their property in Gurgaon and trying to lease it out. Progress on this has been slow (they tried another avenue hoping to get better returns, then COVID happened, etc.).
The main things/KPIs to watch for:
The order book (there are two parts – executable and overall. The executable part is more relevant. Order book typically takes 5 years to complete. This facet of the company is similar to a natural resource in a particular sense – depleting order book signifies depleting revenues in the future. Orders don't just show up overnight.).
Cash flows – it's important to be cash flows to avoid getting into problems (IRCON has been able to manage this well).
Margins – while quarterly is one way of looking at this, annual would probably be better given various issues in different quarters (monsoon can delay/impact work, winters are harsh in some areas, summer is crazy in some areas, etc.).
Cash position – own + customer advances
Subsidiary financials – have they started generating revenue/profit? Debt levels? (Looking at the consol statement as the individual aren't available)
MoUs with Ministry of Railways
Questions that remain:
What is the revenue-generating potential of the subsidiaries/JVs ex IRCON Infra/IRSDC? (Probably limited or would be many years down the road).
What is the impact of the change in government policy (rather than nomination, PSUs will have to bid. Plus there was a mention of this being PMC kind of work.)
How do you value the company? (I've used a simple DCF, with super conservative assumptions. but curious if there any other methods).
Would they be able to increase their bidding business without sacrificing margins?
There is an element of cyclicality. Not sure how it will playout in the case of IRCON.
Fun fact: They're planning on getting into a project in Malaysia on a barter basis. They'll be getting palm oil in return (which they've tied up with STC to sell). It'll be interesting to see how this works out.
IRCON used to be listed on BSE and Delhi Stock Exchange until 2011/2012.
Disclosure: Holding since the IPO. Looking to add more if it goes below 70/65 range (without any major changes in fundamentals).