Hi VPers,
This is my effort at giving back to the community from which I have taken a lot. I intend to develop more tools in this portal in my free time as I enjoy building things.
Today I want to introduce you to the Export/Import data tool.
You can access it at
(Please excuse the self-indulgent name; I couldn't resist.)
It is accessible on the homepage as default since this is the only tool that is ready as of now.
The data is split into Macro, Micro and Current. Let's run through each of these.
Macro
The Macro data has data for All countries, commodities and pits exports against imports and calculates deficits.
You can filter this data by country, so for eg. you can see how imports/exports with just the US.
You can see how our exports to US are higher than our imports.
You can also see what the exact products we export to the US and what is the share of each of the commodities.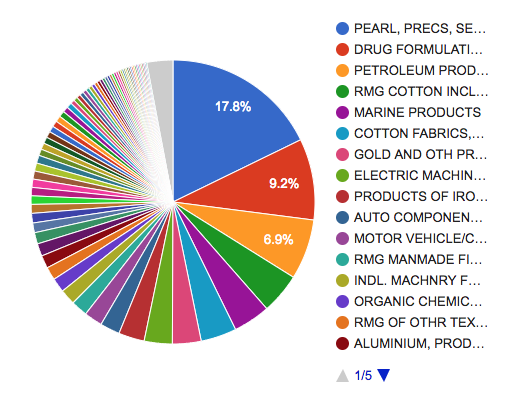 This chart shows data for the row that is selected on the left data table. By default it is the latest FY (FY19 now) but you can always change this to see data for FY15 or FY12 or whichever year and see how the distribution varied over the years.
You can also toggle Exports and Imports for this chart by using these buttons above the chart.

It defaults to Exports and Commodities. You can change it to view imports or view a country-wise breakup.
By using the tabs at the top that look like this

You can view this data by quarters or by months as well.
You can filter specific commodity or choose a set of countries or change currency as well to USD.
Micro
The micro data is for specific commodities so we can drilldown better to say, view Basmati rice exports or Crude oil imports.
Some of you might be familiar with charts from this section as I have posted them in various threads before.
The top chart shows overall Value and Volume growth trend over last several years. This is the trend for Marine exports.
The use of a tool such as this is in finding these trends - In retrospect, you can look at how the exports picked up in FY10 and has sustained since.
The realisation chart shows how the price realisation has moved.
There is also a table and pie chart that shows the data table and a split-up by Country.
It is also possible to navigate to Micro from Macro through the pie-chart by clicking on a specific country or commodity in the Macro pie chart - either exports or imports.
The power of the tool is in viewing short-term as well as long-term trends. Short-term trends can be viewed by seeing monthly data for a commodity. I had posted on the Avanti thread about a possible peak in exports few months back. I discerned this from the monthly data for marine exports.
So this way, the tool can be used to predict upcoming downtrends as well.
All this can be done for imports as well by toggling to the Imports tab at the top. It can get interesting when you view a commodity both from import and export perspective to see if there is an import substitution trend at play!

To make it easier to view current trends, I built a small module here.
With this, you can view the best performing commodities and of course the worst as well. You can sort asc/desc by month/quarter/year.
Warnings
This data is just an indicator of where the sector is going. Finding and benefitting from companies in the sector is a different ballgame altogether.
Sometimes value might seem to be rising while the margins for a company might be dwindling - so view these numbers carefully, along with a specific company's financials to arrive at decisions.
Lot of these commodities are very small markets and may not be beneficial from an equity investing standpoint.
Disclaimer
I am not responsible for any loss or gains you make from this data and I am not responsible for any errors in the numbers.
I intend to keep these tools free if the time taken to develop them isn't much but if in the future something takes substantial time to develop and maintain and run, I might charge a nominal fee.
Feel free to share links to substantiate data in VP posts if you would like to. Also, please do post about any interesting trends you might spot so that its useful for everyone. We can discuss those as well in this thread.
This tool is meant to be used on a big screen due to the amount of data it shows. It may not work well on small screens.
If you spot any bugs, please reach out to me personally either on VP or at phreakv6 at gmail dot com. If you have any comments/suggestions, please leave them in this thread.
Hope this is of some use. Thanks to @suru27 who shared the MoC link that had the data without which my interest would never have gotten piqued.