Infobeans technologies (NSE SME listed) to be a good fundamental value pick. It's continuous growth story.
It's current mcap is around 170 crore and free float mcap is around 45 crore. (market price is around 70 rs).
Promotor holding is 74%. It's ipo price was 58.
Company Description:
InfoBeans Technologies Ltd (ITL) is engaged in software development services, specializing in business application development for web and mobile and operate at Capability Maturity Model Integration (CMMI) level 3. ITL services can be broadly categorised as storage; Virtualisation, Media, Publishing and eCommerce. In India it operates out of 2 facilities in Indore and Pune employing more than 600 people across locations. As the company has prominence in exports, it has established local presence in the North American market by way of a 100% subsidiary, which has 2 offices located in California Georgia, USA. ITL is ServiceNow partner for implementing their software
This company is listed on NSE SME. It's CAGR is > 20% in last 5 year.
Investor Presentation (after Q4 March 2019)
INFOBEAN_03052019150338_NSE_INTIMATIONTFORPPT_138.pdf (3.9 MB)
Resource retaining is always challenge to any IT company. If we see this company top level management, all are associated with this company since long time which is eventually benefiting to company.
Company has presence in North America, Europe and Dubai market and rapidly spreading its footprints across the globe.
Effectively company has 34 cr rs cash in hand and have total investment (long term/ short term / non current investment) of 58 crore. Company has 98 cr reserve and surplus. It has zero debt ( against long term/ short term provisioning).
Total cash + investment = 92 cr and current mcap is 170 crore.
It's topline increased 23 crore to 120 crore in last 6 year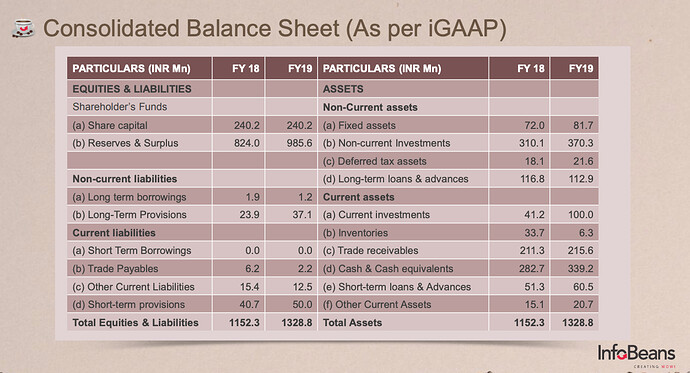 it's virtual debt free company.
Disc. Initial entry into the stock at around 60 rs. Invested.
Risk: In IT industry, technology risk is always exist in digital time and any type of global slowdown could also impact in revenue.