After a long time, the Indian defense sector seems to be abuzz with developments. Indian companies are trying hard to get a foothold into this lucrative space.
I wanted to start this thread to keep track of all the sectoral changes.
Overview of the Indian Defense Sector
India's defence exports in the previous seven years have exceeded Rs. 85,000 crore (US$ 11 billion).
GOI changed the automatic route limit for FDI in the defence sector to 74%
GOI opened the defence sector for private participation
In 2021, Defence Acquisition Council (DAC) boosted the 'Make in India' initiative by according Acceptance of Necessity (AoN) — to capital acquisition proposals worth Rs. 7,965 crore (US$ 1.07 billion) — for modernisation and operational needs of armed forces.
GOI dedicated the seven defence public sector undertakings (PSUs) to improving functional autonomy, efficiency, growth potential and innovation in the defence sector.
Over the last five years, India has been ranked among the top importers of defence equipment.
India's defence manufacturing sector has been witnessing a CAGR of 3.9% between 2016 and 2020.
The Indian government has set the defence production target at US$ 25.00 billion by 2025.
Defence exports in the country witnessed strong growth in the last two years.
As of 2019, India ranked 19th in the list of top defence exporters in the world by exporting defence products to 42 countries.
India and Saudi Arabia are the largest arms importers in the world.
The defence ministry estimates potential contracts worth ~Rs. 4 lakh crore (US$ 57.2 billion) for the domestic industry in the next 5-7 years (2025-2027).
The government formulated the 'Defence Production and Export Promotion Policy 2020' in defence manufacturing under the 'Aatmanirbhar Bharat' scheme.
The ministry aims to achieve a turnover of Rs. 1 lakh 75 thousand crores (US$ 25 billion), including export of Rs. 35 thousand crores (US$ 5 billion) in aerospace and defence goods and services by 2025.
The Indian government is focussing on innovative solutions to empower the country's defence and security via 'Innovations for Defence Excellence (iDEX)
Introduced Green Channel Status Policy (GCS) to promote and encourage private sector investments in defence production.
The Major players are; BHARAT EARTH MOVERS LIMITED (BEML), BHARAT ELECTRONICS (BEL), HINDUSTAN AERONAUTICS LIMITED (HAL).
BEML is stated as a manufacturer of rail coaches & spare parts and mining equipment in Bengaluru.
BEL engages in the manufacturing of specialised electronic equipment requirements of the Indian Defence Services.
HAL operates as an aerospace and defence company. The company uses international design, under licence, to build and assemble aircraft and engines.
India's Defence budget for FY 2022-23 stands at US$ 54.20 billion (Rs 4.05 lakh crores)
In 2020, India and the UAE have agreed to take their defence cooperation further through joint production and mutual trade.
This move is expected to boost domestic defence exports and achieve defence export targets worth US$ 5 billion in the next five years.
India plans to spend US$ 130 billion on military modernisation in the next five years and is also achieving self-reliance in defence production.
CHANGES IN THE DEFENCE SECTOR
The Defence Minister of India, Rajnath Singh, June 7, 2021, released an E-Book on 20 Defence Reforms in 2020.
India intends to become a global manufacturing hub for defence equipment.
87% of all defence acquisition approvals were from domestic vendors during 2020
Source: www.mod.gov.in
The ministry decided to dispense with the requirement of the Integrity Pact Bank Guarantee (IPBG) to reduce the financial burden on the Indian defence industry, a move aimed at promoting domestic manufacturing.
Indian government clashes with foreign defence sector over offset demands.
The government has imposed penalties on several original equipment manufacturers from 2013 to 2021 for defaulting on their offset obligations.
50% of India's offset obligations worth $13.52 billion across a set of 57 contracts have resulted in either penalties or the threat of them.
SOURCE: Indian government clashes with foreign defence sector over offset demands (defensenews.com)
According to a research report released by defence think-tank Stockholm International Peace Research Institute (SIPRI), India's military spending grew to US$ 76.6 billion in 2021, up 0.9% from 2020.
The UK and India signed a new defence cooperation pact and planned to finalise a free trade agreement by the end of 2022.
Defense spends were on the rise even before the Russia-Ukraine war. The war has shown the need for self-reliance and preparedness in defense.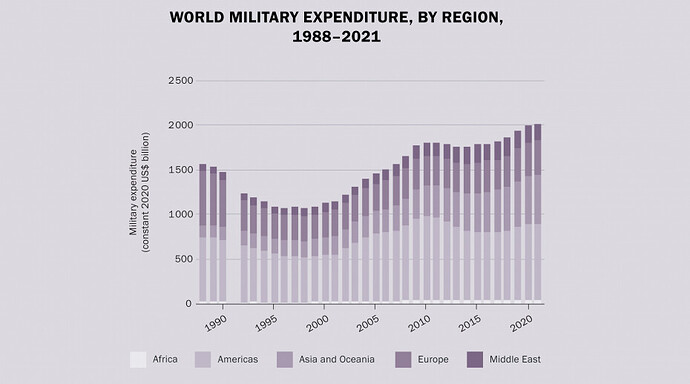 In 2021 Iran's military budget increased for the first time in four years, to $24.6 billion. Funding for the Islamic Revolutionary Guard Corps continued to grow in 2021—by 14 per cent compared with 2020—and accounted for 34 per cent of Iran's total military spending.
Eight European North Atlantic Treaty Organization (NATO) members reached the Alliance's target of spending 2 per cent or more of GDP on their armed forces in 2021. This is one fewer than in 2020 but up from two in 2014.
Nigeria raised its military spending by 56 per cent in 2021, to reach $4.5 billion. The rise came in response to numerous security challenges such as violent extremism and separatist insurgencies.
Germany —the third largest spender in Central and Western Europe—spent $56.0 billion on its military in 2021, or 1.3 per cent of its GDP. Military spending was 1.4 per cent lower compared with 2020 due to inflation.
In 2021 Qatar's military spending was $11.6 billion, making it the fifth largest spender in the Middle East. Qatar's military spending in 2021 was 434 per cent higher than in 2010, when the country last released spending data before 2021.
India 's military spending of $76.6 billion ranked third highest in the world. This was up by 0.9 per cent from 2020 and by 33 per cent from 2012. In a push to strengthen the indigenous arms industry, 64 per cent of capital outlays in the military budget of 2021 were earmarked for acquisitions of domestically produced arms.
Companies in the sector