I thought Co-lending does not have FLDG.
The risk is the difference between both model.
Colending is shared risk and fldg is the full form suggests. This safe guards Banks NNPA.
Fldg is often referred as off the balance sheet!!
Ibull housing is entering retail directly is a beautiful sign, better matrix, much better risk management, we have what 10 Cr Tax payers now +++ annual growth till 2027.
Why would they repay so much debt and Raise Fresh money which is relative less (not to forget less COF)
It's like the American dream becoming India Dream now !!
Ok got it. You are referring two models here. I misunderstood that you are saying co-lending has FLDG.
Indiabulls lending to the retail segment for decades. They are not entering new
They were doing project based financing it was B2B (major revenue) now it's B2C , as tech is improving day by day and hence cost of client acquisition will drop down significantly and into of FLDG model they don't need to sell or pledge the asset for raising more funds.
Basically the asset size will be fragmented and so will be risk .
This is the snippet from FY10 and FY17. In FY10, 50% of loans are retail; In FY17, 75% of the loan book is retail. Project financing is historically a smaller percentage and retail is the more significant proposition. B2B side is business is less than 25% of the book for almost the entire history of Indiabulls.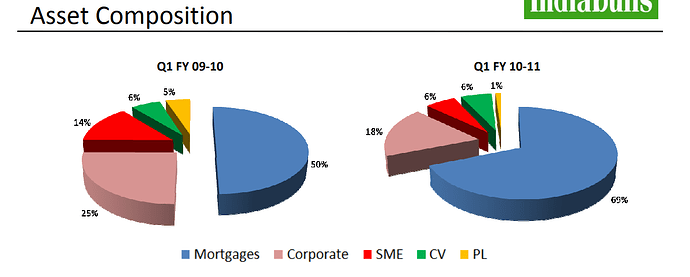 Indiabulls does not provide any FLDG to the banks, for the loans they originate loans.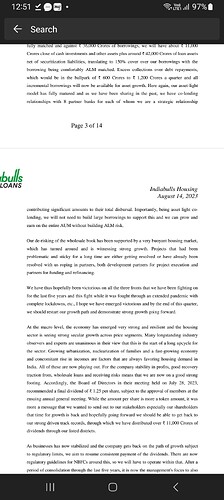 Brother please refer last 2 concalls , might help to understand where are they positioning themselves !!
Please be specific. I already read their concalls. I understand what company is doing, but did not understand what you are trying to convey.
Company is in B2C segment as its major business for its entire history. You are saying they are entering. Only difference from past to present in retail book is now they are lending loans via co-lending
Company does not provide FLDG for any of the loan its originates. But not sure, why you are bringing FLDG again and again
Not stressing on anything Brother, let's just wait and watch am invested.
Please do share anti thesis as well, helps to learn !!
I am not trying to bring any new anti-thesis here. You shared few points in above replies which you didn't elobrate enough, so I am trying to understand more.
I am invested. I have my own share of likes and dislikes with the company. You can read past replies for my concerns
I see a complete story unraveling and efforts of Gagan and his team taking shape. He just needs to show some growth in coming quarters and market will take the stock to atleast book value( Another 100percent rise in 1-2 year span). Many short sellers getting squeezed out and a name change to Sanman will be a new beginning. FCCB conversion into equity will be another boost as growth capital will be released in the company. Many high profile investors invested at 260 so I believe they would be already averaging this stock at these levels. Dividend announcement in last quarter has infused the confidence and I foresee good secular growth henceforth as co-lending model is taking care of future ALM mismatch risks.
My views are biased as I am invested from lower levels.
Have 2 queries, would like to have insight of regular contributors
What would be diluted BV post conversion on FCCBs ?

Why they are raising the debt through NCDs at such high rates, active issue at coupon rate of 10,75% + incentive of 0.25% ? With current professional management would have expected the capital at lower rate.
Disc. : Invested fro lower levels
My take as below:
Dont know impact on Book Value but I feel that conversion would be best for company as it will free up the capital for growth. Stock already at significant discount to BV so equity dilution would make base for higher levels with additional capital.

Debt raising is based on their AA rating and rates can only improve when their AUM increases with less NPA giving more stable future earnings. I feel Gagan and team has brought the company from difficult situation and things are only bound to improve from hereon. Change in perception by market is evident and if overall sentiment remains stable, IBH should cover its gap from BV.
Hi
I think the cost of capital here is high as the pedigree, loan book quality and brand comes into play. Plz correct me if that's not the case.

Also India bulls lending profile is risky as it lends at quite higher rates ( since the coc is so high). So the asset quality should always be on a watch and I assume that here npa would always be elevated as compared to similar business.

Now this story can be broken in two parts. First will culminate with the change of name soon and second will start when reliable growth numbers with decent asset quality will start pouring in. Going back to BV will depend on the second part imo. Let's wait and watch and also hope the sticky inflation doesn't make cost of borrowing go higher and difficult for the nbfc group.
Best
Divyansh
Disc : invested
Made multiple entry/exits so cost of holding is lower
As per June 2023 disclosure to BSE,
Total number of shares outstanding = 47.16 crore
Book value (as of Mar-23) = 17,361 crore
BVPS = 368
No. of shares underlying Outstanding convertible securities = 11.97cr
(as per shareholding disclosure to BSE, Jun-23)
Total no. of shares + outstanding securities = 59.13 cr
BVPS = 293
(Assuming no change in book value in future, which should increase as well)
Disclosure - Invested.