Himalya is showcasing their product in AAHAR - International Food and Hospitality Fair in New Delhi.
Stall H23-15A at Hangar 23, Pragati Maidan, New Delhi.
From 7 March 2017 -11 March 2017
If any of have a chance to visit those stall please share your experience.
Similar advertisement in Times of India also.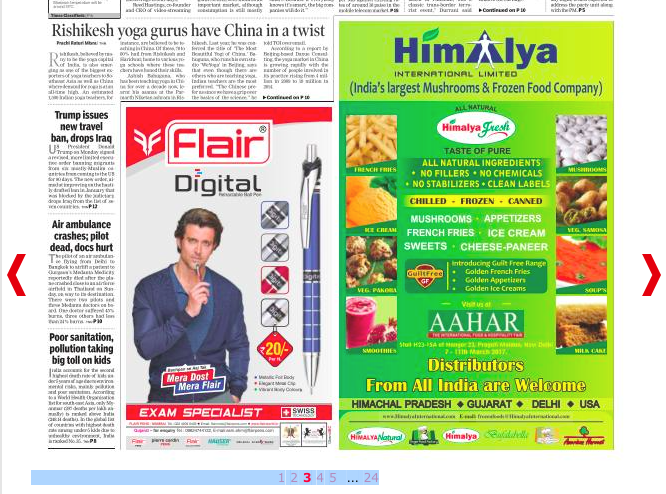 http://epaperbeta.timesofindia.com/index.aspx?EID=31805&dt=20170307
General Meeting called for Voting on Demerger
NOTICE is hereby given that by an order dated March 14, 2017, the New Delhi Bench of the National Company Law Tribunal has directed a meeting to be held of Equity Shareholders of the Demerged Company/Applicant Company No.1 for the purpose of considering, and if thought fit, approving with or without modification, the Composite Scheme of Arrangement proposed among Himalya International Limited (Demerged Company/Applicant Company No. 1), Appetizers And Snacks Foods Limited (Resulting Company No. 1/ Applicant Company No. 2), Himalya Green Apartments Limited (Resulting Company No. 2/ Applicant Company No. 3 )and their respective shareholders and creditors.
In pursuance of the said order and as directed therein further notice is hereby given that a meeting of equity shareholders of the DemergedCompany/Applicant Company No. 1 will be held at Govindham Banquet Hall, WZ 306-0 Data Ram Marg, Near Flyover Sector -7, Dwarka, New Delhi on Friday the 28th day of April, 2017 at 10.30 hours.,at which time and place the said Equity Shareholders are requested to attend.
On 29th March, Doon Valley sold 4,42,159 shares in the market. Doon Valley has two Directors, ManMohan Mallik and Sanjiv Kakkar. There is nothing wrong in Promoters selling…Or is there.
Hi Dilip,
Where did you get this information, I couldn't find in the BSE.
you should ask why promoters wants to sell - seek this answer and you wont need any help
It was a rhetorical question, really. Anybody who wants to sell is because he thinks money is a better substitute to what he is selling.
Interestingly waiting for the reply of apavel, who has initiated the thread and done home work on this one…
ah !! sorry
disc not invested
That is what I find interesting. Why is it not there in BSE notifications. I got the bulk deal seller details. Did a google search on the Company Doon Valley Foods. Got nothing. Did a google search on Directors of Doon Valleyand got the names of the directors !!! Is it not funny that there is no disclosure or am I missing something.
Hi Jayesh,
Not sure . May be the pledged shares are sold due to year end.
As per the December share holding report Doon Valley Food holds 30,68,150 Lakhs shares. 5.3% holding. And also the pledged shares is around 21,92,992 Lakhs shares.
Anyway will wait for the shareholding report for this quarter.
http://www.traderjoes.com/digin/post/vegetable-pakoras
Himalya is selling to Trader Joes in private label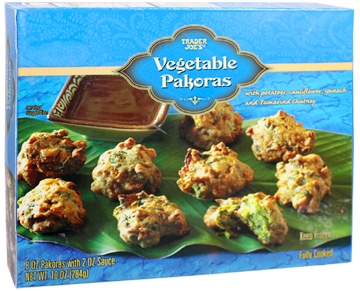 Many have posted a lot of research work on this company by just going through the media bytes and frenzy talks and statements of dubious promoters. Please understand that the business per se suggests that they had kind of chicken ( great sector, consumer facing business) which would have laid many golden eggs for the share holders, had they understood and conducted the business in ethical, honest and with lot of integrity. In this case, a cursory look on the business and its history hints that the captain of the boat is boozing and so are the passengers. The boat sooner are later gonna sink. In a single search on google and a little research about past functioning of the company thrown me no surprise - they had been detected by ED about money laundering in collusion with a well know private bank. Buying BMW on loan when the company has lot of debt. Always behind equity as means for getting money and moreover selling the share in open market in the name of shell company of which ownership is not disclosed. A real wolf on the D-street. Be aware, be careful.
Disclosure : Not invested. Rule no. 1. Never loose money. Rule No.2: Never Forget Rule no. 1.
This has already been explained in the previous messages, Himalaya is not same company which is mentioned in the news articles.
They both are different companies. And registered as Rice exporters
http://www.rice-exporters.net/ms-indian-organic-food/10
http://www.rice-exporters.net/ms-himalaya-international/13


And also BMW purchases was made while the company was going well !!
It appears this company has history of bad capital allocations. For instance, they started a pharma company named APJ laboratory which was into business of formulations of topical lotions for dermatological solutions. They claimed to have partnership with Reliance Global Inc. for which much details are not available. Interestingly, the formulation business flopped and APJ laboratories defaulted on loan repayment obligations of HP cooperative Bank and in turn now recovery is under progress by auction of the property against which loan was secured. Isn't this sound so strange that in the past how all things have gone wrong with this company ? think about it. My understanding is turn around rarely turn around with this type of capital allocation skill of the promoters. The biggest sins of ones financial life starts when you start getting your capital allocations wrong.
Its already mentioned in Himalya Website, how he had struggled in the past.
http://www.himalyainternational.com/founders.html
http://www.himalyainternational.com/pdf/himalya_poster.pdf
Man Mohan Malik, the Founder, Chairman and CEO of Himalaya International was thrust into business at the age of twenty on the sudden demise of his Father. Six years of multiple adolescent debacles in diverse businesses, Textiles to Bullion, Commodities to Stocks Markets, did not decimate his will to succeed. With just a Penny in his pocket in 1979, he launched Himalya with a green field project in a backward region of India. Even though his education had previously revolved around Physics and Law, he quickly became a self-taught business leader in the small township of Paonta Sahib in the foothills of Himalaya Mountains in India.
Failure, hardship, adversity, nothing seemed to slow his ambition or drive. Not only is he committed to the entity he first created 38 years ago, as he still insists on living near the plant in the small township; he is passionate about the welfare of his employees and the surrounding community. He has consistently innovated programs to help surrounding farmers, to further the lives of employees, help youngsters to dream of success and to maintain the serenity and balance of the environment.
Gloal Reliance is a wholly owned subsidiary, which takes care of all the shipment work of the company. It started importing food products from US department of agriculture and will market these products in India.
This I have already mentioned in the first message in this post.