Hi, This is my first attempt to analyze a company. I would request @hitesh2710 and @Yogesh_s to review the thread and provide feedback if there is any other information that needs to be added to the analysis.
Description- Hero motor is world number two-wheeler manufacturing company which started in 1984 in joint collaboration with Honda. It started with first bike CD 100 in 1985. It launched many bikes after that in different segments like 100, 125, 150, 225 cc etc. I believe most successful launch was Splendor which became very popular. Currently its products are available in 37 countries. Company has 5 manufacturing unit in India in - Gurgaon, Daruhera, Haridwar, Neemrana,Vadodara. Company has two global manufacturing unit - one in Villa Rica, Colombia – has a capacity of 80,000 units per annum and another one was recently opened in Bangladesh with installed capacity of 150,000 units per annum
Story- We don't have good public transport in India. I don't see public transport being developed fully for next 10-15 year in small cities and villages. So there will be need for motorcycles/scooters to commute to work or within city. Hero motor is trusted name in two wheeler like we have Maruti in cars. Also company seems to be adapting to what is changing in India. E.g. Company is working to build motorcycle for emission norms, electric vehicles, setting up R&D in Germany, looking to expand to more countries outside India.
Financials-
Current Market Cap(15-March-2019) - 54,642 Cr
D/E - 0
PEG - 1.12
Free cash flow - +ve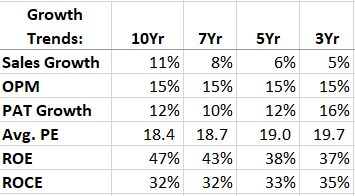 SWOT Analysis-
Strength
Market leader in two wheeler mainly in motorcycle
Number 1 company in two wheeler with 30+ year of experience
Consistent ROE and ROCE for last 10 years
Weakness
Low promoter holding. Not sure if it should be considered as weakness. But it seems weakness for shareholders like me
Not enough variety of bikes - I didn't mean in term of capacity. I meant company should think about youth and design sports bike. Company just setup one R&D unit in Germany. Hopefully we will start seeing sporty models in next few years.
Opportunity
Export - company started with Sri lanka and Nepal and expanded to South/Central America and Africa.
Currently company is number one in motorcycle mainly in 100 and 125cc segment. But I think it can try to come up with new models in scooter too and gain market share
Threat -
Increase in petrol price will reduce demand. Also monsoon, interest rates, unemployment etc can also impact the demand.
Government has come up with emission norms in order to reduce pollution. So company has to align its strategy to accommodate that. Company seems to be thinking in that direction and have invested in Ather Energy(e-vehicle manufacturing company)
Price- Based on DCF valuation, it seems company is good buy around 2600 rs.
Conclusion - Initially I thought it as great company which can grow 15-20% annually. But i think it is a good company which can grow high single digit in coming years. I think motorcycle demand will still be there for next 10-15 year mainly in tier 2 and tier 3 cities and villages. Low promoter holding is still a concern.
Disclosure - I have small holding in Hero motors.