Interestingly Mahindra is only play on all these- Bikes, CVs, PVs, aero parts, defence vehicles, tractors, shared mobility and Electric.
So, yes MnM is a good play and hold. It is a huge entity, but check out the market share holders and you will convince yourself into other vehicle plays.
KKP
If you look at Mcap of M&M at 80k crore, it is not huge compared to other auto makers Maruti 200k crore, eicher 57k crore, hero 50k crore.
Agree others have huge market share they dominate like M&M dominates tractors.
But M&M is present in area where market is going to be - premium bike, SUVs, new age HCV, Electric etc
To top it up Anand Mahindra corp governance is something to rely on.
Since, MnM still hasn't achieved leadership position in any segment, it is likely to correct deeper if any onslaught should happen. Management is top-notch reliable. They now have a share of the pie in the defense budget as well.
Its EPS has grown 35% in last ten years, that is one of the highest in Nifty 50. I think, MnM just may make it big in the New India. It is a good long term hold, but from a safety stand-point.
They are leader in tractors and farm automation (future venture). Imagine who will work as labourers for farms with all freebies politicians are giving.
They are leader in SUVs.
They are leaders in LCVs.
They are leaders in EVs.
They are leader in Holidays.
Jawa has beaten Enfield to emerge no 1 player in mid-premium bikes in Kerala even before delivery has started.
With large subsidiaries in IT, Finance, Auto acilliary and smaller ones in defence, aerospace, agri inputs and processing, Solar, shared mobility it has built a business model which is close to anti-fragile.
To top it up it is available at low valuations.
Can we have some data points for this please
I have no insider or scuttlebut info. I rely on internet for my research
"anti-fragile" best describes the strength of this group. Due to its lack of authority in a big-sector, like Maruti in PV or Eicher, it doesn't have the stark visibility which is the reason why it is trading at a low PE in this bull market. Which is good, because there is plenty room for a PE-upgrade if and when the fundamentals pick-up.
       PE

MnM 14
Maruti 26
Can you please help move last few posts on M&M to a new thread "M&M - Tractors to Aircrafts" ?
The leadership in these segments are fragile. IMO they will be distant second or third in EV and even SUV by 2025.
Sale is made not at booking. The first few months volumes may not offer much insights in to the long term future of a product (in Auto sector). We have to wait and see how they execute it and keep sustained volumes.
This is a click bait. There are no facts or data points to back up the claim.
I have no visibility into 2025 data points. I can only take decisions based on what I see today and how capable leadership is in navigating future.
Let's take EV as an example. Today they have products which are not made for EV. Their battery technology is archaic. The EV market is absent today. The EV produced by Mahindra are either niche or have no significance. Hence calling it a leader today makes little sense.
Currently a positive that many investors might miss is that HeroMotoCorp is gaining market share rapidly in the automatic scooters segment. This is a plus since it is market expansion from a management viewpoint.
Additonally, Automatic scooters also bring in more revenue per sale compared to budget motorcycles.
I am still waiting for them to bring in a premium 300c plu motorcycle before betting big on them.
I still stand by my previous statement that HeroMotocorp needs to take over a big brandname like Bajaj did with KTM and Mahindra did with Jawa and Peugeot to survive the global game.
All of the information is in the past but the value is in the future - somebody said these words. Looks apt.
Hero Moto is the leader in 2 wheeler bikes segment and now seems to be gathering some steam in the scooters segment as well. But in line with most other auto segments the company seems to be suffering demand slump since past few months. This kind of demand slump often occurs every few years and is nothing new. Thats how cyclicals behave. Hero remains one of the better quality cyclical companies.
Attached chart is interesting. The trendline support and the retracement level comes to same level at around 2470. So as mentioned on charts as well the region of 2450 to 2500 needs to be watched closely for price stabilisation. If this level fails to offer support then I would assume problems are more than expected and stock could correct much more.
I am having hero on my watchlist and would be keenly watching the above mentioned levels for support to emerge and then take a call. As of now no positions.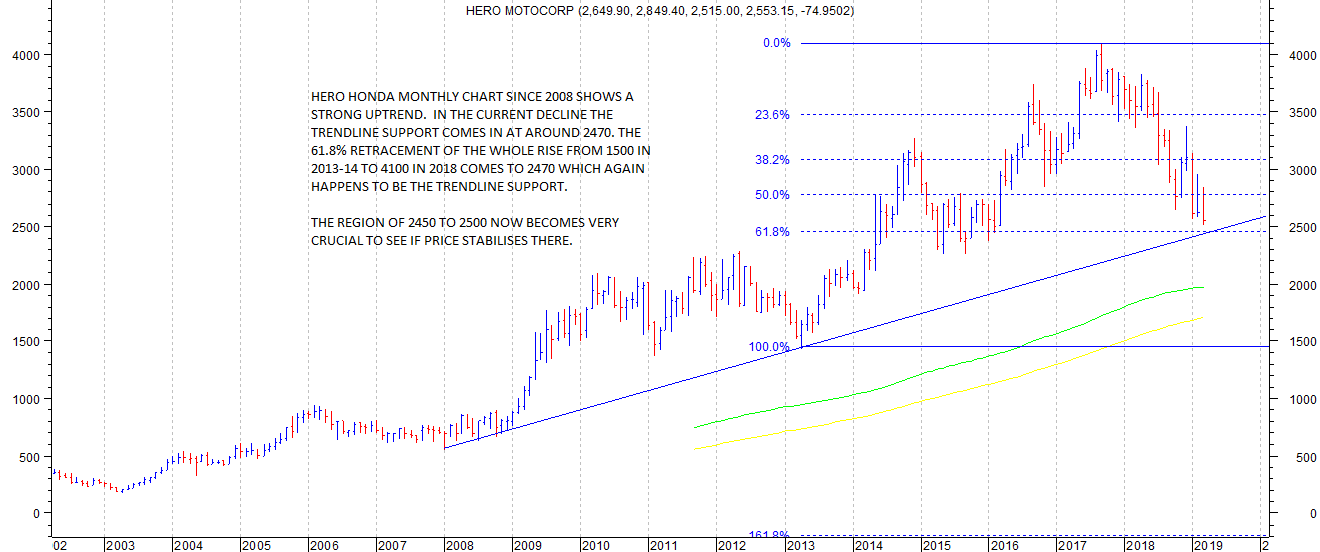 It is due to the chart that I started adding 100, 200 shares of it. I am in a SIP accumulation strategy since it will not last at this price too long unless we go into a recession. I totally agree that Hero is the best bet here although others that I mentioned earlier are worth adding to cover the entire basis of the market.
KKP
One point I think we are missing is that most of Hero Moto's revenue and profit come from entry level motorcycles. It presently commands a premium in this segment ( which I have never been able to explain, since there is no differentiation; the only reason I can think of is the extensive network and ubiquity of these bikes). The biggest competitor to Hero in this segment, Bajaj had suddenly quit inspite of having a wonderful product (CT 100). I believe the re-entry of Bajaj in 100cc segment is a major event for Hero and I am not able to think of reasons that would allow Hero to continue to command a premium of > 5k especially since Insurance regulations have and BS VI is going to have a significant impact on price in this very price conscious segment. Also, electric scooters could be seriously disruptive for the price conscious segment and Hero's Ather seems to be for the higher end of the market.
As for scooters, I went through a lot of reviews and TVS seems to be the one ready to challenge Honda in terms of product quality and meeting market expectations. (How I wish I had bought TVS motors some years back
)
The strongest point for Hero's scooters seems to be the same as their entry level bikes (large network). In terms of the product, Destini seems good VFM but is 125 cc which is not where bulk of the scooter market is.
From my very limited understanding, I feel the immediate future will see Hero begin to struggle in the entry level motorcycle segment while it still has to establish products in higher cc motorcycles and scooters.
I am very new to posting ( have been reading the forum for a while), so please correct me if you see any mistake.
When Bajaj can challenge Hero in entry level bikes, can Hero challenge Bajaj in higher/costlier bikes segment like Pulsar etc.?