Currently, the Bengaluru-based cancer-care chain's biggest shareholders are founder-CEO and promoter BS Ajai Kumar and family (23 percent), Temasek Holdings (9.4 percent) and Indgrowth Capital (1.2 percent). Public shareholding is 76.1 percent.
The new issue is likely to be through preferential allotment with present promoters selling a part of their own stakes. It is also likely to prompt an additional 26 percent open offer
Likely acceptance ratio on the upcoming open offer considering large insti are shareholders ?
Is HCG being taken over by means of open offer? It is not clear from their open offer document whether they just want to increase their stake, or whether they are going for a full take over. Will they remain listed? I hold a very small parcel from the IPO days.
What a disaster? Leveraged expansion was the main issue and when covid happened their business literally collapsed with no patients turning up for cancer treatment. HCG is in a very attractive and promising cancer treatment business and they do have a very promising business model…It is a shame. Retail shareholders will be heavily diluted…Thumbs down to Dr Ajaikumar, promoter…wealth destroyer
I read the document in detail…I got the answer to my question. The company will remain listed, if the acquired ends up with >75% of the company they have 12 months to bring the promoter holding to <75%. copy pasted below
page 18/63
As per Regulation 38 of the SEBI (LODR) Regulations read with Rule 19A of the SCRR, the Target
Company is required to maintain minimum public shareholding, as determined in accordance with the
SCRR, on a continuous basis for listing. Upon completion of the Offer and Underlying Transaction
pursuant to the Investment Agreement, if public shareholding of the Target Company falls below the
minimum level of public shareholding as required to be maintained by the Target Company as per the
SCRR and the SEBI (LODR) Regulations, the Acquirer and the PACs undertake to take necessary steps
to facilitate the compliance by the Target Company with the relevant provisions prescribed under the
SCRR as per the requirements of Regulation 7(4) of the SEBI (SAST) Regulations and/or the SEBI
(LODR) Regulations, within the time period stated therein, i.e., to bring down the non-public
shareholding to 75% within twelve months from the date of such fall in the public shareholding to below
25%, through permitted routes and any other such routes as may be approved by SEBI from time to time.
Thanks for starting this thread. You will be amazed to know that Incred Healthcare PMS managed by Aditya Khemka has given highest weightage of 10% to HCG.
Execution of Business Transfer Agreement ('BTA') and Share Purchase Agreement ('SPA') by HealthCare Global Enterprises Limited
According to a Social Media report, HealthCare Global Enterprises (HCG) has divested its entire equity holding of 34.5% in Strand Life Sciences to Reliance.
Personally I am disappointed as Strand Life Sciences was a promising part of HCG.
I tried my best to understand this but not sure how it works. In this model do they acquire the spoke or work in a profit sharing model.
If either of this or both then we need to understand both in detail.
Revenues from Medical stores in the hospital
The most profitable division in any hospital is Medical store, some of the brands ( especially white label products , some hospital / Doctors insist to buy the same brand which are available in their own medical stores in the hospital )
Tried to do some scuttlebutt one of their hospitals in Vijayawada , had an interaction with a patient who was a cancer patient, the feedback is not so great, before HCG management , people were so caring and concerned but now it is purely commercial. (To be honest most of the corporate hospitals treat patients like that only , Dr Ajai started with the same motto, providing affordable care, may be that is the reason they were never managed to improve margins )
Hospital business is very capital intensive business (technology is keep on evolving , today equipment might become obsolete / buy new ones to keep up with the modern treatments , there are delays in insurance claims (government sponsored healthcare schemes like Arogya Sri in AP ) , local government regulations / restrictions, it is not uncommon if anything goes wrong people just take the law in their own hands
Yes, the hub and spoke model is not very clear. In fact I found this to be mentioned mainly in the brokerage reports. I have just started reading about their business a week back and so far have found that Hubli hospital, which is multispeciality clinic is the only one where they seem to have profit sharing model.
Hub and spoke is something common with diagnostic firms like Dr. Lal Pathlabs but I am not sure how it exactly works in case of hospitals.
its mostly a revenue or profit sharing model. The idea is to get into a partnership model with hospital/doctors who already have a reputation in oncology in that area. HCG then adds beds, equipment,doctors,etc. These hospitals are capable of Diagnosis and treatment but once in awhile the patient might have to be referred to the Hub for more high end treatment. Doctors can also use the expertise of the Hub for better diagnosis. To the best of my knowledge they only have one Hub . thats the Bangalore hospital(anyone reading feel free to correct me) but Dr Ajaikumar did mention in one of their concalls that they have plans to develop more Hubs. IF you have time would recommend going through first 2 or 3 concalls after IPO. A lot of questions regarding their business model were asked and answered .
The authorities capped margins on certain drugs in 2019. so profitability of their pharmacy has certainly gone down. Just not sure of the exact impact
Disc: Invested
Does anyone know from where I can get Q2 concall? I am noy able to get it either on youtube or on researchbytes.com
Here is the summary prepared by @Worldlywiseinvestors
HealthCare Global Enterprises Ltd (HCGEL) – Key Highlights of the Q2FY22 Earnings Call – SMIFS
Demand, Revenue, Occupancy and ARPOB
The quarter witnessed continued momentum in terms of growth that was reflected in Q1FY22. Performance in Q2FY22 was very strong and it recorded the highest revenue in HCGEL's history. This was also the first quarter after 13 consecutive quarters where HCGEL returned to black in terms of PAT even without considering the exceptional items totalling Rs 1401 mln.
Utilisation in Milann has significantly improved. The figure ranges between 55 and 60% currently and carries upside potential in Q3 and Q4FY22.
Vaccination revenue for the quarter was roughly Rs 250 mln. Going forward there wouldn't be much revenue from vaccination.
The ARPOB in Centre of Excellence (CoE) has improved significantly from around Rs 51000 in Q1FY22 to Rs 58000 in Q2FY22. This is because of more proportion of high end work carried out by the CoE with significant contribution from robotic and cyber knife surgery. The trend of more proportion of high end work is expected to continue in the future and it is not just because of pent-up demand due to Covid. International revenue would further boost the ARPOB of CoE going forward.
The new centres have broken even in terms of Operating EBITDA. In total, the new centres recorded an Operating EBITDA of Rs 19.4 mln vs. a loss of Rs (29) mln in Q2FY21.
Since the existing HCG centres are recording an operating EBITDA margin of 22% with the CoE recording an operating margin of around 26%, there is no reason for the new HCG centres to not achieve operating margins in that range in the long run.
For Andhra Pradesh the beds occupied by Government sponsored radiation patients living in dormitories have been removed from the count of occupied beds in this quarter. Going forward this should continue. The occupancy in Gujarat has dropped to 51% from 61% reported in Q1FY22 mainly because of drop in Covid revenues. Accordingly, the ARPOB for this quarter has increased. For Maharashtra the growth in ARPOB was led by strong performance in Nagpur.
International revenues contributed to around 50% of their pre Covid revenues in the current quarter. Around 2% of the consolidated revenues was contributed by international patients. Going forward, once the situation normalises and international revenues come back to the system with full vigour, those can more than compensate for the absence of vaccination revenue.
Africa
The Management is still in the process of chalking out a long term strategy for growth in Africa. Focus is on Nairobi at present with plans of installing linear accelerators and PET-CT scanners in that facility, to make it a state of the art facility. Overall growth strategy would be to focus on Nigeria and East Africa, but no concrete plans have been made as yet.
Lab business
With the acquisition of all the old HCGEL labs from Strand along with the human resources, the Company is very well positioned for growth in the future in terms of molecular diagnostics and genomic testing. Collaboration with Strand will continue in the area of Bioinformatics.
Technology and Research
Huge technological changes are happening in the field of oncology. The tumour boards of HCGEL are all virtual now, which enables a patient from any part of this world to participate with HCGEL doctors across India and advice to patients are given in a matter of hours compared to few weeks taken earlier. The future of oncology lies in flash therapy.
Attracting and retaining oncologists in HCGEL have never been an issue for HCGEL given HCGEL's focus on research in line with the MD Anderson model.
HCGEL has entered into a partnership with Microsoft to deliver offerings using virtual/augmented reality. However, this is a pilot project and commercialisation will take quite a while. HCGEL is also working with pharmaceutical companies in terms of sharing clinical data.
Data is new Oil - HCG has humungous amount of patient data to analyze various types of cancers , listen in at 45th Min.
I have a question here regarding the hospital business in general. Given that most of hospital businesses are not profit making, how should we compare valuations among peers? Is EV/EBITDA a good indicator here or should we look at Price to Sales parameter?
The key for me the reduction in the debt - their debt was the main reason why they had to raise cash last year during covid and ended up diluting the existing shareholders…
I am very bullish on HCG - they have a unique low cost model in delivering cancer care to Tier 1 and 2 cities. Expansion phase is over and now the benefit of capacity utilisation and debt reduction will be evident in the coming years
Discl - minor holding since IPO
I am not sure of even PBT is positive forget PAT.
Ebidta = 60
Interest + Depreciation = 23 + 38 = 61
PBT with out other/Exceptinal income is = 60-61 = -1
So they still yet to report net profits, though they increased their sales, please check the utilisation levels of Beds, this metric has to be improved, so that operating leverage comes then they may report profits.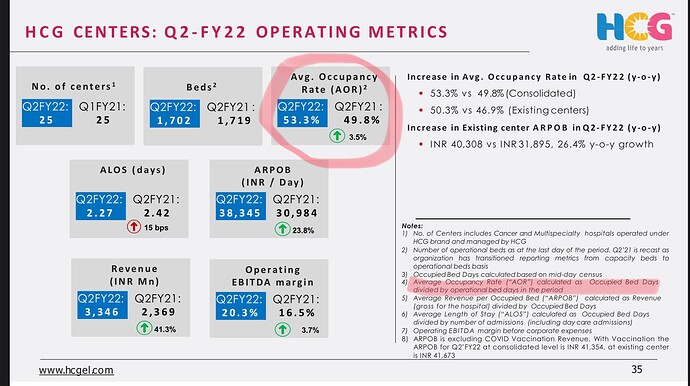 Hope the above is in line, always happy to learn.