Primary business of the Company
Positioned as "Born Digital. Born Agile", we focus on delivering a seamless digital experience to Their customers. Their offerings include, among others, digital transformation, product engineering, infrastructure management and security services. Their capabilities provide an end-to-end solution in the digital space. We have developed a customer-centric focus that aims to provide them strategically viable, futuristic and transformative digital solutions. We offer solutions across the spectrum of advanced digital technologies such as Robotic Process Automation (RPA), Software-Defined Networking/Network Function Virtualization (SDN/NFV), Big Data and advanced analytics, Internet of Things (IoT), cloud, Business Process Management (BPM) and security.
Incorporated in 2011 by Primary Promotor Mr. Ashok Soota (Spent early years of his career with the Shriram Group of Industries in India in 1965. He served as President of Wipro Infotech from 1984 to 1999. Under his watch, Wipro's IT business grew from US$2 million in 1984 to a US$500 million run-rate in 1999.
Soota co-founded Mindtree in 1999 which has currently a revenue of US$1 Billion, has an approximate of 20212 employees, and offices across the Americas, Europe and Asia)
The business of the company is divided into three categories; Digital Business Service (DBS), Product Engineering Service (PES) and Infrastructure and Management Security Service ( IMSS).
The DBS unit offers digital application development & modernisation, assistance in designing & testing of operations, management of the platform, consulting and domain led offerings.
PES unit helps by transforming the potential of digital by making the product secure and smart. Wherein, IMSS provides an end to end monitoring and management capability for applications and infrastructure of the clients.
As of June 30, 2020, Happiest Minds had 148 active customers and has a global presence in countries like US, UK, Australia, Canada and the Middle East. The business units of the company is assisted by the 3 Centres of Excellence which are Internet of Things, Analytics / Artificial Intelligence, and Digital Process Automation. In Fiscal 2020, 96.9% of the company's revenues came from digital services which is one of the highest among Indian IT companies.
Happiest Minds delivers services across industry sectors such as Retail, Edutech, Industrial, BFSI, Hi-Tech, Engineering R&D, Manufacturing, Travel, Media and Entertainment.
Competitive Strengths
Focused on software product development
2. Strong Brand in offering Digital IT services
3. End to End digital lifecycle
4. Agile Engineering and Delivery
Company Financials:
Summary of financial Information (Restated)
Particulars For the year/period ended (₹ in Million)
30-Jun-20 31-Mar-20 31-Mar-19 31-Mar-18
Total Assets 5,730.8 5,081.5 4,135.2 3,869.9
Total Revenue 1,869.9 7,142.3 6,018.1 4,891.2
Profit After Tax 501.8 717.1 142.1 (224.7)
Objects of the Issue:
The company proposes to utilise the Net Proceeds from the fresh issue towards funding the following objects:
To meet long term working capital requirement; and
General corporate purposes
Happiest Minds IPO Details
IPO Date Sep 7, 2020 - Sep 9, 2020
Happiest Minds IPO Promoter Holding
| Pre Issue Share Holding | 61.77% |
| --- | --- |
| Post Issue Share Holding | 53.25% |
Happiest Minds IPO Offer Size by Investor Category
The Percentage of Offer Size available for Allotment/allocation:
QIBs : 75%
Non-Institutional Investors : 15%
Retail Individual Investors : 10%
Risks to Investors in Happiest Minds IPO
The two book running lead managers associated with the Offer have handled 11 public issues in the past three years out of which 5 closed below the issue price on the listing date.
The average cost of acquisition for the Promoter Selling Shareholder is ₹34.68 and the Investor Selling Shareholder is ₹24.91, and the offer price at the upper end of the price band is 166.
The PE ratio based on diluted EPS for Fiscal 2020 for the Issuer at the upper end of the Price Band is as high as 31.0 as compared to the average industry peer group PE ratio of 26.9.
Happiest Minds IPO Subscription Status (Bidding Detail)

Few Attributed Risks for the business I found are as follows. Request experts to add to it if any missing.
Their revenues from operations are highly dependent on customers located in the United States. Worsening economic conditions or factors that negatively affect the economic conditions of the United States could materially adversely affect their business, financial condition and results of operations.
Their business analogy is that once they gain a client, they try to get related data about other projects in same/ other digital technologies and make relevant efforts to gain ( try to grow more inside the same client and thereby establish long term relationships as well).
Although they are 100% digital theme focussed, that doesn't mean other behemoths like TCS, Infosys etc. are not focussing on these. Being from the same field, I have first-hand knowledge that they have already been trying to procure relevant IT professionals , retrain the existing ones and showing prototypes to their current clients thereby gaining those businesses too.)
Although we hope Mr. Askok Soota remains healthy and lives very long, but in any unfortunate case, the clarity on some dependable heirs is quite blurry.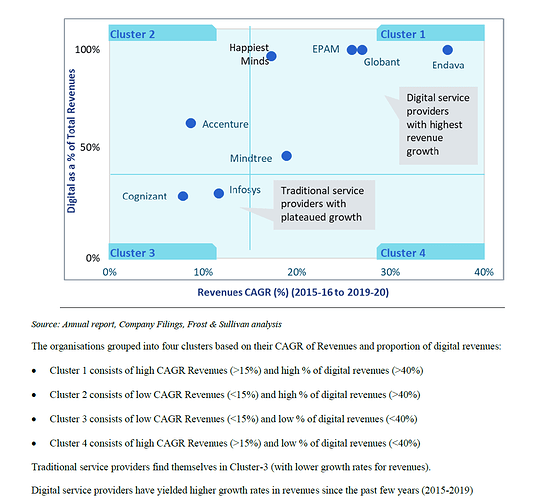 My view on this is summarised as:
"100% digital business focussed IT services company which builds on very new and future yet continuous growing skills, having a very experienced and successful promotor backing. If it continues to grow, diversify geographically and make profitable acquisitions, this could be an interesting journey to be a part of."
EXPERTS PLEASE EDIT/ADD BELOW IN CASE ANY INFO MISSING.
Disc: Invested Post IPO.